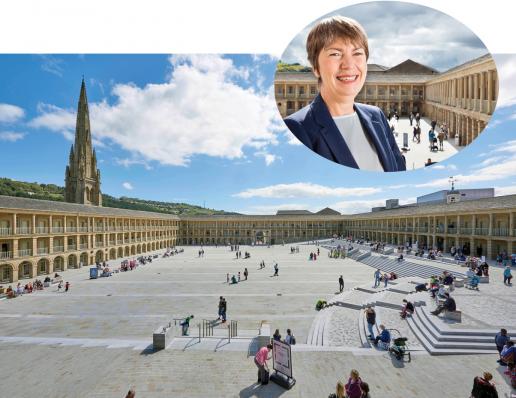 Piece Hall in Halifax with Claire Slattery (inset), winner of the 2017 Angel Awards for her work in leading the renovation of Piece Hall.

Photo: Paul White 
At the end of January, the Heritage Lottery Fund will publish its Strategic Funding Framework for the next five years – and it looks as if many of what have until now been grants are about to become loans, although applying for them is intended to become easier than applying for grants has been.
Heritage Lottery Fund (HLF) will not be making major awards (over £5million) in 2019 but will announce its approach to them during the course of the year.
A consultation at the start of 2018 asked for comments on the future role of the HLF, which the Fund says has informed its new strategic framework, although it is not saying what the new framework will look like ahead of its publication.
There are stone companies who owe their very existence to the Heritage Lottery Fund. Since the Lottery started in 1994 it has given grants totalling £7.9billion to more than 43,000 projects, including 19,500 historic buildings and monuments, a lot of them involving stonework. It has been a lifeline to many masonry companies during lean times because the money did not dry up in recessions.
As HLF Chief Executive Ros Kerslake says: "We now hold a unique position as the largest dedicated funder of the UK's heritage".
The outcomes are impressive. The country's 10 most popular major heritage attractions (Stone Henge, Tower of London and so on) have all received Lottery funding. Visitor numbers across the first 100 major grants to be completed have risen by an average of 130%. Local businesses catering for the extra visitors are receiving an extra £480million in revenue as a result, which has generated 9,600 new jobs.
The increase in visitor numbers to HLF-funded projects varies, although projects do tend to raise awareness and improve facilities, which makes them more attractive places to visit. And 3,200 of the projects HLF has helped have also helped improve threatened habitats and save endangered species. There have been 850 public parks revitalised.
HLF has also helped retain the skills needed for heritage work, with more than 3,000 people having undertaken work-based training in heritage skills on HLF-funded projects, while museum skills have been taught and developed on 28 projects.
It looks like success all round. However, the HLF is a public body accountable to Parliament through the Department for Digital, Culture, Media & Sport (DCMS). The Secretary of State for Digital, Culture, Media & Sport (currently Jeremy Wright) issues financial and policy instructions to the HLF, although decisions on individual applications are entirely independent.
The government thinks that substituting grants for loans would improve outcomes still further by encouraging only those who believe their schemes will generate enough revenue to repay the loan to apply. Schemes that cannot, or are not intended to make money will be sifted out, or at least treated differently.
One of the reasons given for the new model of funding projects is that the National Lottery is facing increasing competition from other lotteries and other calls on people's incomes, although there has not yet been any reduction in the amount of money going to HLF from the Lottery.
In the latest financial year, ending in March 2018, the HLF income from the Lottery was £327million (the year before it had been £325million and a decade earlier it was £200million).
Nevertheless, Ros Kerslake says that "at a time of increased competition and reduced budgets, (we) want to be sure we are using every pound of National Lottery players' money in the best way possible".
As well as repayable loans, HLF proposes: its own contribution to localism by increasing public involvement in decision-making; simplifying the range of grant programmes on offer and making it easier to apply for them; and running time-limited funding campaigns for particular types of projects to encourage those involved to compete for the funds.
Ros Kerslake says HLF has led change and innovation across the UK heritage sector through its inclusive and progressive approach to heritage and people.
"We have championed a democratic view of heritage as what we value from the past and want to hand on to the future, and nurtured community-driven approaches to local heritage and identity.
"We see our future role as inspiring, leading and resourcing our heritage to create positive and lasting change for people and communities, now and in the future."
She says the consultation at the start of this year built on HLF research with National Lottery players as well as the recommendations from the tailored review of HLF in 2017 (all non-departmental public bodies undergo a tailored review from time to time to ascertain stakeholders' views about how they are working and to suggest improvements).
The tailored review recommended that HLF should become "more strategic, effective and efficient", as well as simplifying its grant giving processes to "ensure National Lottery funding continues to support the resilience of the heritage sector, benefit people and preserve heritage for future generations".
HLF then held its public consultation at the start of this year. It had more than 3,000 respondents, half of them going on to answer a longer and more detailed questionnaire.
HLF says the current year (2018-19) is transitional, with it already having begun to simplify its grant programme. HLF promises that the publication of its Strategic Funding Framework will "open new, simpler, more flexible funding opportunities with a single open programme for all types of heritage project and new resources and digital guidance on our website to support applicants".
HLF says: "We expect strong competition at all levels of grant and will introduce a new Expression of Interest stage for larger grants (over £250,000) to give an early steer on whether you are invited to apply."
War memorials listed
More than 2,500 war memorials have been listed over the past four years as the UK has commemorated the centenary of World War I, a centenary that concluded with Armistice Day this month (11 November) when Historic England wound up its War Memorials Project.
Throughout the centenary of the 1914-18 war, Historic England has been working in partnership with the War Memorials Trust, the Imperial War Museum, Civic Voice, volunteers, students and school children to better understand these important local landmarks and protect them for the future.
Most of the newly listed memorials are stone and many of them were added to the list following renovation and cleaning by local masonry companies. The War Memorials Trust submitted nearly 700 applications for listings, many of which received grant funding for repairs. More than 50 of the listings were proposed by university students working with Civic Voice and 11 were nominated by children through the Heritage Schools Programme.
They range from the Horley War Memorial in Surrey, which commemorates (among others) one of the oldest men to have fought in the war – 67-year-old Henry Webber, who joined up to be with his sons and died of shrapnel wounds two months later – to one that commemorates the 108 people killed and 64 injured in a munitions factory explosion at Faversham in Kent.
Before the project began there were more telephone boxes listed (2,486) than war memorials (1,657).
Piece Hall shows what £7.2million from the Lottery can achieve
The Piece Hall, in Halifax, West Yorkshire, dates from the 18th century and is the UK's only surviving cloth hall. It re-opened to the public in August last year after a regeneration project to which the Heritage Lottery Fund contributed £7.2million. The project was orchestrated by Claire Slattery, who was overall winner of the Angel Awards last year for her efforts. The renovation re-imagined the hall as a new centre for culture and commerce in Yorkshire and the Humber.
The project involved major stonework, both from Stone Edge, who worked on the buildings, and from Hardscape, who did the 5,500m2 of hard landscaping.
Stone Edge carried out more than 1,000 individual repairs as well as smaller new stone indents and replacement pointing. Hours of research and planning helped with the safe replacement of stone colonnade and arcade columns together with integrated walkway slabs. New stone openings have been created with cladding sections to mimic the intent of the original building and ensure the existing space becomes more useful for today's occupants. Stone Edge also repaired the roofs, mostly with reclaimed stone. Newly quarried needed was sourced from the original Lower Pennine coal seam, Elland Flag stone, from Rand & Asquith, to match the original.
The majority of the paving is Forest of Dean Pennant, from Forest of Dean Stone Firms, interspersed with Portuguese granite and Carlow Irish Blue limestone.
Since re-opening on 1 August 2017, The Piece Hall has been nominated for and received awards for many different aspects of the project, as well as Claire Slattery's Angel Award.
The Angel Awards, inaugurated by Historic England when it was still English Heritage, now have their own versions in Wales, Scotland and Northern Ireland, culminating in the home international finals in London. This year's take place this month (27 November) in London's Gillian Lynne Theatre. A stonemason is short-listed (see page 20) and stone companies have been involved in several of the projects.
The Piece Hall demonstrates what an asset a renovation project like this can be. With the help of HLF, Calderdale Council delivered a high-quality transformation, sensitively conserving the building's historic fabric as well as introducing modern facilities to create a vibrant cultural centre for Halifax, Yorkshire and The Humber. The Piece Hall is now making a major contribution to the regeneration of Halifax.
In the first year, two million visitors walked through its gates. It is home to bars, cafés, shops and high-profile outdoor events, including this year's Tour de Yorkshire, a Royal visit and last month (October) its first stone carving festival. The Piece Hall has 45 volunteers who have given up 2,600 hours welcoming visitors, hosting guided tours and helping 1,000 schoolchildren to discover the building's fascinating history.
Money from the Lottery is bringing Britain's cemeteries back to life
Victorian cemeteries across the UK are being revived as places for local communities to relax, unwind and enjoy the natural environment, thanks to National Lottery investment.
New grants totalling £6.2million have been awarded to Sheffield General Cemetery Park, Belfast City Cemetery and Sir Joseph Paxton's London Road Cemetery, Coventry.
Brompton Cemetery, which is one of London's 'Magnificent Seven', was the first to re-open (in July) following National Lottery investment.
The £6.2million restoration of the 39-acre Grade I registered garden cemetery that is now a Site of Nature Conservation Importance has produced a welcoming space that benefits local communities and wildlife. It contains 35,000 monuments and the 205,000 people buried there include historic figures such as Emmeline Pankhurst, leader of the suffragette movement; Sir Henry Cole, who is credited with having invented the Christmas card; and Dr John Snow, who discovered that cholera spreads by water.
The latest three cemeteries to be awarded grants take the total joint National Lottery investment in historic cemeteries to £15.1million. The aim is to reinstate historic layouts, restore mausoleums, chapels, tombs, graves and sculptures, make traditions of death and bereavement more understandable and protect native wildlife and habitats.
Stonemason Reuben Marsh short-listed for Angel Award in 2018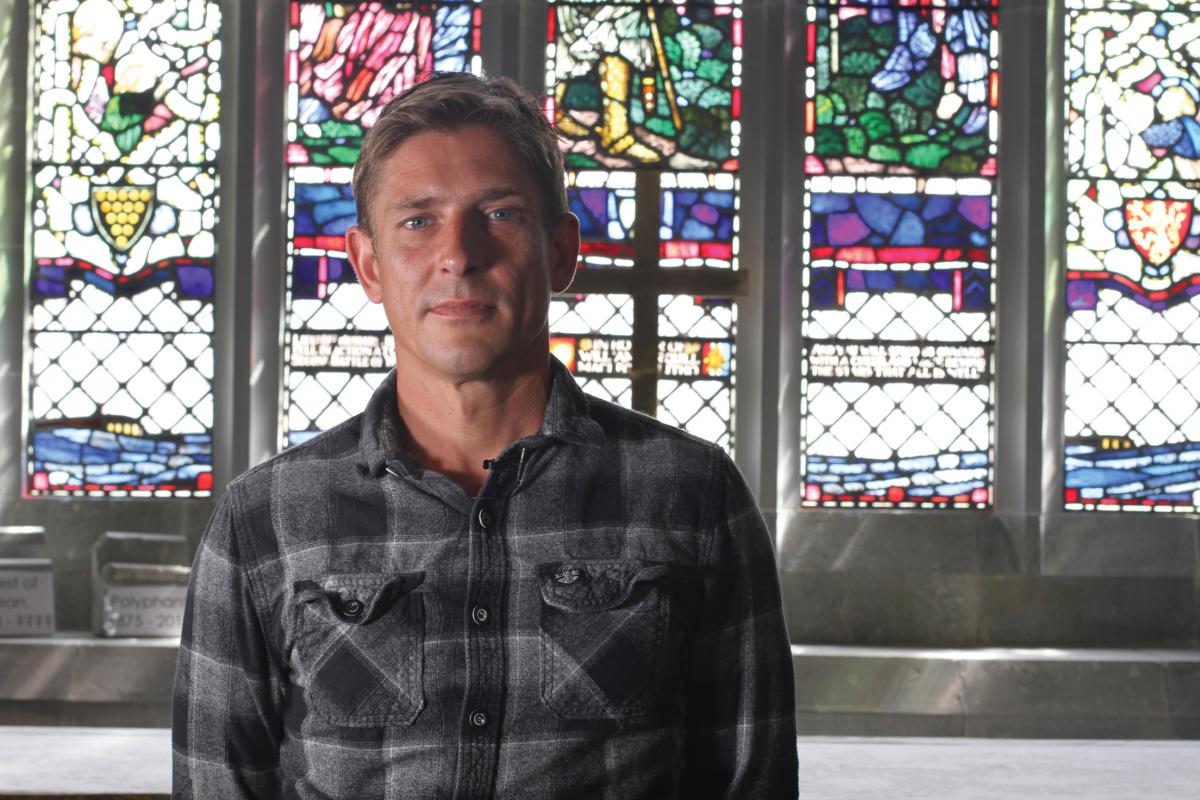 Cornish stonemason and carver Reuben Marsh has been shortlisted in the Historic England Angel Awards Best Craftsperson or Apprentice category. He will find out if he has won at the awards ceremony in London's Gillian Lynne Theatre this month (27 November).
The Angel Awards are supported by the Andrew Lloyd Webber Foundation to celebrate heritage heroes – people who have made a lasting difference to historic buildings and places.
Reuben was involved in the restoration of the World War I Memorial East Window at St Pol de Léon Church, Cornwall. The five-light frame that holds the window was designed by architect John Dando Sedding in 1875. It was dismantled by Reuben, assisted by Richard Holliday and Dan Humphries. They used Forest of Dean sandstone for repairs to match the original stone when they replaced the window frame.
The project was the result of a campaign by a community determined to preserve its church, particularly the stained glass window by Arts & Crafts designer Robert Anning Bell, with its depictions of battle contrasting with peaceful coastal landscapes.
In Reuben Marsh, they found a craftsman with a deep connection to the South West of England and the skills and sensitivity to do justice to the stone that frames what has been described as the most significant stained glass window of any age in Cornwall; a window that has a particular poignancy a century since the end of the first World War.
Born in Redruth, Reuben is the son of a stonemason / sculptor and a painter and grew up, he says, "very influenced by art", even before studying historic carving at the City & Guilds of London Art School.