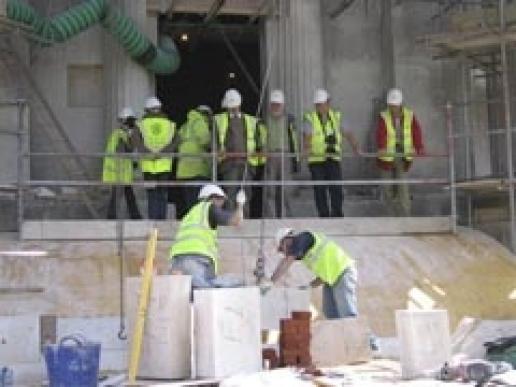 SPAB's autumn Repair of Old Buildings course is for anyone who works with old buildings – and in the current economic climate this could be a good way of extending your knowledge and skills.
The Repair of Old Buildings – SPAB's Essential Course for Building Professionals (September 26 – October 1) – was described by Dame Liz Forgan, former chair of the Heritage Lottery Fund, as the best course she had been on.
SPAB's classic week-long programme of lectures and visits, 'The Repair of Old Buildings' provides a mixture of expert seminars and presentations on subjects including conservation philosophy, stonework, lime, historic structures and timber repairs.
The autumn 2011 course, which includes invaluable site visits to conservation work in progress, takes place from Monday, 26 September to Saturday, 26 October. Bookings are being taken now.
Through this unique course, SPAB (the Society for the Protection of Ancient Buildings) has already trained thousands of the country's building professionals in the repair and renovation of old buildings.
With the downturn in the construction of new buildings, many architects and other sector professionals are turning to work on existing buildings. This in-depth, six-day exploration of practice and issues, is right for them.
The aim is to illustrate by lectures and practical examples the manner in which the conservative repair of old buildings can be achieved.
Group visits to buildings under repair are a central element of the week. As well as afternoon site visits in the London area, there will be a two-day tour (normally a Wednesday and Thursday) to conservation work taking place at a site in a different region of the country.
Run since 1951, the course has long provided training for bodies such as English Heritage, The National Trust and local planners, as well as numerous architects, surveyors and others in private practice.
Over the week, delegates will be introduced to methods evolved and proved by the Society during more than 130 years of caring for the country's built heritage. Lecturers are all by established, practising architects and experts from other related fields.
Subjects covered during the week are likely to include:
Principles of repair and conservation.
Damp
Lime – the material and its use in repair
Traditional Masonry
Surfaces and finishes
Structural repair – an engineers view
Conservation of historic ironwork
Plasters and renders – repair and conservation
Case studies
Site visits
Services in historic buildings
Timber frame construction and repair
Roofs
Costing historic building work
Conservation and repair of stone and brickwork
Timber – its nature, decay, mechanism and remedial treatment
Lectures are held at the Society's offices at 37 Spital Square, London E1 (near Liverpool Street railway station).
The fee of £710 includes lectures and relevant papers, morning coffee, afternoon tea and coach travel for site visits. It also covers the two-day tour, including overnight accommodation, transport, insurance and meals when travelling (accommodation in London is not provided).
Course members will need to be able to climb scaffolding for some of the site visits. If you require special access you are advised to contact the SPAB education team before booking.
For more information about the SPAB Repair Course or to make a booking contact SPAB assistant education officer Skye Dillon on Tel: 0207 456 0915. Or email: [email protected]