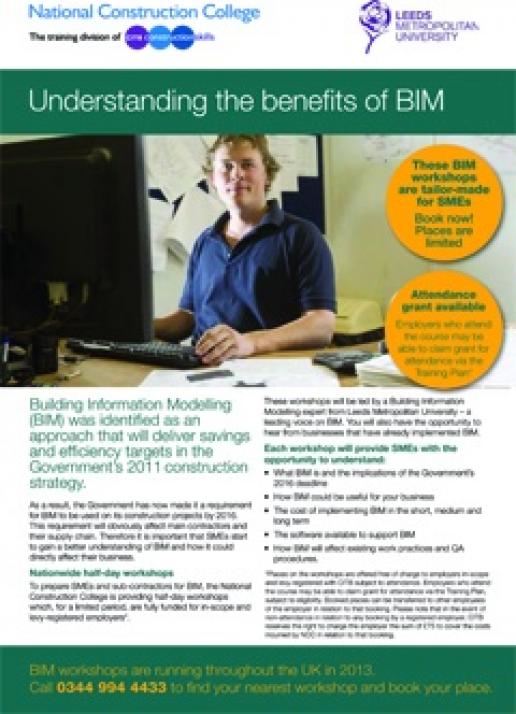 Building information modeling (BIM) involves the generation and management of digital representations of a construction, from its earliest conceptual stages, through its design, build and operational life, even to its eventual demolition.
It is important for contractors and subcontractors to understand BIM and it will become increasingly difficult to work without understanding it as time goes on.
Need some help? BIM Workshops delivered by CITB National Construction College in partnership with Leeds Metropolitain University can provide it.
There are three workshops before the end of the year. Free of charge to attend if you are CITB registered (£150 per person for others).
Dates and locations:
Tuesday 12 November 0900 – 1230 at the Strathallan Hotel, Edgbaston, Birmingham B16 9RY
Wednesday 20 November 0900 – 1230 at the Kegworth Hotel, Kegworth DE74 2DF (just off junction 24 of the M1)
Wednesday 4 December 1400 – 1730 at the Buckerell Lodge Hotel, Exeter EX2 4SQ
Some comments from people who have attended previous workshops:
"Gave a broad understanding of BIM and its application"
"Easy to understand. I have been to previous BIM sessions and came away with little knowledge. This was very useful and taught me a lot"
"Good, short (1/2 day) introduction to BIM enabling you to assess where you might want to go forward from here"
"Plenty of examples and sources to reference from. Personable delivery with substance"
"Seeing examples of 3D modelling on the screen. Understanding the range of software that is available"
"Massive eye opener!"
"Very practical – relevant to SMEs"
To book, call 0300 456 7596 or 0344 994 4433 and speak to Daisy Tooke or one of the course bookings team.
The course can also be delivered in-company if a client is CITB registered and has more than 10 people requiring the training. Jo Bowditch would be happy to provide more information on this. Call 07824 607288 or email Jo at [email protected]
Building Information Modelling (BIM) is intended to deliver savings and efficiency targets. It was introduced in the Government's 2011 Construction Strategy.
As a result, the Government has now made it a requirement for BIM to be used on its construction projects by 2016. This requirement will affect main contractors and their supply chain. Therefore it is important that smaller contractors and subbies start to gain a better understanding of BIM and how it will directly affect their businesses.
Hence tehse nationwide half-day workshops to prepare SMEs for BIM. The National Construction College is providing them and, for a limited period, they are fully funded for in-scope and levy-registered employers*.
These workshops will be led by a Building Information Modelling expert from Leeds Metropolitan University – a leading voice on BIM. You will also have the opportunity to hear from businesses that have already implemented BIM.
Each workshop provides the opportunity to understand:
What BIM is and the implications of the Government's 2016 deadline
How BIM could be useful for your business
The cost of implementing BIM in the short, medium and long term
The software available to support BIM
How BIM will affect existing work practices and QA procedures.
*Places on the workshops are offered free of charge to employers in-scope and levy-registered with CITB subject to attendance. Employers who attend the course may be able to claim a grant for attendance via the Training Plan, subject to eligibility. Booked places can be transferred to other employees of the employer in relation to that booking. Please note that in the event of non-attendance in relation to any booking by a registered employer, CITB reserves the right to charge the employer the sum of £75 to cover the costs incurred by NCC in relation to that booking.