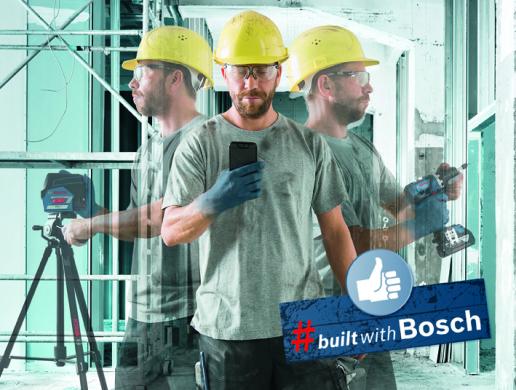 Become a Bosch tester and you get to keep the tools you test, but you have to post a video review of them on Facebook or YouTube.
Throughout 2017 Bosch Professional is offering the trades that use its tools the chance to trial its latest products – and keep them for free.
The only stipulation is that you have to provide feedback to Bosch and to the world. You have to make a short video of the tools being used and provide a commentary.
This is a continuation of a scheme Bosch started last year. Then there were some 1,500 people who applied to be testers and six were chosen. But Bosch are so happy with the way it went, this year the scheme is being extended to try to find 20-30 testers to take part.
The company believes this is a successful way of getting genuine feedback from the trades that use its tools for the benefit of others considering purchasing those tools, as well as for future product development. And for those taking part who have encompassed social media for their own marketing, this can make a useful contribution to their posts.
Bosch is looking for people who are lively and articulate. However, everyone who applies to be a tester is entered into prize draws, so you could still be a winner even if you are not selected as a tester.
The #builtwithBosch campaign will run throughout 2017. If you are chosen as a tester you will be given the latest power tools and technology to review over a six week period.
Bosch asks the testers to post short film clips to Facebook and/or YouTube (most were on Facebook) showing their reactions to the tools, introducing their features and recording their experience of the tools in use. It provides a great opportunity to have your say about the tools you use.
This year's products include the latest measuring tools and the latest Professional Connected Combi. All tools in the Bosch Connectivity system can be configured and controlled by the user via the Bosch Toolbox App, allowing adjustment to features such as kickback controls and precision clutch.
The app gives you access to new features like 'TrackMyTools' and 'Measuring Master' for documenting measurements, as well as existing functions of the Toolbox App such as a measurement camera, building documentation, unit converter and the mobile catalog for professional power tools from Bosch.
Extensions to the Bosch Toolbox App are available for free in the Google Play Store and in the Apple App Store.
The technology also allows users to connect their tools to an app which reports on the tool's status with feedback about how it is being used. This connected technology enables you to work in the smartest way possible, saving time on each job.
If you want to be a Bosch tester, recruitment will take place every couple of months throughout this year. Click here and complete the form if you would like to take part.
Steve Hillier, Marketing Director of Bosch Professional Power Tools, says last year Bosch had more than 1,500 people apply to become testers. "It's a great way for us to get real life feedback from trade professionals and it also generates some social media fun, while providing genuine and practical product reviews for tradespeople"