Equipment
The latest news from the Stone Industry
Dimitri Zambelis, who gives his name to the machinery, tools and consumables supplier D Zambelis in Essex, used to work in the marble industry. That gives him an advantage when it comes to selecting...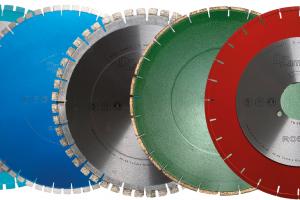 D Zambelis has started colour coding its blades to indicate their use. They are (left to right): Stellar, for natural quartzites and engineered quartz; Sapphire, for clean, single pass cutting of granite on saws with motors under 12hp the motor life; Platinum, an everyday blade for granite and engineered stone on saws above 12hp; Emerald, for marble and limestone; Rosso, for all synthetic sintered stones (Dekton, Lapitec, Neolith and the rest) and Porcelain. 
The makers of ultra-compact engineered stones and ceramics have successfully created a demand for their products but it has left stone processors in the KBB sector struggling to find ways to...
Stone Equipment International (National Masonry), which has created a significant business for itself in refurbished machinery sales as well as selling new Marmo Meccanica edge polishers and Emmedue...
by Stonegate Precision Tooling It's important to pick the right blade for the material you are cutting to ensure your blade can match the strength of the stone. Choosing the wrong blade can...
From superheated water at 150ºC to dry ice at -79ºC and from baking powder to lasers – they are all used for cleaning stone. Natural Stone Specialist magazine spoke to companies...
Leading machinery, tools and consumables supplier D Zambelis has moved into new, larger premises in South Woodham Ferrers, Essex, to give itself more room to continue its growth. And it looks...
From the new premises of Stone Equipment International / National Masonry in St Helen Auckland, Co Durham, proprietor Andy Bell reflects on the UK stone market and how his company is helping stone...
Workwear brand Dickies has launched a campaign celebrating the skills of tradespeople who inspire others with their dedication and ingenuity. Among those featured is Rob Maxfield, stonemason and...
At the end of this month (25-28 September) Marmo+Mac, Euorpe's main international stone exhibition, will be back in Verona, Italy. Britain's machinery suppliers will be there supporting the...
There are major changes at LPE Group (which took its name originally from the American Laser Products templaters it sells in Europe) with the Directors, Carl Sharkey and Simon Bradbury, splitting the...
Tools and equipment company Stonegate has introduced a new materials handling and lifting range and for this week only - today (2 September) until Friday (6 September) - you can pick up some...
Tool company Vetro Tooling has moved into the supply of CNC machinery. Following the Natural Stone Show in London earlier this year, at which Vetro exhibited, Denver's stone machinery is now...
Having moved into new premises and taken on more staff, Andy Bell of Stone Equipment International is ready to meet the changing needs of all sectors of the stone processing industry.New...
Stonetools in Tunbridge Wells, Kent, is selling a range of Marmoelettromeccanica CNC edge profiling tooling for stone fabricators that the makers say can increase productivity by at least two-and-a-...
There is a new version of the Alphacam CNC stone machinery management software. It is called Alphacam 2020.0 and the company that supplies it says it includes even more best-in-class technology...
Pages