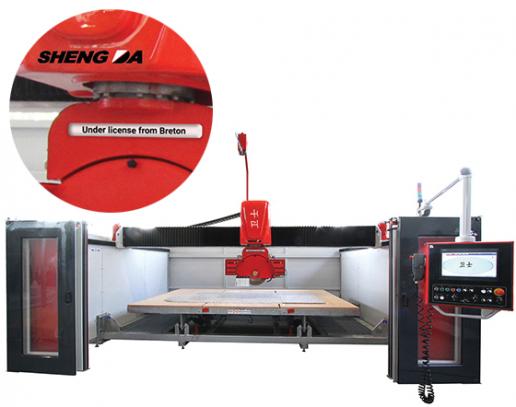 The Breton Worthy, which now becomes the Sheng Da Bodyguard.
Italian stone machinery manufacturer Breton has licensed its Worthy bridge saw to be made in China, mainly for the Far Eastern market.
Breton has stopped making the Worthy, which it has replaced with the Genya, a new, optimised CNC monobloc with all European components that it introduced at the Marmo+Mac exhibition in Verona, Italy, this year.
The Genya is available from Breton UK, based in Cambridge.
Moving manufacture of the Worthy to China has come about because Chinese technology company LSSC (Link Smart Stone City) wanted a bridge saw to sell alongside its integrated sales / slab selection / cutting path generation software for the natural stone sector.
It was necessary for LSSC to be able to provide customers with a modern, high performance CNC machine. The Worthy fitted the bill and Breton was prepared to license the Chinese to make it.
Breton has thus granted the production licence of the Worthy to LSSC, who will have the machine manufactured by the company Sheng Da of Shitou, which makes its own marble and granite bridge saws and already has experience in the field of numerical controls.
The first Worthy made in China will be presented at the Xiamen 2019 stone show on 6-9 March. The machine will be produced and marketed exclusively by Sheng Da under the name of Bodyguard.