D Zambelis: A new home and a new agency
Leading machinery, tools and consumables supplier D Zambelis has moved into new, larger premises in South Woodham Ferrers, Essex, to give itself more room to continue its growth.  And it looks as if it will need it as it adds Prussiani to the brands it represents in the UK. NSS paid D Zambelis a visit at its new headquarters.
In the previous issue of Natural Stone Specialist, Italian machinery manufacturer Prussiani said it would be announcing a new British agent during the international stone exhibition of Marmo+Mac in Verona (25-28 September). The new agent turned out to be D Zambelis, already well established as a respected supplier of machinery, tools and equipment to the stone industry in the UK.
D Zambelis Director Stella Zambelis says she spoke to Prussiani, which offers solutions for working synthetic and natural stones for all sizes of stone processing companies, during the Natural Stone Show in London this year, at which both companies exhibited. It became clear that Prussiani was on the look-out for a new agent in the UK and the discussion developed.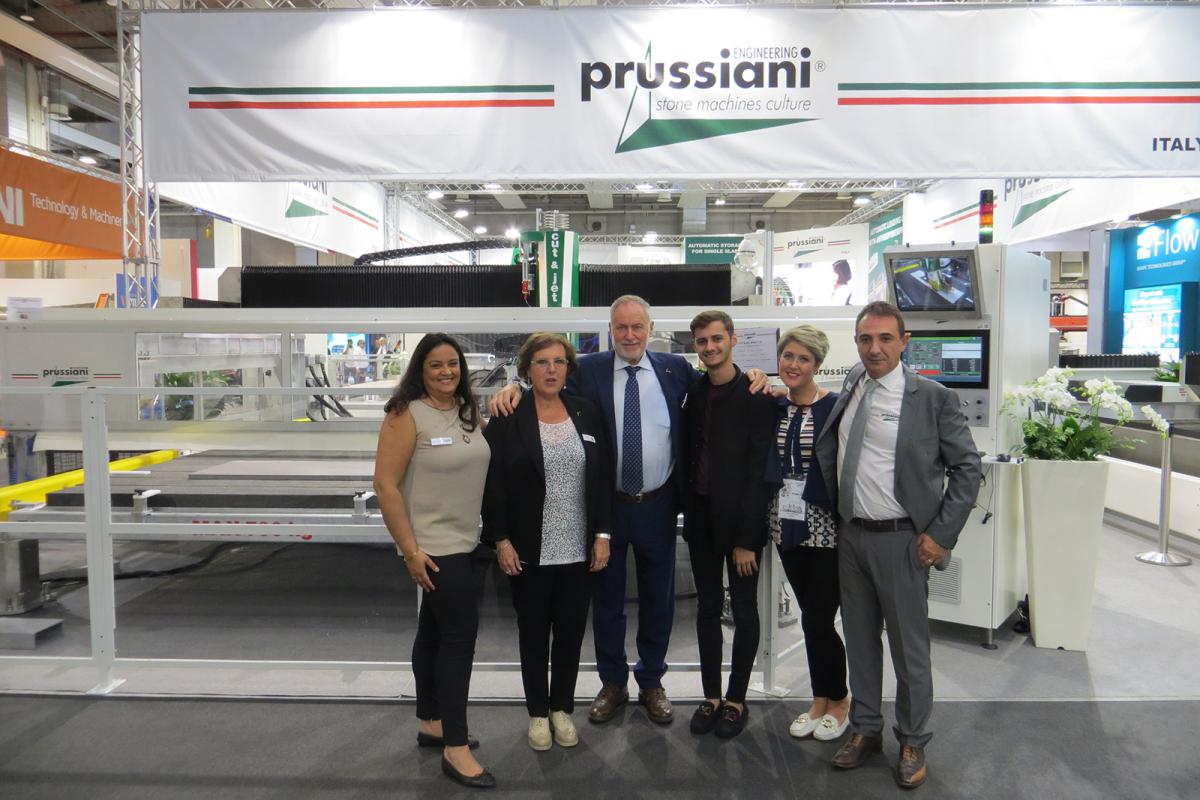 Pictured (left to right) on the Prussiani stand at Marmo + Mac in Verona are: Stella Zambelis, Mariella Lucchini Prussiani and her husband Mario Giorgio Prussiani, Jasper Zambelis, Claire Cooper, who arranges finance for customers in the UK, and Corrado Carrara, Prussiani's Sales Manager. They are in front of the new Cut & Jet combined CNC bridge saw and waterjet.
Stella says she liked the company's attitude and willingness to help customers. "To be part of our family our suppliers have to have the same attitude as us for looking after our customers. We don't work with numbers, we work with human beings."
Prussiani replaces Omag in the Zambelis range, although Zambelis will continue to work alongside customers who bought Omags. Prussiani takes its place alongside Terzago, Donatoni, Achilli, Dal Forno, Italmecc, OMGM and Co.Fi.Plast & Wires Engineering in the Zambelis line up.
Just two weeks before the London stone show, D Zambelis had moved into its new premises in South Woodham Ferrers, Essex. Moving at the same time as preparing for an exhibition is not something Stella and her husband Dimitri recommend. It left them so little time they had to cancel a holiday they had planned to celebrate their 30th wedding anniversary.
Buying the building was a rush because they found the premises that were just what they were looking for on a small industrial estate after three years of searching. They did not want to lose the chance of securing the property so moved quickly and the purchase was completed in less than six weeks.
Stella says she and her colleagues, who include her son Jasper and daughter Angelica as well as husband Dimitri, spend more waking hours at work than they do at home and see most of their friends there, so the environment should be as comfortable as it is at home. The building had no electricity and no plumbing, so work had to be done to make it that way, but Stella is understandably pleased with the result.
She designed the offices herself, with worktops, including an island, made for her by Frontier Marble & Granite, based nearby in Maldon, and bathrooms by another Essex processor, G Stone in Wickford. "I think I have achieved the extension of the home in this office," says Stella.
Customers even lent D Zambelis vehicles to help make the six mile move from the old premises to the new. Dimitri says: "One customer let me use his seven-and-a-half tonner with a tail lift. He just let us have it for as long as we wanted!" Stella adds: "You work with people for many years. It shows how much they appreciate you."
In the 23 years that D Zambelis has been supplying the stone processing industry in the UK, the range of products it sells has grown. So has the industry itself and the share of it supplied by D Zambelis.
The company first established its reputation by selling tools and consumables. It moved into machinery in 2007. Since then the market has embarked on the Industry 4.0 revolution and many of the machines Zambelis is selling today are significantly more sophisticated, although the company still offers simpler machines such as the Achilli Top, so it has something for stone processors of any size.
Zambelis even offers sophisticated CAD /CAM software as an approved Taglio training centre and reseller for the UK and Ireland, with Angelica Zambelis providing the training to users.
With the expanding range of products on offer, there was not enough space at the company's previous premises to stock the tools and consumables and the frequently required spares. Logistics were also becoming an issue. The more product moved at a time the more economical transport becomes, but if you are buying more product you have to have somewhere to put it.
So Zambelis started looking around for new premises of just the right size that could accommodate warehousing and office space. They also wanted room to be able to erect a new building, and finding somewhere with space available to do so was one of the reasons it took three years to come up with a solution. What they have acquired for the new headquarters is a building with a footprint of 800m2 on a quarter-acre site.
Stella: "We wanted somewhere we could create a showroom where we can display the machines during open days when we invite people here. We are talking to builders now about that expansion. If Brexit wasn't in the way we would start that immediately, but we want to wait until Brexit is settled."
The uncertainties around Brexit remain awkward for any company bringing goods in from the Continent, but Zambelis believes it has all the paperwork in place to make the continued smooth supply of the ranges it sells as secure as it can be whatever happens. It does not anticipate there being any shortages for its customers.
Zambelis would also like to use its extra space for training, so companies don't always have to lose operators for days at a time because they have to go to Italy to learn how to use machines. Keeping some standard machines in stock would also mean they were immediately available, "so if customers want them they can have them now".
The move to the new premises took just one weekend. With the rearrangement of the offices has come some rearrangement of the structure of the business, making the tooling side more independent, with Angelica and Dimitri Zambelis running it.
That frees up time for others to spend with customers, including visiting their premises. The offices are also bigger and can accommodate extra members of staff currently being recruited.
All the tools and consumables in the Zambelis catalogue (available online to download as a PDF) ordered before 4pm are delivered next day. The machinery takes a bit longer, especially larger machines that are made to order.
It is all on the website, looked after by Jasper and developed so it updates automatically from the manufacturers' websites. It also now has an e-shop. And a newsletter is sent to customers once a month to tell them about the latest developments and promotions. "It's an easy way to be modern," says Jasper.
And effective. They sold three machines from one mailing offering a promotional price. Jasper says they do not want to stop talking to customers but they understand the stress people are under when searching for tools. Jasper says: "We just want to make the day go by a bit easier for them."
The tools and consumables bring Zambelis into regular contact with the expanding customer base that has given the company its continuing growth. But, says Stella: "I can't really say we have increased customers because we have gone out to get them. It's just our reputation has spread. I have never sold a machine to anyone who doesn't need it or doesn't understand what they're buying. I like to sleep peacefully."
Dimitri's background as a marble worker has helped establish the company's reputation, along with contributions from customers themselves who provide their feedback, especially on tools Zambelis asks them to try before including them in the Zambelis catalogue.
Lately, for example, customers have been asking for a blade that will cut Dekton, quartzite and ceramics. Zambelis believes it now has such a disc from Italians Cidiam. It was about four years in development. Dimitri gave Cidiam a pallet of materials and asked for a blade that would cut them all. And Cidiam has come up with it. Although not approved by the slab manufacturer, it is unreservedly approved by customers. It will work on most machines and from this year it even cuts mitres.
Zambelis doesn't hide the fact it is not approved by the slab manufacturer but it sells the blade anyway because Dimitri believes it is the best there is. "Nobody needs to approve our blade – it does its own talking."
There is also a blade, the Odyssey, for dry cutting just about everything (except glass) on site using power tools. 
To make choosing the right blade even easier, from this autumn they are all being colour coded and given names that explain what they do.
It is all part of making the Zambelis experience better for customers, which, they say, they will never stop doing.