Digital templating: Prodim
When digital templating first entered stone workshops in the UK it was Prodim that led the way. Many companies now would not use anything else. NSS asked some of them what keeps them loyal to Prodim.
The French call it ubérisation, after the international taxi operation. In the UK it is called the internet of things. It's more than just digitisation – it's digitisation with communication; machines talking to machines.
So far, it still involves a human input and produces an outcome designed to satisfy people. In the stone industry it is exemplified by digital templating.
When the first Proliner digital templater came to the UK in the 1990s from the company Prodim in Helmond in The Netherlands there was no Uber taxi service nor an internet of things. The Internet without 'things' was novelty enough, with dial-up modem connection through computers with hard disc storage measured in tens of megabytes.
Processing power and speed and the internet have come a long way since then and Prodim's Proliners have become considerably faster and more versatile with vastly more memory, which is why they remain the preferred system for many stone fabricators.
The latest 7CS stone package offers more than simply 2D and 3D digital measuring. It uses industry standard software with a wide range of CAD functions to communicate the information back to the factory through WiFi or mobile phones. It can be used to produce a PDF worksheet. Profiles, materials and cut-outs can be specified immediately. Separate DXF files are created for each production piece ready to be used for fabrication. And with Factory Draw & Quote a sketch can quickly be produced and a price quoted.
One aspect of Proliner that has not changed is that measurements are taken using a wire extending from the top of the 'box'. Prodim firmly believes this is the quickest and most accurate way of measuring.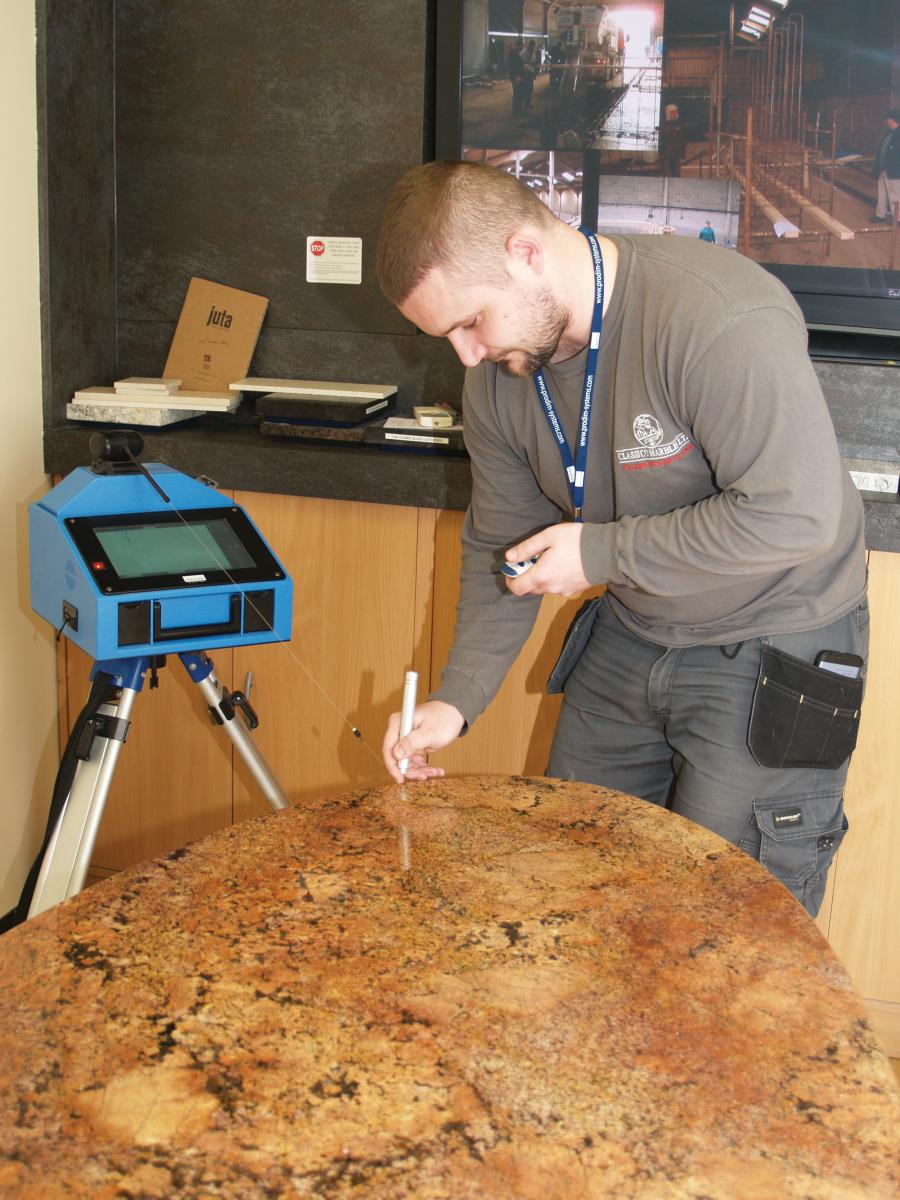 Scott Hopkins (pictured here), who does templating and estimating and is a draughtsman at Classico Marble in Langley, Berkshire, says the main thing to remember is to go in the same direction all the time. "You always have to keep your left shoulder to what you are measuring, that's how I think of it," he says.
Classico, which is run by Salvatore Caruso and employs 41 people, started using digital templating two-and-a-half years ago. Salvatore says: "I went to the Marmomacc exhibition in Italy with one eye on the Prodim, but I wanted to look at laser alternatives as well. I chose the Proliner because with a wire there is never any doubt about what you're measuring."
The Proliner can also operate in two ways. It can take discrete measurements from point to point, but it can also be simply run round a curved or irregular edge continuously taking samples to reproduce the shape. "It's so quick," says Scott.
Switching from point sampling to continuous sampling simply requires the click of a button on a small, wireless remote control that has its own parking place in the Proliner so it does not get lost and comes with a lanyard so it can be worn round your neck while you are templating. It has only four functions: apart from the sampling modes, it can add a new layer and delete readings.
Salvatore says the speed with which the Proliner can plot curves was one of the features that sold him on it. "We do quite a lot of curved furniture and you just whizz round the outside edge. I thought for us it was the best system. I was in Italy with Intermac two weeks ago with some other stone people from the UK. We were all sharing photographs of work we had done. Some of them admitted they wouldn't have had a clue how to make the templates for some of our work."
And the measurements taken by the Proliner are indisputable. Before getting the digital system many of the templates Classico produced were drawn on paper. It was only if they were particularly unusual that a 6mm MDF template would be made.
It was not unknown for worktops to be slightly out when they came to be installed. Classico normally maintained it was because other trades had moved the cabinets, replastered the walls, or whatever. Classico always took photographs when it templated – and still does – but they can be inconclusive. Other trades always denied they had altered anything, saying the templater must have measured inaccurately.
Nobody argues with the Proliner. "They always put their hands up and admit they have changed things," says Scott.
Prodim facilitates editing of files on the Proliner on-site, with handy additional functionality offered by Proliner Stone CT software. The Proliner always makes a duplicate file for working, so the original measurements are retained.
Classico does not like the files to be modified on-site because it wants the templaters in and out as quickly as possible. The unaltered templates are brought back to Classico's drawing office. The original templates are retained along with photographs taken as verifiable evidence of the original conditions encountered.
Prodim says it is just a question of preference. "We will always advise and encourage a stone shop to go for the solution that fits and improves their production process best," says Coen van den Brand at Prodim. "What we advise depends on many different factors."
After a day's templating, the files are brought into the Classico office the next morning to be downloaded before the templater sets off on that day's work.
The files are copied and used by a draughtsmen to prepare them for transfer to the saws and workcentres in the factory for production. The computers and CNCs are all on a network throughout the factory. For a kitchen, turnround time is normally no more than seven days.
It is not just horizontal surfaces that are measured. With a worktop, splashbacks are often also required. And it is not always a worktop that is being templated. The Proliner can be used to measure up for anything, including curved staircases, floors and swimming pools. And if the area being measured is greater than the length of wire on the Proliner (normally 7.5m although a 10m wire is an option), a simple system of 'leapfrogging' accommodates even the largest areas.
With use, Classico's confidence in the Prodim technology has grown. "We haven't had a disaster with it," says Salvatore, although he did put anyone who was going to be using it through quite a lot of training. They went to the Netherlands with Prodim to begin with and, back in Langley, Salvatore had them templating the factory. "I got them scanning the walls. Where you have to go round doorways, that's where you can start to go the wrong way. We trained them on horizontal and vertical surfaces."
Scott does not know how much memory a template requires nor how much the Proliner has. All he knows is that it has never been a problem, although the templates are periodically cleared off the Proliner and stored on USB memory sticks.
Classico bought two Proliners because it had two templaters, but the work was speeded up so much, most of the time only one person is now out taking templates. The other Proliner is used in the factory to digitise the physical templates brought in by other companies who have worktops made for them by Classico – because Classico mostly supplies the trade rather than dealing directly with the public. The Prodim makes it easy to program the CNCs. "We don't have any manual saws any more," says Scott, "so we can't manually cut round an MDF or Vinyl template."
Most of Classico's work is in and around London, which gives digital templating another distinct advantage. The Proliner versions commonly used by the stone industry weigh 8-10kg and are supplied with a backpack. They can easily be carried on public transport (they could even be carried on a motorbike, although the tripod would be awkward) with the obvious benefits of not having to negotiate the congested streets of the capital in a van. For Classico it could hardly be easier, as the company is opposite Langley railway station.
Salvatore understands a lot about automation, having been a consultant in automation for other companies after finishing his studies at Brunel University in London before he joined the stone company his father had established in 1995, the same year that Prodim started making its Proliners. Salvatore took over the running of the business when his father died in 2009.
He says he did not expect all templating to become digital when he bought the first Proliner. "We never intended to use it across the board. We thought we would only use it for curved profiles. But we quickly started to use it for nearly all templating."
Classico has just started production of worktops for 300 units in east London, with about 30 different styles of worktops. The Proliner is making the job a lot easier and quicker than it would be without digital templating.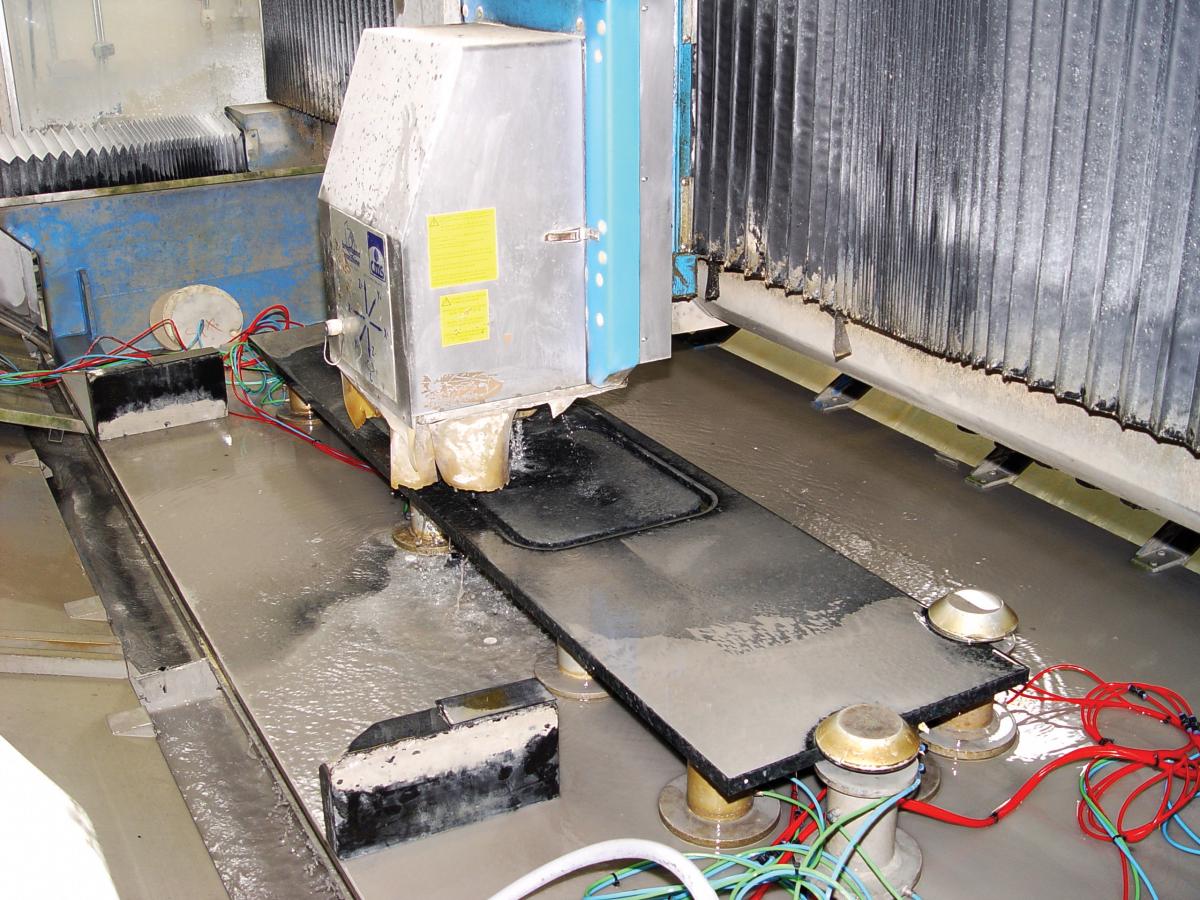 Another Prodim enthusiast is Steve Vanhinsbergh at stoneCIRCLE. The company has its factory just outside Basingstoke, Hampshire, behind one of its two showrooms. StoneCIRCLE bought its first Proliner in 2009 and now Steve wouldn't be without it. "I think they're brilliant – they do everything they say on the tin. We would never change. We have four of them and they're in constant use.
"We supply the trade, as well as the public, and they bring in physical templates, but we digitise them and throw the physical template away.
"Before we had the Proliners we were probably buying a pallet-load of hardboard every six weeks for templates, which you then have to dispose of. I have every single job we have ever done since we got the Proliners on a hard-drive. They don't take up much room.
"And there are other savings. You have to have a bigger van if you are carrying around sheets of hardboard.
"I went to Bute, in Scotland, with a Proliner and a laptop. I did the template, put it on my computer and sent it to the factory before I got on the plane to return. The Proliner comes with a rucksack but there is also a flight bag available."
Prodim works hard to give Proliners easy compatibility with all CNC machinery but Steve prefers to edit the templates ready for use by his machines on his laptop. The Bute job was going on stoneCIRCLE's Brembana CNC workcentre, which was supplied with AutoCAD and EasyStone software. "You have to do a bit of work to prepare the template for the Brembana," he says.
The batteries on the Proliner normally last stoneCIRCLE's templaters between four and five days before they need re-charging, making an average of three or four templates each a day. That is not just worktops. The company has templated for coping stones around swimming and plunger pools, floors and staircases – even elliptical staircases, taking the measurements for four treads at a time. "We have even done an oast house where they wanted the kitchen cabinets and worktops to follow the round walls of the room."
All the machines at stoneCIRCLE are networked and by the time the template is downloaded to the machines it is ready to be used. The machine operator simply works his way through a job card, loading the right slabs on to the machines. It is no longer necessary to have one man per saw, either, as it was when the factory was manually cutting round a piece of hardboard. And if a finished piece does get broken (it happens) the file is still available to start again.
Most companies take photographs when they are templating. Graham Bowles has been a Templater Fixer with solid surfaces company Counter Production in Watlington, Oxfordshire, for 10 years and has used a Proliner for the past five of them.
He says at Counter Production they take an iPad with them when they go templating. They use it to email templates from the Proliner back to the drawing office at the company along with the photographs taken on the iPad. Before the draughtsmen send the files to the factory they are sent back to Graham for a final check. He normally works to and from his home, seldom needing to go into the factory.
"A couple of weeks ago between the templating and the installation they put in back panels. The photographs backed me up when I said the back panels hadn't been there when I did the measuring," says Graham.
Before getting the Proliner he had used oil-tempered hardboard to make templates, a skill which he says he has only once had to revert to since getting the digital templater. It was for a tiny shower enclosure that was just too small to be able to set up the Proliner tripod in.
Graham says on his best day he has produced six templates and fitted two worktops. Usually templating takes longer because he does modify the files on the Proliner. "It's not the measuring. It only takes five minutes to measure. Then you spend an hour / an hour-and-a-half discussing the overhangs and things like that with the customer."