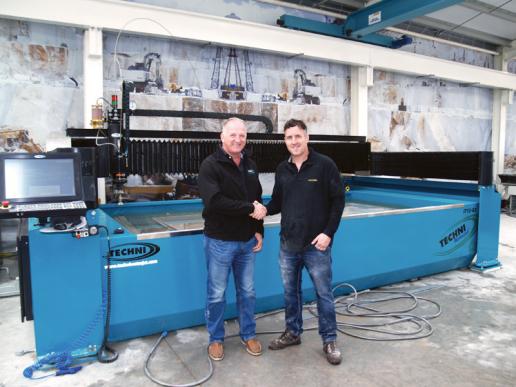 This was the workshop of Planet Granite last year when Glenn Langdon (left), the Sales Director of Australian Techni waterjets, dropped in to see Steve Murphy, the owner of Planet Granite, the first UK stone processor to buy a Techni waterjet. Now Italian CNC stone saw and edge polisher manufacturer GMM has bought the Techni company. Its UK agent, Roccia Machinery, will add Techni waterjets to its offering.
GMM, the Italian manufacturer of CNC saws and edge polishers sold in the UK by Roccia Machinery in Derby, has bought TWJ, the Australian company that makes Techni waterjets.
Although there are more than 1,000 Techni waterjets in use in 26 countries, some of them in the UK, most have gone to the glass industry and for food preparation. There is only one in the British stone industry, bought by Steve Murphy of Planet Granite, near Coventry, last year (read about that here).
One of the selling points for Steve, just as it was for GMM, is that Techni designs and makes all the major components itself in what it calls 'total technology'.
The company makes its own pumps and writes its own software, which includes systems analysis and internet connection with the makers. And Techni only makes waterjets.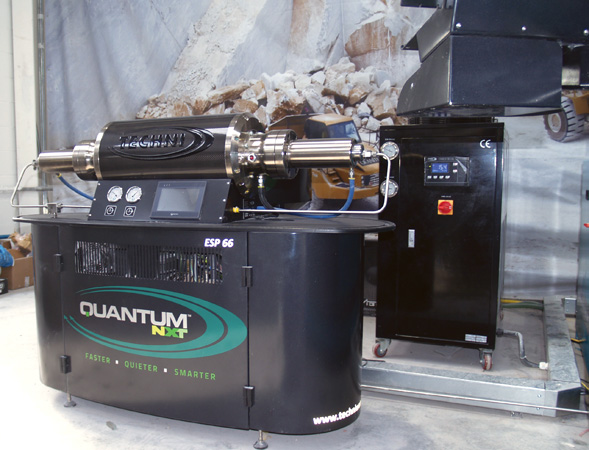 The company is particularly proud of its Quantum NXT pumps. It claims to be the first waterjet manufacturer using direct servo pumps (a system it has patented) using technology first applied by NASA in the space shuttle programme. It says they are 60% more efficient than standard hydraulic intensifiers using 75% less water for cooling. They also use less power and oil and are particularly quiet.
Their big energy saving advantage comes from providing only as much pressure as is needed, when it is needed. When the waterjet is not cutting, the pump is in standby mode rather than sending power, water and money down the drain through a relief valve.
Steve says his Techni uses about 180L of water an hour. Half its running costs are accounted for by the garnet abrasive used in the cutting process, which normally costs in the region of £300-400 a tonne.
Techni also lays claim to having been one of the first to develop five axes waterjet cutting and to have produced a head that could rotate through a full 360deg.
And it is proud of its stainless steel band drive system, which it incorporated in the first waterjet it made 20 years ago and has used ever since. Most bridge drives use a ball valve but Techni's stainless steel band is described by Glenn Langdon, Techni Sales Director, as 'bullet proof' for reliability. When it does eventually need changing it takes just 30 minutes and costs only £150.
GMM TWJ will continue to deliver all existing product lines and services. And with the weight of GMM behind it, it will be in a better position to market itself to the stone processing sector to give it faster domestic and international growth.
GMM TWJ will also benefit from the combined engineering resources of the two businesses to develop new products and services.
Following the acquisition, GMM TWJ employs 170 people working from five factories totalling nearly 20,000m2.
"This acquisition," says Corrado Franzi, founder and CEO of GMM group, "strengthens our competitive position."
GMM has forecast that the addition of TWJ will push its sales this year to €70million and will take the group's sales through the €100million mark in 2020.
Darren Reukers, co-founder and MD of TWJ, says: "We are delighted to join the GMM group and thanks to this we will have the opportunity to grow beyond our traditional markets today represented by Australia, New Zealand and the USA. "The common goal is to offer the best solution for cutting and finishing stone materials, focusing on innovation, reliability and low running costs for end-user."
Darren Bill, Director at Roccia in the UK, which will be selling Techni waterjets to the stone industry alongside the GMM CNC saws, 30 more of which it has installed this year, is delighted with the addition. "Due to the technology inm the pump, we believe this will become the market leading stone waterjet," he told Natural Stone Specialist magazine.