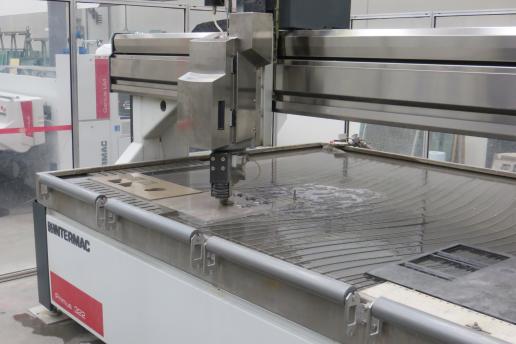 The Primus waterjet from Intermac attracted a lot of attention at the first Inside Intermac Stone in Pesaro, Italy, that was attended by more than 300 customers from around the world, including 38 from the UK and Ireland.
For many years, Biesse and its glass and stone machinery company, Intermac, have invited customers to its headquarters in Pesaro, Italy, to see how the CNC workcentres and waterjet cutters are made. This year, with Intermac celebrating its 30th anniversary, the event was just for stone companies, with 38 people from 18 customer companies in the UK and Ireland among more than 300 visitors.
The first edition of Inside Intermac Stone followed last year's collaboration agreement between Intermac and fellow Italians Donatoni, which makes bridge saws for stone cutting. The companies say the collaboration has significantly increased sales of both companies' machines in the stone sector because many customers want to buy CNC workcentres and CNC saws at the same time and from a single source. The fact that Diamut, the diamond tool maker, is also part of the Biesse group is another reason for stone fabricators to choose Intermac.
There is some major investment taking place by Biesse Group this year, expanding its factories in Italy, including a new Diamut factory, and expanding its headquarters in the UK. Donatoni Macchine is also expanding, opening a new showroom in Verona in September. Guests at this year's Inside Intermac Stone were shown around the Donatoni factory and given a foretaste of what the new showroom will be like when it opens in time for the Marmo+Mac (as it is now called) stone exhibition in Verona.
Intermac was highlighting its machines for processing the new, man-made materials coming into the stone industry. Visitors were particularly interested in Intermac's Primus 402 waterjet technology and the Genius, which is a cutting table from the glass industry. It works by scoring the material so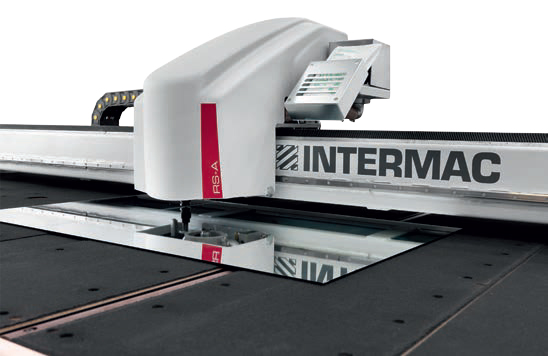 it can be snapped apart, like cutting glass. But it works just as well with the new generation of ceramic slabs. And do not think it can only cut in straight lines. It can produce intricate patterns.
Franco Angelotti, Glass & Stone Division Business Area Director of Intermac, said Inside Intermac Stone had proved a particularly successful formula. "We've received more orders than the previous edition and 40% more visitors from all over the world, proof that the event has a strong international appeal. We also found that visitors were very interested in the new Primus 402 technology, the Waterjet cutting system, and the Genius RS-A, a cutting table specifically designed for working with ceramic materials. Companies of all sizes responded, from artisans to large industrial producers, once again showing that the four-point-zero solutions made in Intermac are accessible to all."
And 'innovation accessible to all' was a theme of the event. Visitors were given a 360°look at the potential digital technology offers companies of any size in the manufacturing sector. Samples produced by local Intermac customer Generelli SA offered a tangible demonstration of what can be achieved.
"Innovation is part of our company's DNA," said Gianluigi Casadio, Glass & Stone Division Director. "When Intermac designed and created its first machining centres it brought innovation and technology into a world where work was still being done manually. These days numerical control machining centres are practically synonymous with the Intermac brand, which is one more reason we need to celebrate our 30th anniversary with pride.
"Our objectives are ambitious. We aim to constantly bolster our product range, strengthen our business network and increase the level of service we offer. Our recently approved three-year plan speaks clearly: we will continue to grow through precise development steps designed to expand our offer and continue to raise the bar for the quality and technology we offer."
Biesse Group is clearly feeling bullish. Last year it saw sales grow by 19% to €618million. That, it says, makes it Italy's biggest player in the sector and the world's second largest in terms of revenue with higher growth rates than the competition.
Inside Intermac Stone is intended to leave guests with what Intermac calls its 'thinkforward' attitude of getting out there are grabbing the market by the horns.