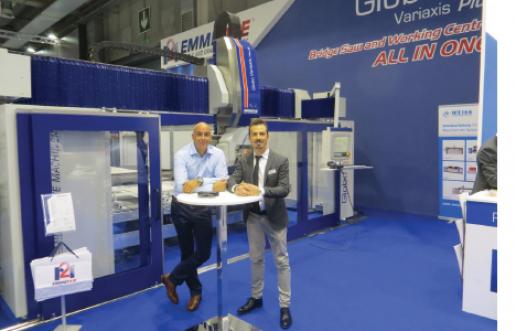 Andy Bell (left) from Stone Equipment International will be back on the Emmedue stand at Marmo+Mac in Verona at the end of September.
Now that the summer holidays are over Stone Equipment International is looking forward to the Verona Marmo+Mec exhibition at the end of September. This year, both Andy Bell, MD of National Masonry (also trading as Stone Equipment International) and Paul Hamilton, the company's highly qualified engineer, will be in Verona where both MarmoMeccanica and the Emmedue Division of Industrie Montantanari, represented in the UK by Stone Equipment International, will be showing their latest machines.
MarmoMeccanica, which makes edge polishers, will be showing the new LCR, which has generated a lot of orders and a great deal of interest in the UK (as reported in NSS in June) and in America.
With its unique cam system it polishes pencil rounds with ease - and Stone Equipment International clients have reported it can polish them in half the time it takes on some edge polishers.
MarmoMeccanica will also be showing the LCV, LCG, LTX Combi and LCT edge polishers, plus its HTO-R2 bridge saw. 
Stefano Amagliani, President of Marmo Meccanica, Rita Alessandroni, the International Sales Manager, and Andrea Ronconi and Antonio Cimarelli, engineers, will be on the company's stand (Hall 3, B74/B88-B67-B85).
The Emmedue Division of International Montanari (Hall 3, C31/C43 and C72/C84) will be showing four of its most popular machines – Astra 5-Axis Plus and Discovery 5-Axis Plus saws; Contor 360 4-Axis and the Globo Variaxis workcentres.
UK sales of the Discovery 5-Axis Plus bridge saws have been strong, with three sold in the Worcestershire area, within a 20 mile radius, this year alone.
The easy-to-use interface means that complex tasks can be programmed by operators with any level of experience. The Discovery 5-Axis Plus has a wide range of options so it can be tailored to each customer's needs.
On the Emmedue stand is Christian Montanari, General Manager, and Vito Oliva and Simone Terenzi, Area Managers, along with four of their skilled technicians.
Andy Bell and Paul Hamilton look forward to seeing you at the show, although Andy points out that it can be quite hectic, so if you email [email protected] you can reserve a time to meet him on the stand of the company whose products you are interested in.