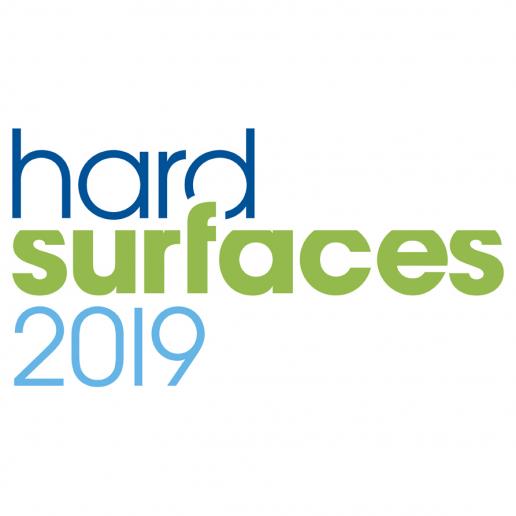 Hard Surfaces joins the Natural Stone Show at ExCeL London in 2019.
30 April-2 May 2019
New exhibition to co-locate with the Natural Stone Show
This is an exhibition that breaks down the barriers – a new event that brings you the latest products and trends in the rapidly developing field of HARD SURFACES.
Bringing together the production, design, specification and purchasing chain, this is the only exhibition in the UK focusing exclusively on HARD SURFACES and directly related products and services.
This exhibition is building on the success of the well-established Natural Stone Show and is presented by the owners of that exhibition, The QMJ Group.
When the Natural Stone Show was launched in 1995, stone companies worked stone. But the ever-evolving range of alternative HARD SURFACES used in construction has already broken down many of the barriers.
Companies that once offered only granite worktops are now just as happy fabricating engineered quartz; tilers who cut their teeth on ceramics are now installing stone floors, walls, wet rooms and showers; and companies used to thermoforming Corian are turning their attention to quartz.
In hard landscaping, porcelains are replacing concrete and stone while polished concrete and terrazzo are making their way on to worktops. The new generation of Ultra Compact Surfaces (UCS) are now being used for cladding as well as interiors. Glass is no longer just for splashbacks and doors; stainless steel is not just for commercial kitchens – it's not even just for kitchens.
There are no barriers. Opportunities are limitless. And yet products continually develop, offering new qualities for new applications. There are new colours, patterns and textures…new opportunities at every turn.
Forget laminates, architects, designers and fabricators are excited by a new generation of products – exciting products that offer new aesthetics and improved performance.
But where can they go to discover what is available to them? To feel the finish? To see the quality? To discuss the opportunities? To explore the potentials?
The HARD SURFACES exhibition provides the answer.
By co-locating with the Natural Stone Show at London's premiere exhibition venue of ExCeL, HARD SURFACES offers an attractive proposition for architects, designers, developers, fabricators, specialist contractors, installers and KBB outlets.
HARD SURFACES include ceramics and porcelains, glass, engineered quartz, solid surfaces, polished concrete, terrazzo, mosaics, mouldings, ultra compact surfaces (UCS), acrylics, stainless steel and other metallic finishes.
As well as the products themselves, there will be the opportunity for the suppliers of machinery, tools and equipment used to fabricate, fix, finish and maintain the products to show their ranges.
To exhibit contact Anna: 0115 945 3889 / [email protected]
To keep up-to-date with all the latest developments, sign-up to the HARD SURFACES newsletter at www.hardsurfaces.co.uk/newsletter-signup.