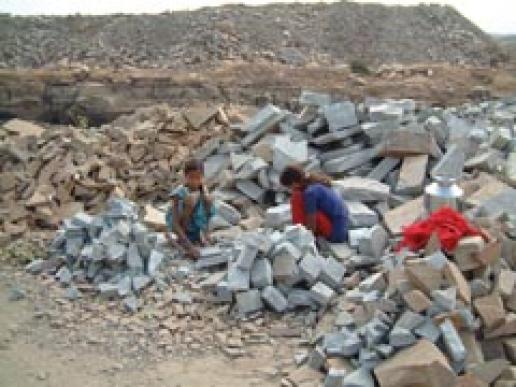 An Indian sandstone quarry. The Times of India reports a case where a man with silicosis has not received the compensation that was introduced for mine workers with the disease in 2013.
Indian sandstone is a popular paving product in the UK but it takes its toll on the people of Jaipur, India, who work in the mines from which it is extracted.
Sandstone is high in silica, which can cause silicosis, a debilitating and potentially fatal lung disease.
Since 2013, the Jaipur state government has paid 100,000 Rupees (about £1,100) to people suffering from silicosis. But it seems not everyone is getting it.
The Times of India reported on 22 November the case of Prem Lal Meghwal. He is 38 and the father of four children. He has been bedridden for more than five years and neighbours recognize he does not have long to live, reports the newspaper. He started working in a sandstone mine as a child and spent 25 years there.
He has had a certificate for the past year confirming he is suffering from silicosis but has not received any compensation. His wife works at construction sites and on farms to keep the household going.
A visit to the doctor costs 600 Rupees a time and Mr Meghwal sees his doctor twice a month. The medicine he has been given by the doctor includes a TB treatment and a herbal tablet for 'greater male vigour', neither of which is likely to be much benefit to him.