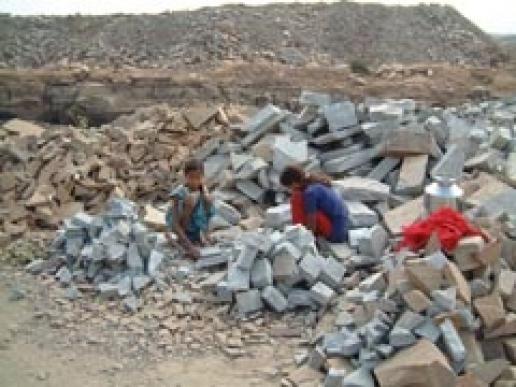 Hard landscapers Marshalls are actively working in India to provide children of migrant quarry workers with the opportunity to get an education.
The first company in the hard landscaping industry to belong to the Ethical Trading Initiative (ETI), Marshalls are committed to the ETI Base Code, which includes the principles that child labour should not be used, no-one should be forced to work and working conditions should be safe and healthy.
Group Marketing Director at Marshalls, Chris Harrop, has been in Rajasthan lately meeting a range of stakeholders, visiting quarries and quarrying communities, meeting with Marshalls' social auditor and reviewing partner NGO activity in the region.
While in India, Chris announced that Marshalls had reaffirmed its commitment to the community-based activity in Kota.
"Working in partnership with a local NGO, Marshalls continue to expand programme of fully funding schools, alongside funding health camps in the heart of the quarrying area, giving access to information and free medication for workers and their families.
"A rigorous monthly reporting process has been in place since the beginning of this year via Marshalls' full-time local social auditor here in India helping to drive progress and build capacity".
Marshalls now fully fund six schools, which are open to the children of all quarry workers in the locality, regardless of whether their parents work with Marshalls' sole supplier in India or not.
Mrs Joshi, head of the NGO that Marshalls work with, says: "For parents, these schools address the problem of not having money to pay for education and the dearth of any kind of care facilities for their children.
"Importantly, for the children themselves these schools offer access to education, a right which under India law is lost when families migrate in search of work.
"With approximately 300 children being educated each year, Marshalls are making a huge contribution to reducing the illiteracy rate – around 85% –in the quarry areas in Rajasthan."
As well as the positive impact on individuals, families and the wider community, Marshalls are clear about the benefits of investing in and engaging with the local community. They were able to gain competitive advantage with the launch of 'Marshalls Fairstone' in the autumn of 2009, for example.
Fairstone is an ethically sourced range of Indian natural sandstone quarried and produced in-line with a clear set of ethical values and commitment that Marshalls strongly believe in.
Marshalls clearly and confidently say they actively guard against child labour of any kind, that workers receive living wages and that health & safety practices are firmly in place and regularly monitored.
Marshalls' commitment to eradicating child labour and human rights abuses in Rajasthan is documented in its Communication on Progress (COP) that can be seen on their website. Click here to go to the website.