Health, Safety, Ethical & Environmental
The latest news from the Stone Industry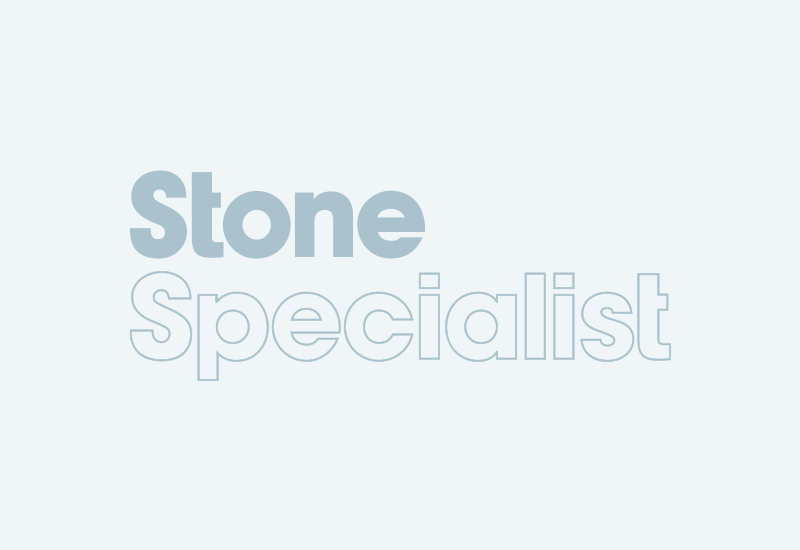 White marble originating from Africa could contain asbestos. The warning has been issued by Stone Federation Great Britain.It says asbestiform minerals have recently been identified in a sample of...
Watch out when using ladders. A Bradford window installation company has just been fined £850,000 with £1,083 costs after an employee fell 3m from a ladder that was not footed or tied in...
In the March issue of Natural Stone Specialist magazine Robert Merry decried in his Merry Month column the risk to the health & safety of people working in the industry of man-handling the large...
Investigators from the Gangmasters & Labour Abuse Authority (GLAA) carried out simultaneous swoops at five residential addresses in London yesterday morning (21 February) to rescue people they...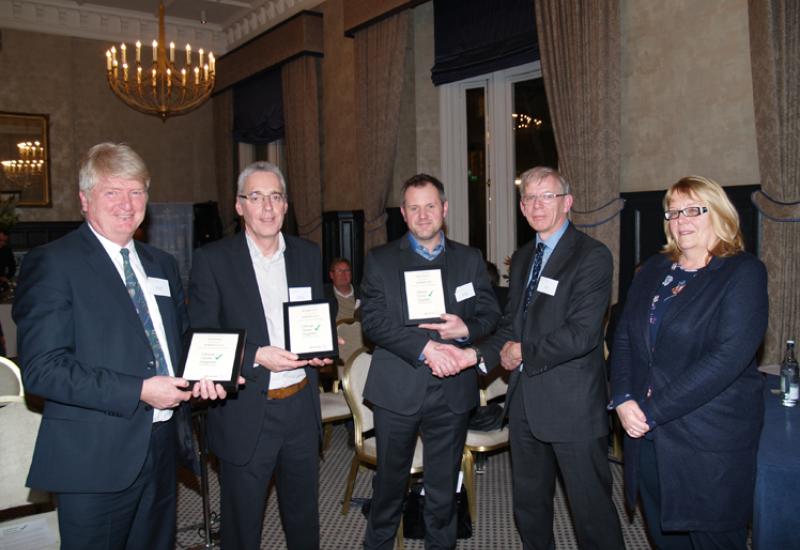 The first companies on the Ethical Stone Register received their Ethical certificates at the launch of the register in Bloomsbury House, London, on 1 February. In the picture (left to right) are Steve Turner of Amarestone, Rob Harris of Burlington, Marcus Paine of Hutton Stone. Marcus is shaking hands with Stone Federation President Tim Yates and on the right is Jane Buxey, Chief Executive of Stone Federation GB.
Stone Federation Great Britain's Ethical Stone Register (ESR) was officially launched at Bloomsbury House in London on 1 February, when three of the four companies that took part in pilot schemes...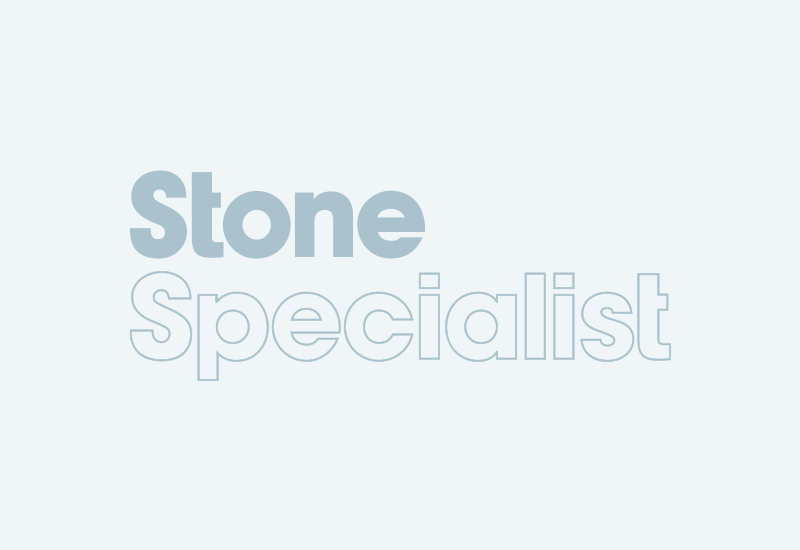 While a convenience store was having a disabled access ramp constructed, two elderly customers fell over it and suffered broken bones.It cost the contractor building the ramp a £600,000 fine...
HSE is reminding companies of their responsibility to monitor workers' health after a South Wales court handed out a £100,000 fine to an employer for exposing workers to Hand Arm...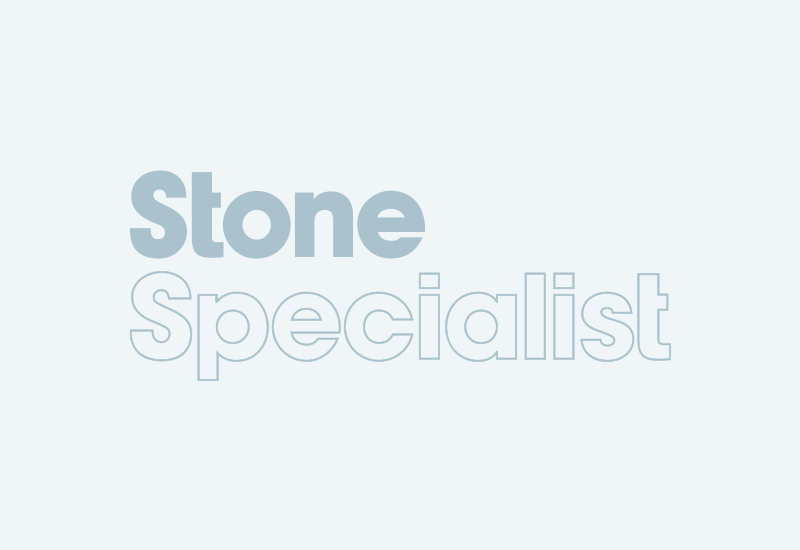 Howden Joinery Ltd has been fined £1.2million with £33,902 costs following the death of a visiting HGV driver at one of its premises.Carlisle Crown Court heard on 22 November how Richard...
Indian sandstone is a popular paving product in the UK but it takes its toll on the people of Jaipur, India, who work in the mines from which it is extracted.Sandstone is high in silica, which can...
Stone Federation Great Britain has introduced its members to a new ethical stone logo.It was launched at the Federation's Members Event at Manchester United Football Club's Old Trafford...
Although there were fewer prosecutions for health & safety infringements in 2016/17, the value of the fines imposed on those convicted shot up 80%.There were 554 proesecutions with fines imposed...
Update: On 3 September, the Observer newspaper reported that John Lewis and Habitat are among retailers that have stopped selling kitchen worktops, tiles and headstones made with Indian...
There is a feeling that HSE sends letters and issues warnings just so it can benefit from the charges it makes for doing so. HSE denies that. And to emphasise that it does not charge unfairly the...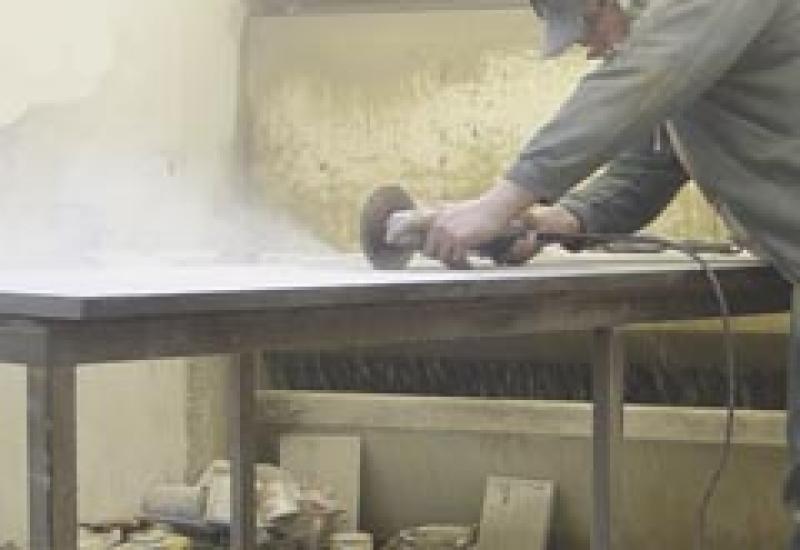 In Australia, a stonemason is suing 10 engineered quartz distributors for diseases he says he has contracted from dry cutting quartz for worktops, which is what is happening in the picture above taken in a workshop in England. The man cutting the quartz is not wearing a mask and is working away from the water wall so the dust is going into the factory where other people were working.
A stonemason in Australia is suing 10 distributors of engineered stone. He says working the high silica content materials has left him debilited with disease.He is seeking compensation, alleging he...
The Health & Safety Executive (HSE) reminds stone companies of the dangers posed by high silica content dust as a stonemason in Australia who dry cut engineered quartz sues 10 distributors...
Pages