Desert Grey (left) and Neo Calacatta, two of the BQS colours from Beltrami. The quartz accounted for 30% of Beltrami's sales last year and is expected to be 40-45% this year as the market for engineered quartz continues to grow.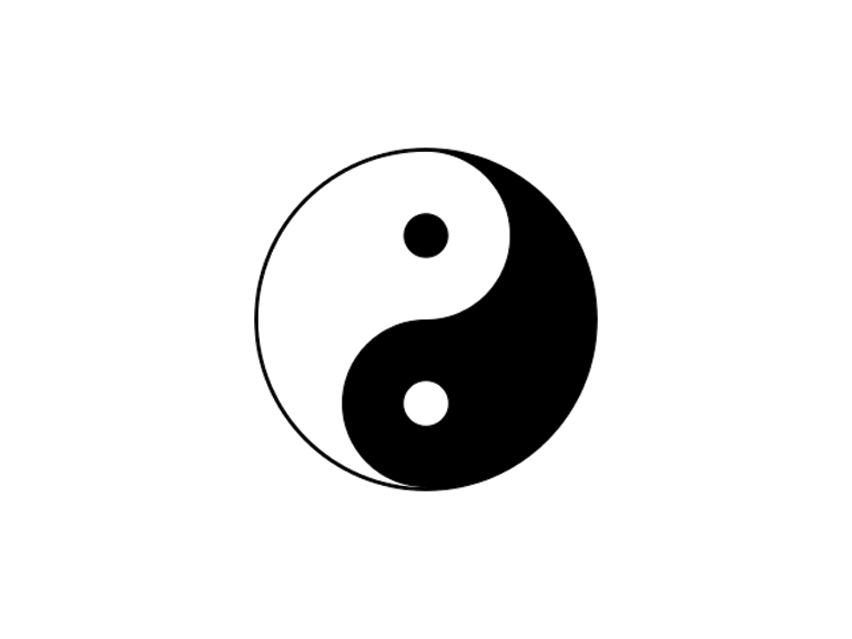 The landscape of stone wholesaling changed in June when Pisani appointed Administrators. But as Pisani goes, others are rising. And even the Pisani name survives in Derbyshire as a new company called Pisani Wholesale.
The appointment of Administrators at the once dominant stone wholesaler Pisani is an indication of how much the market is changing.
The Pisani depot in Feltham, a couple of kilometres from Heathrow Airport, marked a step change in the presentation of stone by most of the stone wholesalers in the UK. It had stylish room-set displays, comfortable meeting rooms and thousands of slabs of stone all under one roof.
It attempted to be similar to some of the spectacular stone showrooms seen on the Continent, led, perhaps, by Italian company Antolini (which, by the way, has just launched a new website that also breaks the mould – see www.antolini.com).
Pisani spent about £10million buying and creating the Feltham depot, which it opened in 2008 just as the banks realised they had been lending money they didn't have to people who could not repay it. Royal Bank of Scotland had lent Pisani £8.5million to buy Feltham and it wanted its money back.
It was an inauspicious start. Costas Sakellarious, the Managing Director and principal shareholder, managed to save the company – he has spoken before in this magazine about that (see bit.ly/PisaniMD) – but Pisani was saddled with the high cost of the depot. The margin-hitting fall of Sterling after the Brexit vote could not have helped and Administrators were appointed by the company on 8 June.
The aim of the Feltham depot was to encompass a new style of stone supply now widely adopted by stone wholesalers in this country of approaching developers and specifiers directly, rather than through specialist stone processors and contractors.
The idea is to brand a company supplying the stone, even if the stone itself cannot be branded, so that the stone is sourced from that particular supplier to avoid the common scenario of processors and contractors simply ringing round the wholesalers to try to find the cheapest price.
The move by wholesalers to attract developers and architects is also an effort to compete with overseas suppliers (mostly Europeans) selling their stone directly into the British and Irish markets. One reason European stone suppliers have moved to direct selling is because wholesalers were sourcing so much of their stone from the Far East.
One Spanish company, Ingemar, closed its depots in Epping, Bristol and Manchester after Administrators were appointed in 2015. Its UK company has been wound up as the Spanish parent has tried to tackle its financial problems by restructuring. Operations in other countries have also been closed down and Ingemar says it is supplying customers directly from its factory in Spain.
Barriers to entry to the UK market are low. Specifiers and developers think nothing of an excursion to Italy, or Portugal, or Spain, or Turkey to source stone. And communications (both digital and transportational) make dealing with an overseas company essentially no more difficult than dealing with a company based in the UK.
In the end, the Pisani model of comfortable, stylish premises in the UK intended to enhance the stone selection experience of clients, developers and architects without them going abroad proved unsustainable. And Pisani is not alone. Lapicida has also shut its uber-chic premises in London.
However, a new Pisani company, Pisani Wholesale, is now operating from premises near Matlock in Derbyshire, where Pisani PLC had a depot, and Lapicida still has its exotic showroom in Harrogate, North Yorkshire, which is a hot-spot of affluence outside London.
The model of attracting international clients, designers and developers with plush premises is not dead, though. The phenomenally successful Spanish Cosentino Group, which has seven depots in the UK and Ireland and plans to add two more in the coming months, opened a Cosentino City in London last year. It is strategically positioned in the heart of Clerkenwell, the international design centre of London, which might make all the difference. The international architectural and design community is well aware of its own importance and expects suppliers to come to it rather than it having to travel to see them.
London was Cosentino's fifth City centre. More have already been opened and others are planned, mostly for capital cities. They are intended to be convenient meeting places for clients and designers and include quirky digital features – for example, if you want a particular colour, you can specify it on a tablet and an illuminated display turns the lights off above all the samples except those of that colour.
Cosentino is on the verge of becoming a billion-Euro business. Cosentino UK alone is expected to contribute £70million this year, most of it from its Silestone quartz, although with an increasing contribution from the new sintered product, Dekton.
There might even be growth in natural stone to come because at its million-square-metre headquarters in Spain it has just opened a huge new stone slab warehouse, which it is stocking with stone from around the world for distribution throughout Europe (including the UK, in or out of the European Union). There will be more about Cosentino in the next issue of Natural Stone Specialist magazine.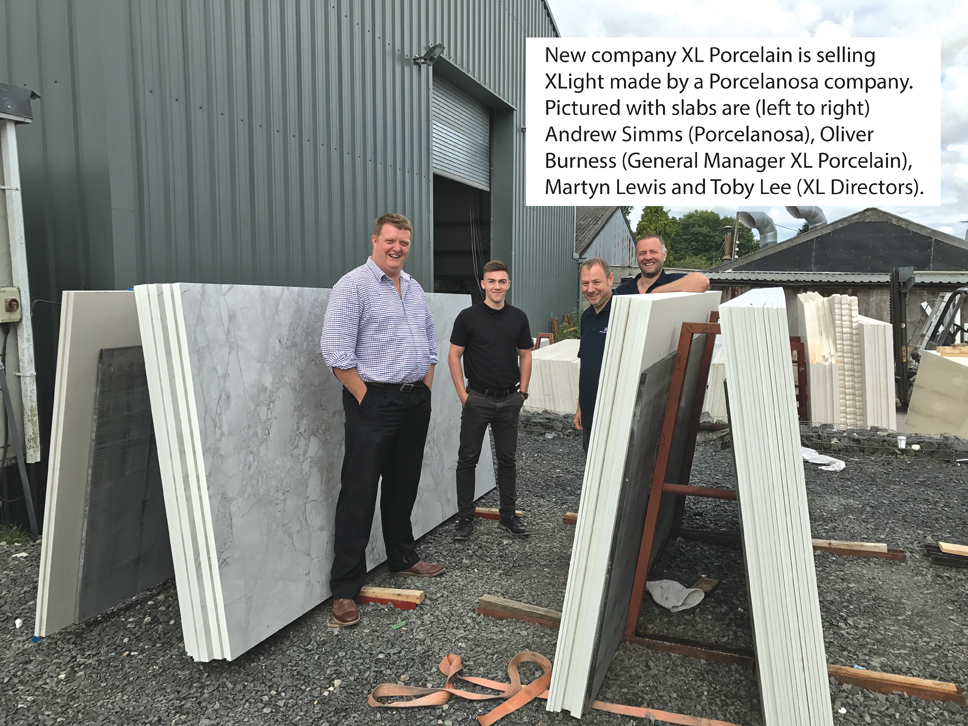 Competition on sintered / porcelain products is growing all the time and a new heavyweight is just developing its distribution route in the UK through a new company called XL Porcelain, with Oliver Burness recruited as its General Manager. The product is XLight Premium, manufactured by Urbatek, a company owned by Spanish giant Porcelanosa, which has a turnover of about €6.5billion.
The product itself, which comes in 12mm thick slabs of 3.2m x 1.5m and 6mm slabs of 2.5m x 1.2m, has already been used in the UK as cladding for Watford Football Club. Now it is going on general release through XL Porcelain, a new company being established by Martyn Lewis and Toby Lee, Partners in Worcestershire Marble, based at Kinlet, near Bewdley.
Worcestershire Marble was approached by Urbatek after some investigations. Urbatek is not an expert in stone processing, and it wanted a company familiar with the stone sector which already had experience of cutting sintered products and porcelain, which Worcestershire Marble has. It wants to establish a network of trusted fabricators around the country. XL Porcelain will advise fabricators on the best way to process the material using the same tools Worcestershire Marble uses from Stonegate.
XLight is currently being made at Urbatek's existing factory, but a whole new factory is being built that is expected to start production around the turn of the year.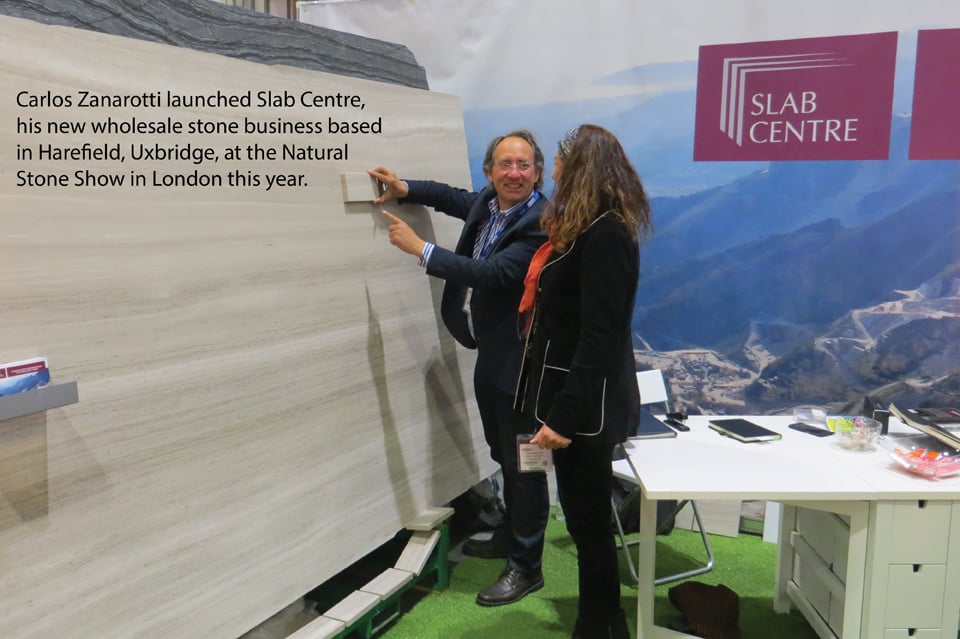 There are other newcomers in the stone distribution market. Another of the latest is Slab Centre, launched by Carlos Zanarotti at the Natural Stone Show in London at the end of April.
"I had a tremendously positive response from the Show," says Carlos. "The very first visitor to the stand asked me to source 15,000m2 for them."
Carlos has a different business plan to most importers and wholesalers. He is not planning to supply a slab or two at a time to kitchen worktop processors, but to stock larger quantities of a limited range to offer an alternative to going abroad for the stone for larger projects. He hopes to work with established wholesalers, helping them to supply those larger contracts.
Carlos says Slab Centre will have the best prices of the stones it offers. "There will be savings of 15-25%, and that's 100% certain," he says. On the other hand, the stone will have to be paid for when it is ordered and at least four slabs have to be purchased at a time.
"I am open and trading," says Carlos, who has considerable experience in the stone industry. He says he has 5,000m2 of slab in stock at his depot in Harefield, Uxbridge, where he has already secured the land to double the size of his operation. He currently has 15 kinds of stone in stock, mostly from China, Oman and Italy.
He does not even want to supply stone exclusively to the UK, but says he can source stone for medium to large size projects just about anywhere in the world.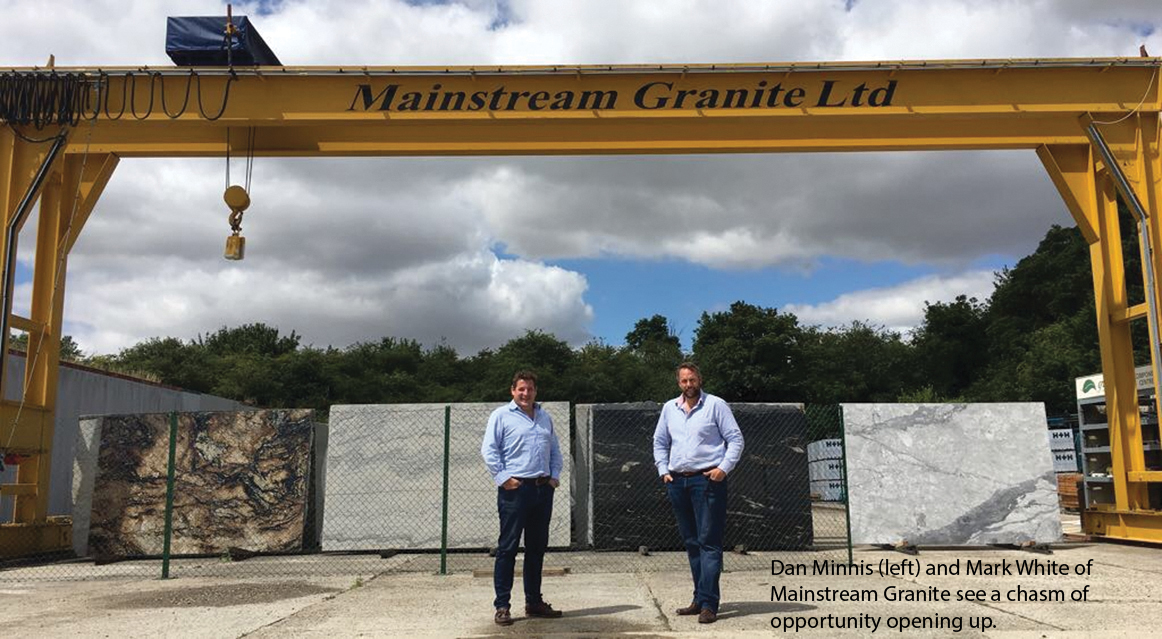 Another relative newcomer is Mainstream Granite, established in 2014 by Mark White, who has been in the stone industry for 18 years. He has been joined by Dan Minnis, who he has known since they were at school together and who became a director of the company last year.
Mark believed there was an opening for a stone wholesaler in East Anglia, where he lives, and opened his business in Sudbury, Suffolk. Mainstream Granite has about 1,000 slabs in stock on its one-acre site. Dan says sales are split roughly 50:50 between natural stone and engineered quartz. It sells Novae Stone quartz and a particularly competitively priced own-brand engineered quartz Calacatta.
Growth has been rapid and Mainstream Granite continues to add customers almost daily. To keep up with demand it has just bought an 18tonne truck to add to the 7.5tonne and 3.5tonne vehicles it has been using to provide same day or next day delivery in many cases.
It stocks granite from India and China and marbles from Italy, Spain and Greece. And it will supply cut-to-size stone directly to larger projects, including those in London.
Dan says "there's a whole chasm opened up" for stone supply in London with the closure of the Pisani depot in Feltham, and Mainstream Granite will be working on picking up some of the business. "There's a whole new opportunity for smaller people like ourselves," says Dan. "Stone wholesaling has become a bit more of a free market."
Engineered quartz has made an extraordinary contribution to the worktop / interiors side of the stone industry. Many stone suppliers say it now accounts for a larger proportion of their business than granite. And although there are low-price quartz products available, with plain blacks and whites becoming a commodity, the brands have managed to establish and grow their reputations.
Many believe quartz has a lot of growth in it yet as the UK (and Europe in general) has some way to go before quartz penetration levels reach those in the cities of North America and Australia.
Silestone is number one in the quartz market in the UK but Caesarstone, in second position, has a stated aim of taking over the top spot and this year opened its own warehouse in the UK inside the M25 at Enfield. It has just added four new colours to its range.
There is no shortage of other brands, both established (eg Cambria, sold by Granite Granite, as seen on the cover of the July/August issue of Natural Stone Specialist magazine; Santamargherita from Blyth Marble; Kalinga from Nile Trading; Stone Italiana, now being sold by new company Italian Luxury Surfaces in Berkshire) and own-brands such as IQ from International Stones in Sheffield,  BGS from Beltrami and its associated company Stoneasy, CRL Quartz from CRL Stone (distributors of Caesarstone until this year) and Silk, which the Thomas Group sells alongside its premium brand, Samsung Radienz. BGS and CRL Quartz were both introduced to the UK and Ireland at the Natural Stone Show in London this year.
And, of course, it is no longer just quartz competing with granite for the worktop market. The new sintered stone and porcelain slabs are intended to expand the market for man-made products in horizontal surfaces and beyond.
Some effort has been made to take quartz into new areas but in the UK, at least, it has met with resistance. Perhaps products such as Cosentino's Dekton; Lapitec, distributed by the Marble & Granite Centre in Rickmansworth; CRL Stone's Ceralsio; and Neolith, distributed by MGLW in Battersea and the Thomas Group in Manchester, will have more success, especially in those uses where the barriers between interiors and exteriors are being blurred by using the same materials for flooring and paving, separated only by a thermal barrier and patio doors. Exterior and interior wall cladding also beckons.
That blurring of the interior / exterior boundaries might also start breaking down the boundaries between some of the stone wholesalers. Those supplying hard landscaping have tended to remain separate from those supplying slab for interiors. But if the patio is becoming an area of interest for slab wholesalers, flooring is also becoming an area of interest for wholesalers supplying hard landscaping. Natural Paving Products, for example, has a porcelain product, Vitripiazza, in its range and the biggest of them all, Marshalls, has its Symphony range, which it promotes as looking great both in the garden and indoors.
Memorials are another distinct area of stone supply, dominated these days by China and India, although, again, there has been some blurring of the barriers with some memorial masonry wholesalers, already geared up for working granite, moving into worktops, although usually exclusively for a local market. 
One way or another, competition is fierce. "There's a price war going on out there," says  Neel Shah of Nile Trading, based just outside the M25 at Cheshunt.
Nile Trading sells Kalinga Stone quartz, the latest version of which is white marble effect Carrara. Nile Trading started stocking it in the spring and Neel says Nile Trading has struggled to keep up with demand for it. It is very much on-trend.
Kalinga is made in India, where it was named the 'Indian Power Brand' in the marble and stone category and 'Best Innovative Product' by the Indian Institute of Architects in 2010.
Neel admits Kalinga sales have been (and remain) important for Nile Trading but he says the company does not want to lose its grip on granite. "We still feel quartz is a fashion product that's going to turn round at any time. That's why we're still bringing in good quality, standard natural granites that others are turning away from. That leaves a gap for us."
Nile Trading says it will also be taking a close look at natural marbles during the Marmo+Mac stone exhibition in Verona. Interestingly, Rogerio Moutinho at MGLW in London, believes all the Carrara and Calacatta effect quartz and engineered stone on the market is actually benefitting natural marble. "It has a good momentum," he says. "I have never seen so many marble table tops and shop fittings. I have never sold as much Carrara marble as I'm selling now. It's the real thing and people like that. They only use quartz because of its properties, but once Carrara is treated it can take a lot of punishment. We are selling a lot of it honed."
With porcelain and sintered stones becoming an increasingly important link in the stone supply chain, Nile Trading intends to find a porcelain in Verona this year to add to its range.
Wholesalers try to distinguish themselves with unique offerings. While MGLW sells Neolith, from The Size, in London it also sells E-Light back-lit translucent stone on glass panels that can be used for features up to entire walls. LEDs are used for the tricky part of providing uniform illumination across the panel. MGLW also sells the even more exotic Citco range (see mglw.co.uk/citco/). It does not sell in great quantities, but, says Rogerio: "It makes us the place to come." And he does like clients and specifiers to visit the MGLW warehouse. "If they visit us, they buy from us."