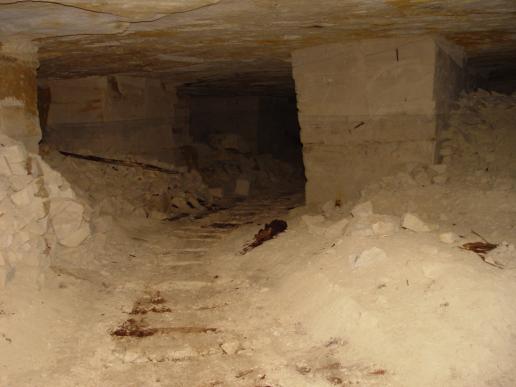 Miles of disused Bath stone mine workings were ideal for hiding the heat and light required to grow cannabis at what could prove to be the largest cannabis farm ever discovered in the UK.
Police have uncovered what some believe could be the UK's largest cannabis farm in a disused Bath limestone underground quarry near Bradford-on-Avon, Wiltshire.
Police have yet to determine the full extent of the cannabis farm because there are safety issues in the mine, called Bethel Quarry, which they want to resolve before exploring further.
Last year a cannabis farm was discovered just 26 miles away in the former Chilmark nuclear bunker. On that occasion three men were jailed after police officers found 4,425 plants in 20 rooms with the potential to generate a £1.25million-a-year crop.
According to the Daily Mail on Saturday (29 September) a group of people noticed electricity cables trailing into Bethel Quarry as long ago as 2015. When they started to explore they were threatened with a baseball bat. 
This time, detectives found the cannabis factory hidden inside the maze of underground tunnels on Thursday (27 September) after a search warrant was executed.
The tunnels are said to cover about 40,000m2. Mining stopped there at the end of the 19th century. The tunnels were occupied by the War Office in 1939 to store naval munitions during World War II. The mine later became a mushroom farm for Heinz soup, closing in 2010.
Alksander Shyti and Altin Deda, said to be Albanian nationals, have been charged with the production of cannabis and were due to appear at Swindon Magistrates Court on Friday, although the hearing was postponed because an interpreter could not be accessed.
Wiltshire Police Inspector Nick Mawson said: "Local residents are likely to see police presence at Bethel Quarry and surrounding area as officers carry out searches and gather evidence. This work is anticipated to carry on into next week due to the size of the location and safety issues at the site and we appreciate the patience of the community."
Wiltshire Police ask that if you have information regarding this incident or drug use in the area to call 101 quoting ref *91261. Or call Crimestoppers on 0800 555 111, anonymously if you prefer.
And no jokes about getting stoned, please.