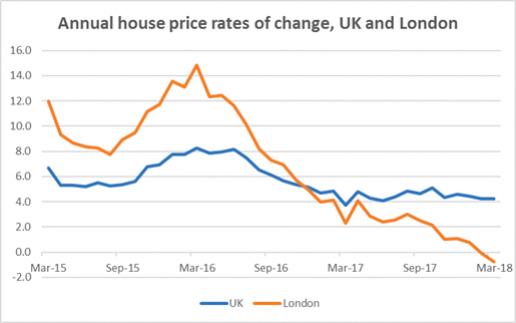 London house prices have fallen for the first time since the crash of 2009.
Figures just published by the Land Registry show house prices in London fell in March for the first time since the 2009 crash. Prices in the UK as a whole increased 4.2% but in London they fell almost 1%. 
According to Kishan Rana, an economist for the Office of National Statistics, the effects of Brexit and overseas investors in the market reacting (by selling property) to slower growth in London property prices that began in 2016 are responsible.
He says the decrease in demand for property in London and the increase in supply as apartments bought by foreigners as investment have been put on sale has been exacerbated by an increase in taxes and regulation, along with reductions in mortgage interest relief, particularly for second-home buyers (including buy-to-let mortgages). The regulatory and interest relief changes help explain why demand was already falling from the spring of 2016, as they took effect from the start of that financial year (April).
The vote to leave Europe in June 2016 further weakened the London market, both in terms of being an attractive property investment opportunity and a fall in net migration from Europe (and elsewhere). With the referendum and subsequent uncertainty regarding Britain's political and economic environment, perceptions of the future value of London property have been adversely affected. This is, says Kishan, what you might call a fall in speculative demand.
However, in the rest of the country house prices have continued to rise. Liverpool (12.5%), Birmingham (6.4%) and Manchester (5.9%) have seen particularly significant rises. 
Kishan speculates this may be because people have experienced several years of pay not keeping pace with rises in the cost of living and therefore have found locations outside London more affordable, both in terms of property prices and living costs.
Chancellor Philip Hammond's abolition of Stamp Duty Land Tax (SDLT) for first-time buyers in the latest Autumn Budget might also have encouraged people to leave London. Given the average house price in London is £472,000 and the relief only applies to properties worth up to £300,000, the abolition of the tax will benefit home-buyers outside London more than those in London.