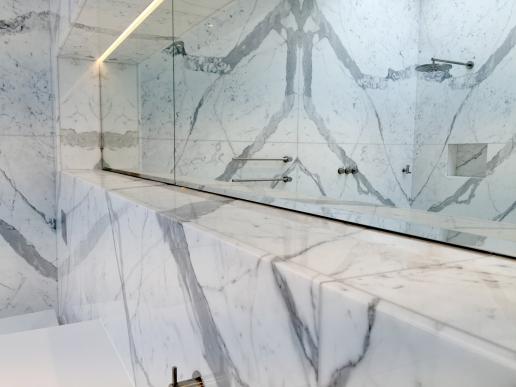 The book-matched natural Statuario marble bathroom in Surrey that earned Granite, Marble & Limestone Ltd recognition in the Natural Stone Awards 2016.
by Simon Hewitt
Granite, Marble & Limestone (GML) was one of just two companies honoured in the Interiors category of Stone Federation Great Britain's Natural Stone Awards presented by Michael Portillo in London in December.
The entry was a fully panelled, book-matched Statuario marble master bathroom to a large new development in Surrey (pictured here). It leaves no doubt about why the white marble look is so popular. Nor that the natural product can look absolutely stunning when it is produced and installed with as much care and precision as it was for this project.
And yet some of the interiors market is turning away from natural products and towards man-made quartz, sintered and porcelain products that can be given a marbled look.
Man-made products have certainly increased the share of the interiors market for stone fabricators, giving them a whole new range of products in the palette of colours, textures and physical properties they can offer.
There are many clients and their designers, especially at the most discerning end of the market where price is not the key factor, who do not want to compromise and insist on the natural product. But there are also many who are sold on the benefits of man-made products - and it is not a move fabricators in general are fighting, as Paul James Pratt, the Managing Director of GML, explains.
GML has an outlet in London and premises in Lancashire. Its Commended project in the Natural Stone Awards highlights its expertise, craftsmanship and ability to deliver a premium service that it describes as "quite literally a cut above the rest".
There is no doubt that nature has, over millions of years with the resources of a planet available to it and the almost unlimited energy of the sun, produced some remarkably attractive stones in such a variety that man cannot hope to replicate it.
Using such materials requires expertise. Firstly, the selection. For the Surrey bathroom the slabs were selected for their exceptional quality and recommended to the client. They were subsequently approved during a trip to Italy arranged with the client.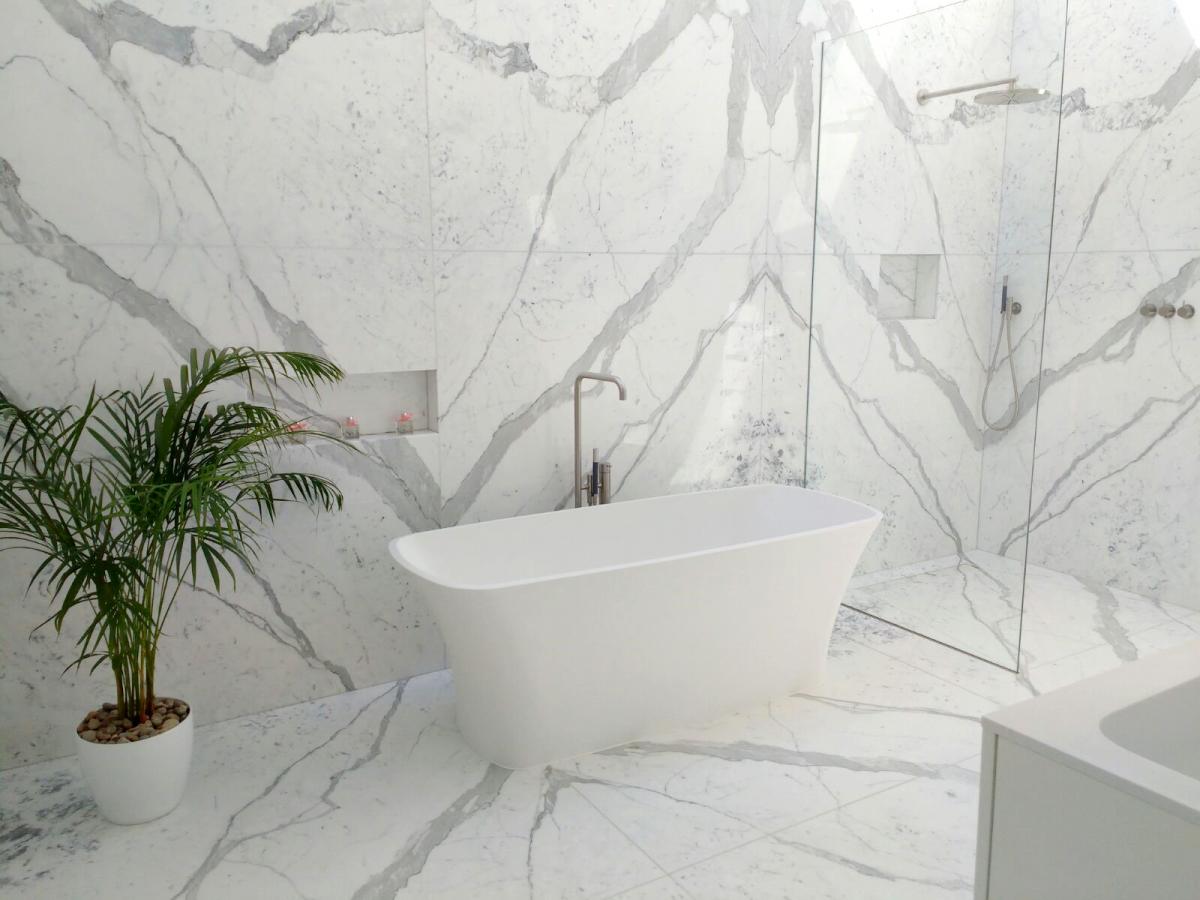 Then the cutting. Blocks were cut into slabs and each slab was book matched and polished at a factory in Italy. The book-matched slabs were photographed and the photographs were sent to the drawing department where they were combined to produce exact setting out renders. These were finely adjusted in association with the client's architect.
Site dimensions and cutting sheets were produced and, after verification, sent to production for manufacture ready for distribution to site.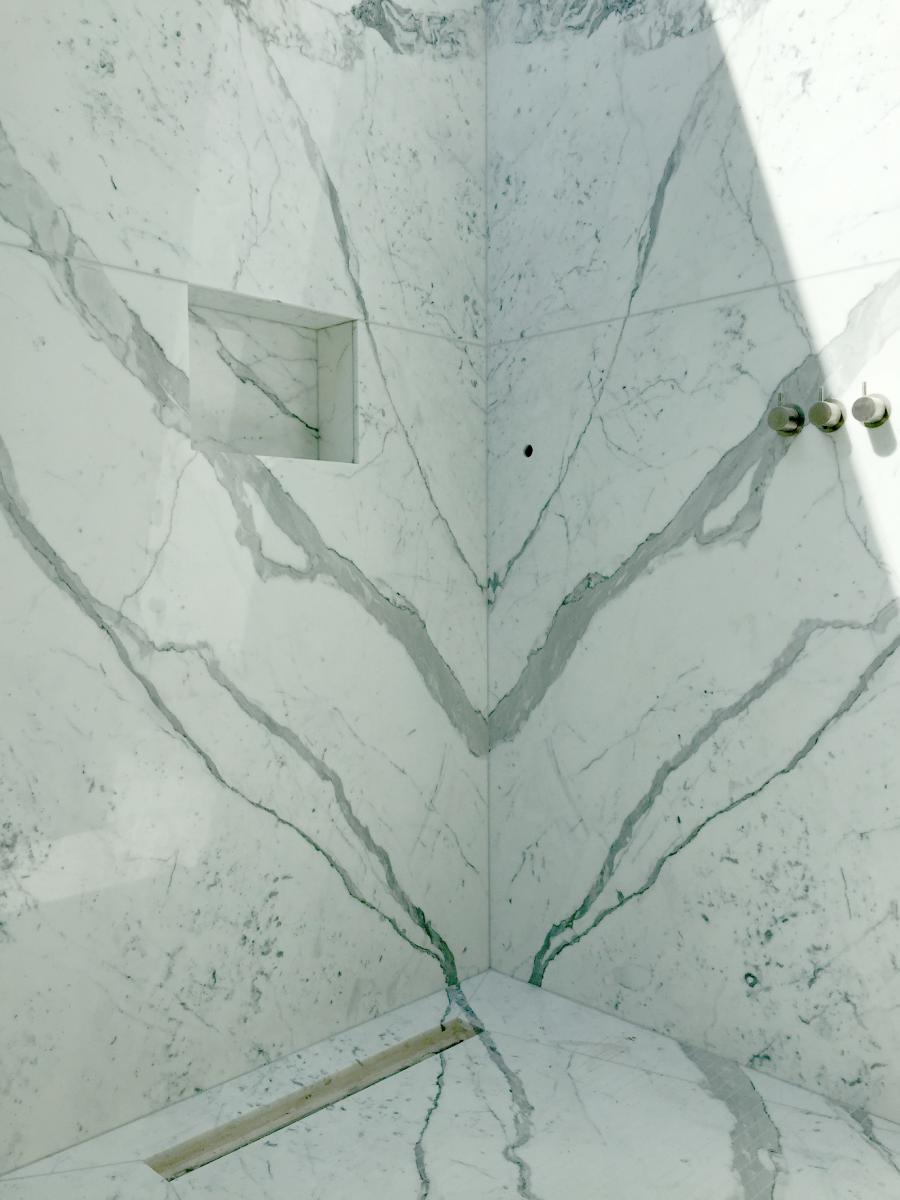 In this case, like so many others, site access and location meant that getting the stone there was akin to a military operation. It required specialist plant, lifting and site equipment. Even so, unfortunately one of the key wall panels had a small flaw and shattered during the final stages of delivery – just one of the unpredictable issues that can arise when working with natural materials. It is something stone companies have to anticipate and GML had ordered two extra scants from the block as back-up. Because of the consistency in the block the match was maintained and the overall design was not compromised.
However well run the process, there is a great deal with the use of natural stone, especially marble, that cannot be known at the outset. The result, like this bathroom, is truly unique because no two pieces of stone are ever identical. The result is a triumph that makes it well worth the effort, as was recognised at the Natural Stone Awards 2016 in December.
Yet while this is an exemplary demonstration of how natural stone can be used to its full advantage, it also demonstrates several of the perceived disadvantages of natural stone – those pesky Italian mountains just don't make the stone infallible!
Natural flaws and the sheer size of the slabs used for this project (which meant they were more liable to break) meant that the architect had to trust the contractor to manage all those practicalities and still be creative. It takes great expertise and knowledge to manage natural stones, both at source and throughout any project.
GML was recently contracted to fabricate and install an unusual kitchen where the main material is an Arabescato Orobico marble from Italy. This beautiful, natural stone has only recently become fashionable again and it presents a dramatic slab with multiple colours and complex figuring.
In interiors, fashions dictate. The use of natural stone to communicate status for both interiors and exteriors is as age old as the mountains from which the stone comes. But fashions still change and the dark granites of a few years ago have given way to lighter, more figured stones. As a business, GML prides itself on its versatility to be able to react to clients' specifications and circumstances providing a first-class service no matter how tricky the brief.
In the Arabescato Orobico kitchen, the architect needed the stone to wrap around the sides and top of a trapezoidal frame, giving a distinct angular appearance but retaining the key veining right round the piece at the same distance.
What was being created was more like a sculpture than a piece of kitchen furniture and, again, the designer was relying heavily on GML's competence, organisational skill, and sheer artistic flair to achieve the design intentions.
The designer is taking a risk. They have to have the imagination to re-work ideas based on the actual stone being used. It requires some give and take. For a single vein to match up from one plane to another involves discarding a considerable amount of stone from a block.
While it might be possible to use some of the discarded stone on other, smaller projects, the cost of the wastage is often not taken into consideration by the professional surveyors employed to manage the budgets of such projects. It is also rarely considered by design teams.
By contrast, GML also manufactures beautiful kitchens using composite quartz from well-known suppliers. Because the material is relatively consistent and produced to standard sizes, it is more straightforward to specify.
What designers and their clients see in a sample is precisely the same as what appears on site. The romance of natural tonal variation and veining is not present, but there is just as much opportunity to use form and colour to create drama. Costing is also straightforward. Consistent slab sizes and repeating patterns make it easy to calculate likely wastage from the project's inception.
When you are extracting material from the ground you can also encounter unexpected geological changes that bring production to a halt, which does not happen with a manufactured product.
On a recent commercial fit-out by GML, the natural limestone specified was no longer available. Fortunately, by taking advantage of production facilities in Portugal, GML was able to provide precisely detailed limestone to a re-drawn specification after taking the client and his production team to the quarry to select an alternative similar material.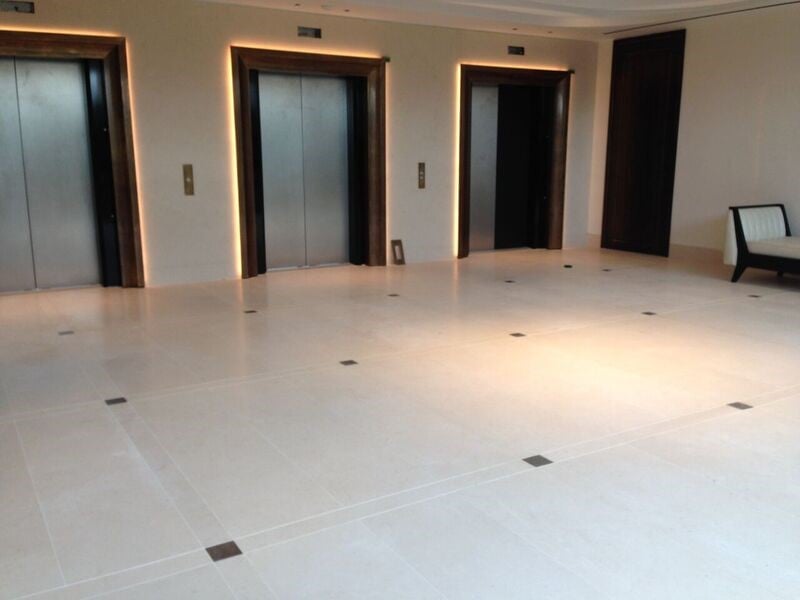 This enabled the project to be kept on track and the result was a consistent and classic expanse of white limestone floor and wall cladding. As a natural material, the subtle variation in tone even helped add a sense of timelessness and permanence that the design had deliberately intended to create.
Other commercial projects GML has been involved with have required consistent detailing to many rooms. In these circumstances, the quartz composite is ideal and its resistance to wear is a major selling point.
Colours in quartz have moved on from what GML considered to be rather dull granites to embracing a great deal of variety. Unrestrained by the nature of geology, they can be just about any colour or mixture of colours required. And because composite stones are consistent, clients and designers (who are not always resident in the UK) can select a material that they can be certain will be precisely the same when used on their project as it is wherever else in the world they saw it.
The physical properties designed into composite materials also makes them resistant to scratching and staining, making them ideal for applications such as kitchen counters. Their resistance to water and oil staining compared with natural stones (which are all porous to some degree), added to their relative strength, means they can be used with confidence to span voids for breakfast bars and stand-alone appliances. Daily care and long-term maintenance are often less onerous for these products than for natural stone.
Sometimes, of course, the ageing of the stone is just what a designer intends.
Another recently completed GML project involved an extensive fit-out of a bar and dining areas for a large hospitality group. GML was intrigued to see the architect had specified a natural marble for this busy environment. When the company raised its concerns about the likely deterioration of the finish of the marble proposed for the project, it was assured that that this was precisely why the material was being used. The patina it would acquire in use had a perceived value in this case.
The engineered materials generally used by the stone industry now have a provenance dating back not much further than the 1990s, many a lot less than that. By contrast, natural stones of all kinds have stood the test of time. It will be interesting, in years to come, to see which will be the most specified and in which markets.