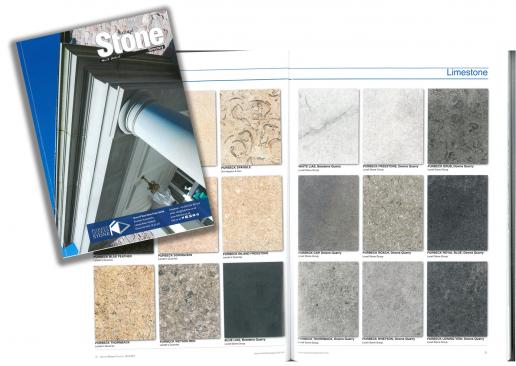 See the stones of the British Isles laid out in easy-to-view pages in the Natural Stone Directory.
When you are choosing stone for a project you should see a sample of it before you make your decision. Ideally, you should visit the quarry it comes from to get a real impression of it. But even in the UK, which is a tiny stone producing country compared with many in Europe and around the world, there are some 300 opencast and underground quarries producing dimensional stone. Where to start?
A picture can never take the place of a sample and a quarry visit but it can help you decide which samples you want to see and which quarries you might visit.
Which is why there are pictures of popular British stones in the Natural Stone Directory, the 19th edition of which can be purchased now from the QMJ online bookstore.
The Directory contains around 6,000 entries in total, including full contact details of the quarry operators. If your are looking for stonemasons or stone processors and fabricators, contractors, stone importers and wholesalers, they are also listed in the Directory. There are machinery, tool and equipment suppliers and associated industry organisations. It is the most comprehensive Directory of the stone industry in the UK and Ireland available. You can get a taste of what is included on this website by investigating the summaries in the categories listed at the top of this page (British Stone, Imported Stone, Stonemasons, etc). There is more information in the Directory itself.
The Natural Stone Directory costs £47, including postage and packaging. If you use stone, it could be the best investment you make.
Go to the QMJ online bookstore now and order your copy of the Natural Stone Directory.