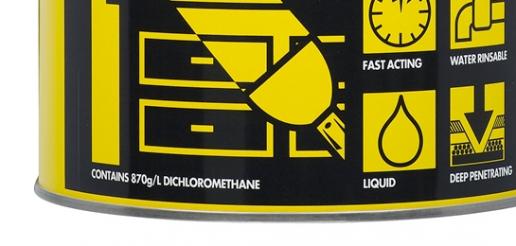 It's good. But you should be aware of the dangers.
Nottingham company Beech Restoration has become the first in the country to be certified to use DCM-based paint strippers onsite.
DCM is dichloromethane, also known as methylene chloride. It is an effective stone and masonry façade paint stripper that can be used safely with most substrates.
DCM was banned from inclusion in paint strippers at the end of 2010 by European legislation, although companies were allowed to sell existing stock for another year. It was not supposed to be used by DIYers or the trade onsite after June 2012, although it could still be used offsite.
However, EU member states were told that they could get an exemption to the onsite trade ban if testing of competency was in place. Typically the training and testing takes less than a day. If the test is passed, then the operative holds the official certificate in competency for the safe use of DCM-based paint strippers. HSE has taken up the opportunity offered by the EU and is offering an online test for stone and facade cleaners.
Without the certificate, it is still illegal to use DCM paint strippers and DCM is still banned from DIY products.
To obtain the certificate, operators must undergo a short period of training (Steve Wright of Beech Restoration says it took him and the seven skilled stone cleaners and restorers he employs about two hours to complete). At the end of the training there is an online test that has to be passed.
Steve and his crew took the training with Mark Priestman, who writes the Training column in Natural Stone Specialist magazine.
Mark's business, Priestman Associates LLP, along with other organisations, assisted HSE to develop the online test.
The test is facilitated by the Health & Safety Executive (HSE) but is only accessible via approved providers (like Priestman Associates) and must be accompanied by the training course.
Beech Restoration had hoped to gain their certificates for removing the many layers of paint from Castle Hall in Leicester, previously used as court rooms and recently bought by De Montfort University as part of the creation of a £136million campus to include fashion, design, art and architecture departments.
In fact, the work was brought forward and Beech Restoration had finished it before Steve and his employees had gained their certificates. It meant they had to use an alternative paint stripper for the job, which Steve believes meant the job took three times longer than if they had been able to use DCM.
DCM is not a particularly nasty chemical, but like all chemicals must be treated with respect. In confined spaces the fumes from it can give you a headache and make you drowsy. At high enough levels of concentration they can kill you, so people using DCM need to be aware of the dangers. Skin contact with it can also cause severe irritation.
If you would like to obtain the certificate to use DCM, contact Mark Priestman on 07876 687212 / [email protected].