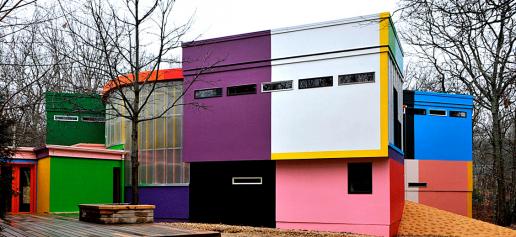 The original Bioscleave house is on offer for less than $2.5million.
A house the architects who designed it believed could help its residents live longer has gone on sale at an asking price of $2.459million (yes, it is in America).
The architects were from Arakawa & Gins and they called the design of the house in East Hamptons, USA, a 'Bioscleave'. It has extremely uneven floors with vertical poles to help you navigate them, windows at varying heights and walls unusually arranged that are dressed in 52 different bright colors.
This is not the only Bioscleave, but it was the first. The idea is that it stimulates daily living by making every action important. The architects believed that the constant awareness of how you are using your body and senses makes the body constantly re-configure itself and eventually strengthens the immune system. Ideally, these physical and sensory challenges and improved immunity will eliminate much of the deterioration of old age.
This original Bioscleave was built as an extension to a 1964 A-frame house designed by Harvard architect Carl Koch. It is on a one-acre site in a popular residential area of East Hampton.
The whole house (the original and the Bioscleave) has a floor area of 316m2, 250m2 of which is accounted for by the Bioscleave. There are four bedrooms and three bathrooms.
The building is accessed in one of three ways – either by a corridor, a labyrinthine basement directly into the kitchen or through one of the two front doors that sit on top of steep slopes.
The A-frame consists of a living room with fireplace, two bedrooms and two baths and a full basement while the Bioscleave addition contains two bedrooms, a bathroom, sunken kitchen and a raised dining area and work platform.
Arakawa & Gins said the Bioscleave was the culmination of 40 years of scientific and philosophical investigation into how best to sustain human life and how to use architecture to help people live exceedingly long lives. Directions for use are included in the sale price.
The listing agent is Jose B DosSantos of Brown Harris Stevens of the Hamptons.
There are some more photos of the house below.