Investment in new machinery supplied by Stone Equipment International continues to improve productivity at Marble Ideas as the company celebrates its quarter-century and plans to build on the success it has achieved so far.
Quo Vadis. It's Latin for 'where are you going?' It is a question firms ask themselves from time to time. But for the night of 29 April, Marble Ideas and 300 of the company's guests at a venue called Q Vardis could have been forgiven for taking a look back as well as forward as the company celebrated its quarter-century milestone.
It was 25 years to the day since Marble Ideas was incorporated. And for Marble Ideas Director Steve Buck and his wife, Emma, this was not the first time they had entertained guests at Q Vardis in Cowley, Uxbridge, because it is where they were married. And the anniversary of their wedding is 30 April.
Their family and friends helping them to celebrate included some of Marble Ideas' customers as well as staff who have become friends over those 25 years since the company started trading.
"It's been interesting and eventful," says Steve of the company's development. "I have met some characters who have come and gone along the way. I suppose I don't know any different but I can't say it's been a bad journey." Steve might have more than a passing resemblance to David Beckham but says: "I'm not a good enough footballer to have done anything different."
The industry has changed a lot since Marble Ideas began trading. It has changed even more since Steve first came into the sector when he left school aged 16 in 1984.
He knew nothing about stone but he had been good at technical drawing at school and was keen to become a draughtsman, which was the position he was offered at Southall marble company Honey Allaway (where X-Factor Simon Cowell's brother, John, worked, although Simon was not so famous in those days).
It was not an auspicious start for Steve. He had a motorbike accident and went to work on his first day with broken arms and legs – although the fact he went to work at all must have impressed his new bosses. Steve is grateful for his time at Honey Allaways, and particularly to Alf Thompson, a man who worked at the company for 50 years before retiring. "He was an old school master mason. I learnt about quality and how things should be done from him. That's stuck with me ever since."
In 1984 stone companies used mostly limestone and marble. They did not like granite because using it was hard, slow work. Diamond tools were in their infancy and those that existed were expensive. Workshop machinery seldom went much beyond a manually operated Anderson Grice or Van Voorden saw and a jenny lind polisher. Most work was done by hand. Computers had not made their way into many offices, let alone workshops. Mobile phones were a rarity and only mobile because they were fitted in cars, their batteries being too heavy to carry around.
Although it was not the stone that attracted Steve into the industry, he soon encompassed it as a speciality, eventually moving to wholesaler Pisani in Brentford, which taught him a lot about the range of stones available, and then on to Croft Brothers in Finchley as contracts manager.
Steve: "I had learned the basics at Honey Allaways and I had learned a lot about materials at Pisani. Then I was running the guys at Croft Brothers. It gave me a good understanding of what was involved in running a business, so in 1992 I started Marble Ideas."
He and his co-Director Tony Johns began by templating and installing, getting the worktops manufactured for them by other companies. They were soon too busy to do it all themselves and took on two people to work with them. Gradually the company expanded and after five years opened its own workshop in former engineering works in Uxbridge.
Two years ago it moved into the premises it currently occupies in Langley, Berkshire. Measured in miles, Langley is not far from Uxbridge, but Uxbridge is in London and Langley is in Berkshire. In its new home, Marble Ideas has three-and-a-half times the space it had at Uxbridge at much the same cost. There is a 1,600m2 factory and offices and a 1,800m2 yard where materials are stored.
The extra space was a luxury at first, although the continuing investment in machinery is quickly filling it. 
The company relocated from Uxbridge with its GMM and Kolb, but also invested in a new five axes Emmedue Discovery – and liked it so much it bought three more before the end of the year, replacing the GMM and Kolb. That put pressure on its water management system, so it replaced that as well with a Dal Prete system. While it was about it, Marble Ideas also replaced its MarmoMeccanica edge polisher, which, like the Emmedues and Dal Prete, came from Stone Equipment International, the UK agent for the manufacturers.
It has also bought Elephant vacuum lifts from Stone Equipment International. They work from the factory's two gantries to make handling easier, protecting the people in the factory and the materials being processed. And Steve Buck visited the Stone Equipment International stand at the Natural Stone Show in London at the end of April and bought the Emmedue five axes Plus and one of the Marmo
Meccanica edge polishers on the stand. "We're happy with the ones we've got so we're sticking with them," Steve told NSS.
Demand for Stone Ideas' products continues to increase and in the past year it has also invested in more CNC machinery, buying two more CMS Brembana workcentres to add to the one it had.
Steve had maintained he would never buy a CNC workcentre because he thought people did a better job. But with concern over hand arm vibration (HAVS) injuries, the difficulty of recruiting more people and an increasing workload, he invested in the Brembana Speed in 2015. He put it to work on bowls and drainers and found it produced them in a third of the time it took a person – "and it never says no to overtime". The Speed turned out to be a bit bigger than Marble Ideas really needed, so the two added last year were more compact JRs.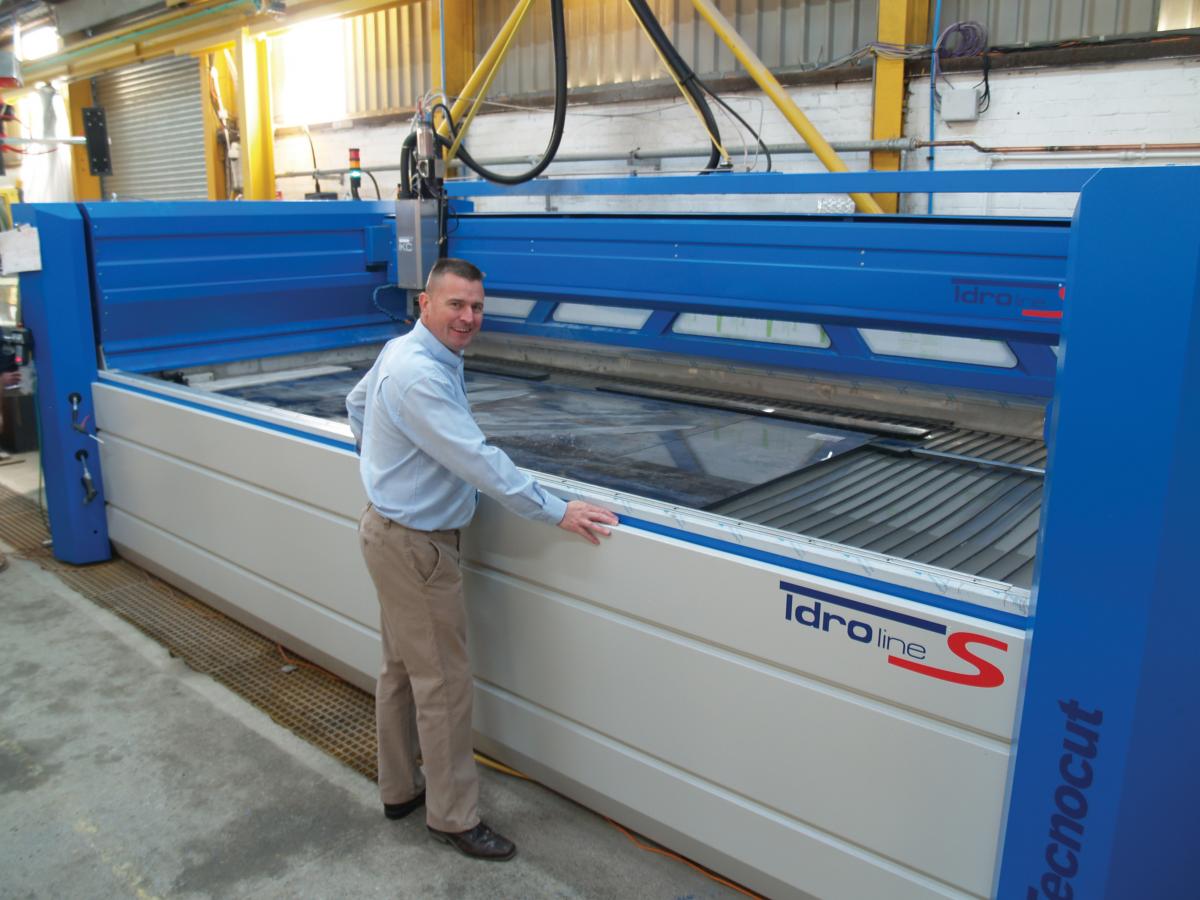 And Marble Ideas kicked off this year by installing a waterjet cutter, also from CMS Brembana.
Brembanas are now being sold to the UK stone sector by SMC Stone Machines, a new business from the same company that was already selling Brembanas to the glass industry. It introduced itself at the Natural Stone Show at ExCeL. Steve says his first impressions of the company are all positive.
The fact that he was already running Brembana CNC workcentres made him favour a waterjet from the same company, especially as the manufacturers offered him a good deal. "It seemed a very established machine, even though it has only recently been updated, so it has the latest technology in the market."
Like most waterjet users, Marble Ideas has found the running costs are higher than expected – it has found the £100 focusing tubes need to be replaced weekly.
The waterjet is a response to the continuing development of new materials in the interiors market. Most of Marble Ideas worktops and higher end bathrooms go into developments and conversions inside the M25 and the others are not far outside it.
That was one of the reasons for moving to premises opposite a railway station and investing in Prodim and Laser Products digital templaters. The Laser Products templater, in particular, is compact and light and can easily be taken to projects in London on the train, while the Prodim Proliner tends to be used in the factory for digitising the physical templates brought in by other templaters and fitters that Marble Ideas manufactures for.
Apart from making worktops for other fitters, Marble Ideas deals almost entirely with kitchen companies, rather than directly with developers or consumers, which is a strategy Steve Buck has found beneficial. He pulled out of tiling 10 years ago and has no inclination to return it. Neither does he see any necessity to explore other areas of the stone market.
A year ago Steve was even prepared to leave it to others to work out the finer points of working sintered and porcelain surfaces, but he has now decided he was going to get left behind if he did not include them in his repertoire. And if they turn out to be as good for business as quartz has been, they will make a major contribution towards the future expansion of Marble Ideas.
The majority of Stone Idea's work has moved away from natural granite to engineered quartz, particularly Cosentino's Silestone. Steve can see increasing demand for the new and quickly expanding range of man-made products, especially as more colours become available. Once again, it is Cosentino's product, Dekton, that Marble Ideas favours. "It's a question of learning the best way of processing it," says Steve, who went to France with Cosentino to see how it was being fabricated there. He says he has not yet used a lot of it, but has had no problems with it.
As for Silestone, he is particularly enthusiastic about the new Eternal Marquina. "We have done a few reception desks in natural Marquina but if we could go the quartz route instead that would be fantastic." He feels the same about Calacatta. Customers like the look but they don't like the vulnerability of the material. If the look can be achieved without that vulnerability customers get a better deal, says Steve. "We have all started from the natural side but technology has taken over."
Marble Ideas is one of Cosentino's 'Platinum' fabricators and Steve says: "90% of everything we buy is from Cosentino." "You have their 25-year guarantee, and their support and back-up is second to none. We're very pleased with them."
The expansion at Marble Ideas over the years has been steady rather than explosive. It continues on a manageable trajectory that Steve is happy to maintain. The company employs 35 people and the premises in Langley do not seem so big now all the new machinery has been installed, although there are no plans to move. The machinery so far installed has trebled the company's production capability.
Inevitably there is some measure of uncertainty over how Brexit will pan out but so far, says Steve, the market seems strong. "We have a lot of enquiries; it looks onwards and upwards as we head into the next 25 years."