Celebrating 10 years of restoring London
Restore London is anticipating its best year yet as it celebrates its 10th anniversary, giving it plenty to celebrate and look forward to, says MD John Rushworth.
From a window in Restore London's offices in Queen Victoria Street you can look out and see St Paul's Cathedral. John Rushworth, Restore London's Managing Director and a Fellow of the Chartered Institute of Building, believes that location is part of the reason for the company's success.
Restore London wanted offices in the centre of the city to be close to the projects the company undertakes. Having them has enabled it to establish a reputation for responding rapidly if the need arises.
Although other specialist contractors now also have offices in central London, Restore London is proud of having led the way and is flattered that others have followed suit.
Of course, just being able to do something does not always mean it gets done. A second essential element is having a team that is willing and capable of responding in a way that customers want. And John Rushworth is proud of having just such a team.
"Because we're not a big beast, the level of involvement from the directors is great. Clients like to have access to the directors and we have a hands-on, personal approach."
Part of this is a 40-minute CPD presentation that Restore London offers consultants and professional teams. It includes a video of work the company carried out in Bedford Row that received 25,000 views when it was posted on LinkedIn.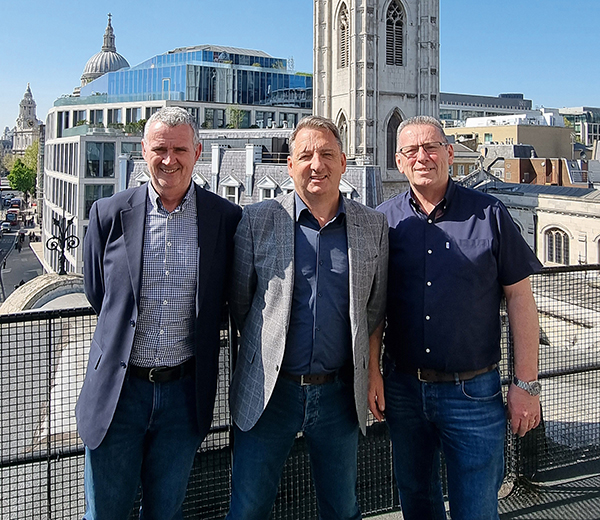 Refreshingly different
It is factors like these that are enabling Restore London to look forward to the next 10 years as it celebrates the successful conclusion of its first decade of trading.
The celebrations will take place in September in Drapers' Hall, in Throgmorton Street, where a considerable amount of Restore London's Stone Award-winning work can be seen (see below).
John says Restore London now regularly appears on the same tender lists as companies that have been around a lot longer. He believes that's because "we're doing something refreshingly different" which comes from "a team with the right philosophy: that nothing is too much trouble".
It is a philosophy John has nurtured and developed. "We do develop people to help them achieve ambitions when they see themselves being somewhere. We try to encourage their ambition and train and support them in that. We have two of the guys going through Chartered Institute of Building training at the moment. We are a Chartered Building Company and a training partner of CIOB."
One of the people on a CIOB course is Arturs Legzdins, who received the 'Rising Star' Award in the Stone Federation Great Britain Natural Stone Awards 2020, although the winners were not announced until last year because of the Covid lockdowns in 2020.
John Rushworth said when Arturs received the Award: "He is without doubt a rising star within both our business and the wider industry." It was John who entered Arturs for the Award in recognition of his contribution to Restore London's success.
Another member of the team, Gill Parselle, who started in admin, was particularly interested in health & safety and has since become the company's in-house health & safety officer, having successfully completed a Tech IOSH course.
She carried out risk assessments and developed safe working practices during the pandemic, which enabled Restore London to keep working throughout most of the various lockdowns.
A team ethos
Team is a word that comes up frequently when John talks about the rise of Restore London. "We value our people. Without them the last 10 years would not have been possible. Investing in our people (and technology), employing a dedicated health & safety manager early on (not something all companies would have done) and establishing the right culture is something clients recognise and appreciate. The business continues to actively champion apprenticeships, training and development to bridge the skills gap."
Restore London was helped to a roaring start by being incorporated in October 2012, when the industry started growing strongly out of the recession that followed the credit crunch crash of 2008.
John had no doubt about how severe that crash had been because throughout the recession he had been a Director of other specialist contractors before starting his own business, the success of which now makes him wish he made the move 10 years earlier, although he admits "it was scary at the time".
Award-winning projects
In its first year, Restore London, then consisting of five people, turned over about £500,000. It started working as a sub-contractor but John's background meant he was no stranger to the restoration sector and he had plenty of contacts among clients and specifiers, and before long the firm was working as the principal contractor on projects. There was an impressive growth curve as the company regularly out-performed its business plan... at least until Covid struck.
The first significant project it won was the conversion of the former Liberal Democrats headquarters in Cowley Street into super-prime private residential accommodation (see box right).
It helped establish the company's reputation and Restore London started to win regular work from major developers and contractors working in London, such as McLaren, CBRE, and ISG.
"The multi-disciplinary team we assembled meant we hit the ground running and delivered a challenging scheme," says John. As a result of that project Steve Morgan, now Operations Director,  joined Restore London.
Steve's multi-trade background and understanding of M&E led to Restore London being appointed as Principal Contractor at Harrods on £1.5million heritage roof works. Restore London joined the 'contractors village' at Harrods that remains a satellite office, although John says it is "not quite as genteel as it sounds".
Harrods gave Restore London the secured turnover that allowed it to be more selective about the projects it took and the clients it worked for, and it went on to work on other prestigious award-winning projects that further enhanced its reputation – projects such as the London First Award-winning Bow Street Magistrates Court; Camden Town Hall, which was concrete restoration but John says brutalist structures cannot be ignored; Dixon House in the City; and The Royal Academy.
Then came Covid
Covid did take its toll on Restore London's  growth. In 2020 the company looked lined up to break through a landmark turnover level but with projects shutting down and being put on hold, it did not happen.
Restore London itself did shut down for a couple of weeks, but thanks to Gill Parselle's work, systems were quickly developed to allow the offices to re-open, with three people in at a time in three separate offices. Most of the by now 30 people working for Restore London stayed out on site and everyone got used to Zoom and Teams meetings.
"I think what it taught us," says John, "was that as a team we had the right people. We bonded even more through the Zoom and Teams meetings. Turnover was certainly affected but we worked leaner and meaner and nobody was laid off. In the end, we had to take on two more people – a contract manager and someone on the pre-construction side.
"The pandemic was just a blip in an otherwise upward growth curve. Our secured turnover for 2022/23 is looking healthy and we would expect to be looking at turnover in excess of £10million in our 10th year."
And John and his fellow Directors believe the prospects for Restore London's second decade look bright. John: "The enquiries we get now are for the top, iconic buildings in London. We've hit that sweet spot with clients where working together is a pleasure. We have never been happier than we are now."