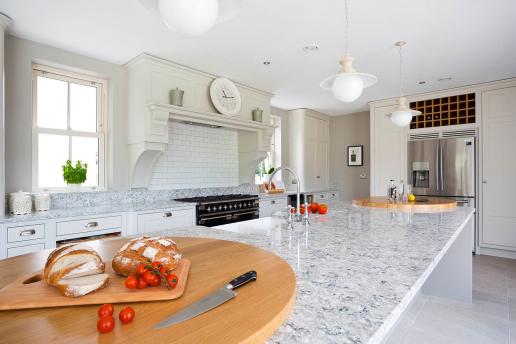 The marble look from CRL Stone without the concerns of using marble in the kitchen.
What are the hottest trends for kitchens going to be this year? CRL Stone, which supplies the CRL Quartz and Ceralsio ranges of quartz and ceramics for worktops, says these materials are certainly going to continue taking market share from oh-so-yesterday laminate. 
Homeowners are increasingly upgrading from laminate to quartz or ceramic worktops. For that little extra investment, they have the peace of mind that a quartz or ceramic surface will be extremely easy to care for and will stand the test of time, being exceptionally resistant to daily wear and tear.
With the move towards natural stone, especially marble, in the home, quartz and ceramic offer the opportunity to include this look in the kitchen with none of the maintenance issues that the natural stone materials can bring. Being a calcium-carbonate material, natural marble is particularly vulnerable to acid attack - and there's a lot of acid in food and condiments. Quartz and ceramics can provide that luxury look without the issue.
On stand F85 at the KBB exhibition in the NEC, Birmingham, 4-7 March, CRL Stone launches 11 new colours influenced by striking natural materials including marble and granite.
The Ceralsio ceramic collection is enhanced with Ceralsio Statuario, with a distinctive grey veining on a crisp white background; Carrara Vagli, with the grey and gold veined look of marble from Tuscany; Pietra Grey, with subtle white veining; and Ossido, with the industrial look of oxidised steel.
There will also be seven new colours in two thicknesses in the CRL Quartz range. Again influenced by the trend towards natural stones, these additions to the collection offer all the beauty of materials such as marble and granite. 
CRL Stone highlights hot kitchen colours for 2018 moving on from Greenery, the Pantone of the Year for 2017, to Ultra Violet, which Pantone has has just revealed is its colour of the year for 2018. Pantone describes this special colour as, "A dramatically provocative and thoughtful purple shade, PANTONE 18-3838 Ultra Violet communicates originality, ingenuity, and visionary thinking that points us toward the future."
Complex and contemplative, Ultra Violet suggests the mysteries of the cosmos, the intrigue of what lies ahead, and the discoveries beyond where we are now. The vast and limitless night sky is symbolic of what is possible and continues to inspire the desire to pursue a world beyond our own.
Enigmatic purples have also long been symbolic of counterculture, unconventionality, and artistic brilliance. Musical icons Prince, David Bowie, and Jimi Hendrix brought shades of Ultra Violet to the forefront of western pop culture as personal expressions of individuality. Nuanced and full of emotion, the depth of Pantone Ultra Violet symbolizes experimentation and non-conformity, spurring individuals to imagine hopw they can make their unique mark on the world and push boundaries through creative outlets. Historically, there has been a mystical or spiritual quality attached to Ultra Violet. 
All the signs are pointing to another interesting year ahead for the use of colour in the kitchen, with of-the-moment shades used as an accent, contrasting perfectly with a crisp white or smoky grey worktop, especially one with the natural-looking markings of marble or granite or the industrial urban chic of old metal.
That industrial look will continue to grow, predicts CRL. Characterised by exposed bricks and pipes, rustic metals and minimalist fittings, 'industrial' is inspired by factory settings. This look combines brilliantly with quartz and ceramic worktops, lending itself to the tactile nature of one of the textured finishes on offer in these materials.
Minimal continues to be a watchword of kitchen design as we move into 2018 and handleless furniture taps into this trend. The simpler the design the better, with this look lending itself to the move towards high gloss worktop finishes in colours of the moment such as grey and white. The natural graining of timber topped off with a marble-effect surface that brings a sense of warmth and character to a modern design creates a sleek and flexible minimalist space.
And while bold accent colours certainly have their place in the kitchen of 2018, monochrome will also be getting a lot of attention. There has been a huge rise in popularity of grey, black and white tones in the kitchen, depending on the size and shape of the space. Choose them for an entire run of worktops or cabinets or as a subtle contrast. Monochrome may initially conjure up images of white and black, but look out for the many shades of grey in 2018, too.
For ideas on how to incorporate the 2018 trends into your kitchen designs, visit www.crlstone.co.uk. And you can follow CRL Stone on Pinterest.