Love-to-Learn Bath student wins Lovell carving competition
'Read All About It' by Jeni Wood has won Lovell Stone Group's 'Inspired by Space' competition that marked the 50th anniversary of man landing on the Moon.
The stone group gave Bath College carving students blocks of its Hartham Park Bath Stone to carve into something that commemorated the Moon landing for this extracurricular stone carving competition.
Jeni Wood, a part-time student on the Love-to-Learn stone carving course, carved an astronaught's glove on top of a pile of newspapers carrying the moon landing headline.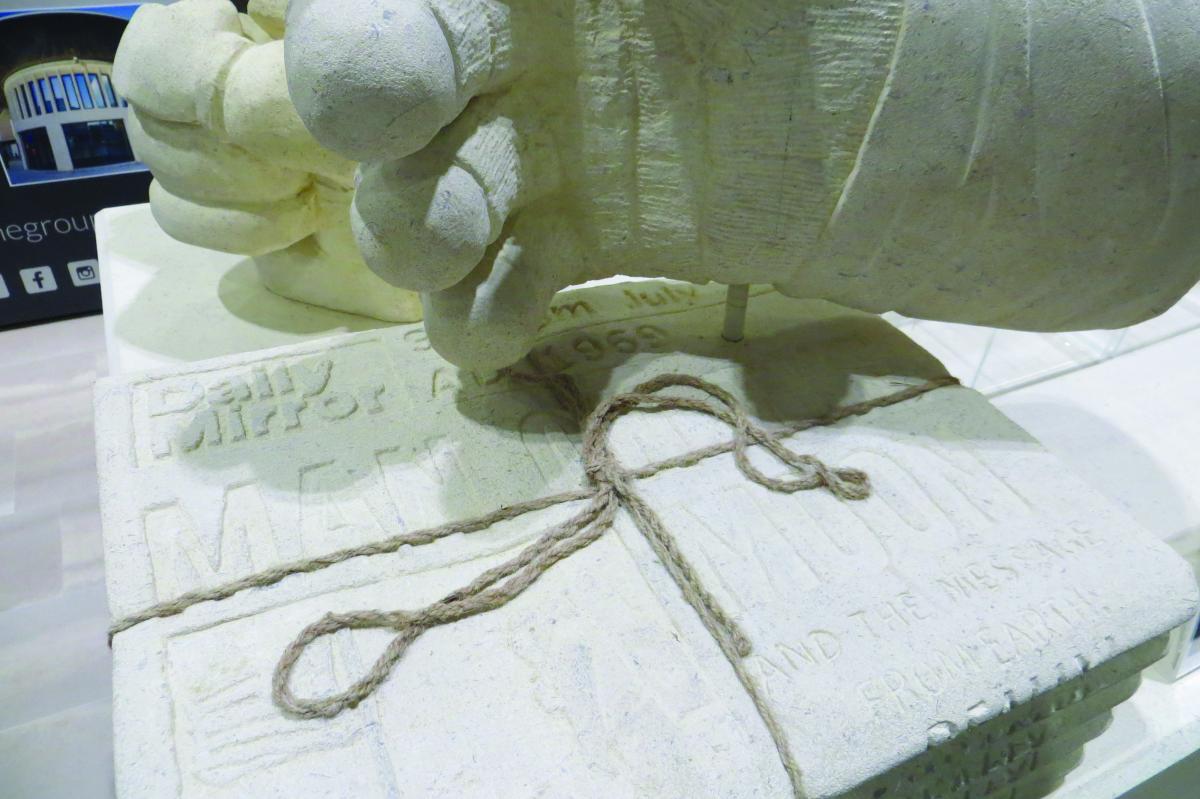 Hers was one of the four carvings selected by Lovell Stone Group Directors Simon and James Hart and Bryan Newton, the head mason from Lovell Stone Group, to be displayed on the Lovell stand at the Natural Stone Show this month. Visitors to the Show were invited to vote for the carving they liked best by placing counters into boxes next to each carving..
It was close, with Jenny's carving beating second-place 'Comet' by just four votes (and yes, there was a re-count). Snoopy came in third place (the mission's call signs were Charlie Brown and Snoopy from the 'Peanuts' cartoon strip and became Apollo 10's semi-official mascots, with 'Peanuts' creator Charles Schulz drawing some mission-related artwork for NASA). Fouth was 'Yoda' from the Star Wars movie.  
Simon and James Hart visited Bath College on Monday 13 May to present the cash prize to Jeni.
Jeni explained what inspired her to create her carving: "When I heard that the theme this year was to celebrate the 50th anniversary of the moon landing I immediately thought of how the world had changed and how news travels so much quicker these days. I wanted to reflect that by using the headline in the media of the time.
"Carving stone to have the qualities of a stack of newspapers was a challenge I enjoyed. I also wanted to represent the astronauts and their pioneering spirit by making a glove appear to float above news of their achievement."
The students involved had worked on their pieces to perfection and all of the entries were eye catching. As well as the four chosen to go to the Show in London for final public judging, there was a notable mention from the judges for a piece called 'Apollo' for the technical skills demonstrated in a challenging piece of stone carving.
Paul Maggs, stonemasonry lecturer at Bath College, said: "Very, very impressed with the quality of the carving we've been presented with this year. Thanks to Lovell Stone for their support for the masonry department at the college."
The short-listed carvings were:
'Connections' by Joseph Franklin-Willis
'Snoopy' by Tobias Lemgerg
'Apollo' by David Lambard
'Yoda' by Gary Balman
'The Journey' by Alex
'Comet' by Luke Lyster
Unnamed by David Davidge
'Read all about it' by Jeni Wood
'Mellies Moon' by Elliot Lyster
Lovell Stone Group proudly supports Bath College by supplying free Hartham Park Bath Stone for students to use on their courses at Somer Valley Campus (where the stonemasonry courses are run). This year Lovell is also providing rubble walling from its other quarries to allow students to have hands on experience of working with natural stone for building projects.