Natural Stone Surfaces: How to grow 20% a year
In the March issue of NSS we reported that Natural Stone Surfaces had bought a second Robo Sawjet. The company in Derbyshire invited us to pay it a visit to see its BACA robots in action. Eric Bignell accepted the invitation.
When I arrived at Natural Stone Surfaces'  factory in Chapel en le Frith on the edge of the Peak District National Park, Christopher Dawood was commissioning the company's second Robo Sawjet from American company BACA.
Christopher lives in America and because of the coronavirus had to isolate in a hotel for 10 days after flying to the UK before he could start work at Natural Stone Surfaces. On his return to America he was facing another 10 days isolated in a hotel room. "It's worth it to come here and give the customers what they want," he told me.
When he installed Natural Stone Surfaces' first Robo Sawjet he had a colleague, Jim, with him to help and the installation had taken three days. This time he was on his own, although he said it had taken less than an extra day to complete the work.
Both robots work two tables, so one can be loaded and unloaded while the robot cuts the workpiece on the other.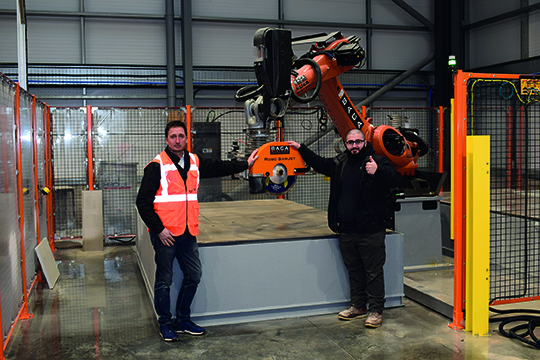 Natural Stone Surfaces Director Dave Roy (left) with Christopher Dawood of BACA, commissioning the second Robo Sawjet, which is a disc and  waterjet cutter.
Once the machine is commissioned, Christopher provides five days of training for the operators. Although Natural Stone Surfaces has already been using its first Robo Sawjet for getting on for two years, another operator needs to learn the ropes for the second machine.
BACA's robots are sold on this side of the Atlantic by Carl Sharkey's LPE Group, which also sells other American innovations, such as Laser Products' digital laser templaters. Natural Stone Surfaces also uses those – in fact, it has 14 of them in daily use by its templaters.
LPE also sells Italian Comandulli edge polishers, and there are two of those in the Natural Stone Surfaces factory as well. "We go with Carl as much as we can," says  Director Dave Roy. "I have a lot of respect for him."
Before getting the first BACA robot, Natural Stone Surfaces spent more than a million pounds on a T&D robot line that has two robots producing worktops and one loading and unloading. That set-up is now being dismantled. Two of the robots will be used as standalone units in the same way as the BACAs, and one will be used to take the company into sculpting and carving work.
"The way we were sold the T&D line was that it would do everything... and it can, but it's slow and not good for stress levels," says Dave Roy.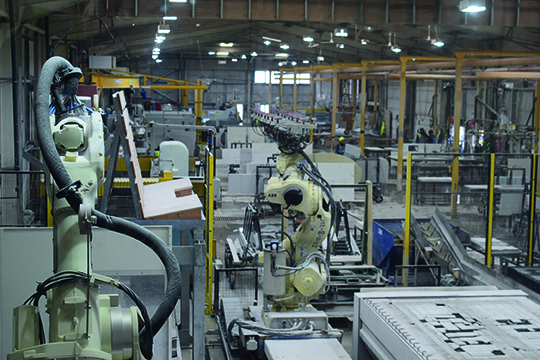 The T&D robot enclosure.
He says the T&D line from Italy took six months to install and six months to learn how to use. Then it required three people in the control box to work it and its output was half what the Robo Sawjet achieved as soon as it had been commissioned in Natural Stone Surfaces' 4,000m2 state-of-the-art factory. Other UK stone companies have also found the T&D robots are better at carving and more intricate work than worktop production.
The Robo Sawjet is specifically for worktop production and when that's what it's doing it is fast, with high pressure coils on all axes so the head, with its 26HP motor carrying a 400mm blade, speeds from cut to cut.
The variable-frequency saw drive controls speed and torque on the saw and the head incorporates a waterjet cutter as well as the blade, using whichever it needs for a particular cut and making it capable of cutting any material used for worktops.
The latest version of the Robo Sawjet, the Robolution, can also cut mitres (up to an angle of 60º), not that Natural Stone Surfaces needs that. The company finds it quicker and easier to cut mitres on a mitre saw when they are needed, which is not often as most of the worktops it produces are cut at 90º.
The high pressure control lines of the Robo Sawjet are easily accessible, so they can be replaced quickly when necessary without having any casing to negotiate.
Dave Roy's opinion of the machines has not changed from the time in 2019 when he spoke to this magazine shortly after Natural Stone Surfaces had started using its first BACA robot. He said then: "We have now been running our BACA Robo Sawjet for several months. To say we are impressed would be a massive understatement. Our BACA Sawjet is certainly one hell of a badass machine!"
Impressive team
He continued: "From our first contact with BACA all of their team, without exception, were fantastic in ensuring that our journey from initial consultation to installation was seamless.
"Their team and their finished product have far exceeded our expectations. The installation guys assigned to us (Jim and Chris) were fantastic ambassadors to BACA, their attention to detail on the installation and their ability to communicate effectively for the training was refreshing, to say the least.
"The aftercare has also been second to none, with both Carl [Sharkey] and Baca personnel being in regular contact. Not that the machine has needed any aftercare. The Sawjet has never let us down. Fingers crossed this will be the case for many years to come."
So it has proved. One of the selling points of the Sawjet is that the Kuka robot arm should not need any maintenance for five years or 10,000 hours of operation, and even then it should only need an oil change.
The intention is that the BACA robots will keep Natural Stone Surfaces on its impressive growth path – it was seeing sales increase at a rate of 20% a year until the Covid-19 pandemic disrupted that progress last year.
Like most of the rest of the country, Natural Stone Surfaces closed down at the end of March 2020 for six weeks during the first lockdown. Most of the company's sales are through kitchen showrooms and studios, mostly in the UK but also some on mainland Europe, and they were shut.
At the time of the lockdown, Natural Stone Surfaces employed 140 people. About half of them were in its factory and stockyard in Derbyshire. It also has a 300m2 storage and distribution centre in Hertford serving London. It used to be in Grays, Essex, but that put it on the edge of the tachograph limit for driving, so the depot has lately been moved into premises in Hertford. The company also has its own templaters and fitters. It lost 20 of its employees during the initial lockdown and there's been a natural churn of staff since then.
A Covid reassessment
Because the company imports directly (including its own-brand quartz and ceramics) it had to take deliveries during the shutdown, so the  Directors came in and continued to answer the phones and deal with enquiries.
They also took the opportunity of standing back and re-assessing the company, bringing in an efficiency consultant, James Weston, who had worked at motor parts company  Federal-Mogul, to help them get a clearer perspective. To that extent, Covid was beneficial and, they believe, has left them in a stronger position than they were before the pandemic hit. A survey has shown more than 60% of UK companies are in the same boat.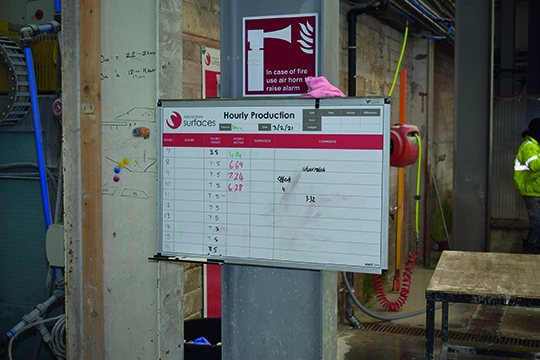 The result for Natural Stone Surfaces is increased hourly output per person, which they believe is a better measure of success than the number of sales they achieve. Increased productivity is, after all, the route to wealth creation.
In 2019, the company was producing 140 to 150 kitchens a week. That is now down to 120 a week but the hourly output of each person has improved and will improve further because the factory is currently running at about 80% of its capacity. Taking an adjacent building on the trading estate where the company is based last year further improved efficiency because it meant work could be taken out of the factory so it was not in the way before it was installed.
"We are confident everything will bounce back, probably by the second half of this year," says Dave. "We've bounced back a lot quicker than we thought we would, which is why we've bought the second Robo Sawjet. The order book is growing day by day. It is currently £150,000 a month more than we are installing, so we know busy times are coming."
He expects by the end of this year that the current level of sales (about £1million a month) will be up to £1.2million or £1.3million a month. To achieve that the company is currently looking for another 10 people to join its teams templating and fixing.
Another reason Dave Roy expects output from the factory to increase is because Natural Stone Surfaces plans to open a second factory of about 1,500m2 on two acres of land that includes the company's slab stockyard. It is 200m or so from the main factory. It's not ideal not being all on one site, of course, but it is close enough for it not to be a major problem.
The new factory will be exclusively for working sintered stones and porcelains. They account for about 10% of the worktops Natural Stone Surfaces produce, but processing these materials that the worktop industry has most recently taken on-board slows down production.
The aim is to get the target production rate of each machine operator on the factory floor up to 8m2 an hour. There is a score-board by each machine that the operator has to fill in every hour saying what the output was for that hour. If it is less than the target, a brief note has to be written in to explain why. Porcelains and sintered stones always slow down production.
You might ask why the company bothers to produce worktops in these materials, as the Directors have. Especially as demand seems to have reached a plateau at the same sort of level as the demand these days for natural granite. Most worktops sold are quartz, which suits everyone. Customers get what they expect in terms of look and it is easy for the fabricator to process. The reason porcelain and granite are used is because that is what some customers want, and, like a lot of fabricators, Natural Stone Surfaces has not felt inclined to turn those orders away.
Morning meetings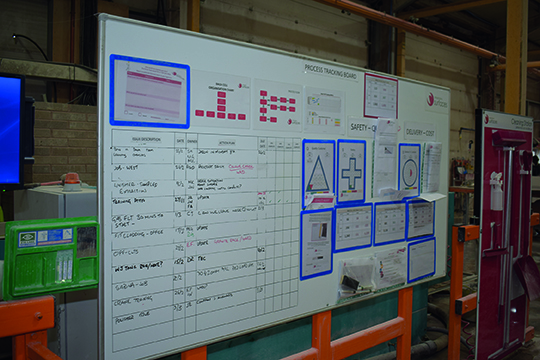 In the factory, each day starts with a briefing in front of the process tracking board. The machinery operators are set targets for the day's production and have to record their actual output hour by hour, with a brief explanation if targets are not met.
At the start of each day there is a brief meeting of the factory staff in front of the 'Process Tracking Board' on the factory floor. Any problems or issues from the previous day are ironed out and responsibility for resolving them (the 'owner') is identified. The day's objectives are discussed and allocated and any messages from the company are conveyed to the staff.
As well as the robots, the workshop also has two Intermac Master 33 workcentres and three Master 38.3s that were installed in the summer last year. There are five GMM Brios, one just cutting the thousands of samples Natural Stone Surfaces sends out each month, and a GMM Techni waterjet.
There is a MarmoMeccanica LCH Magnum edge polisher as well as a Comandulli Omega 100 and an Edilplus. A Breton Tecnema is used to cut 30mm slabs into thinner pieces for splashbacks so the pattern matches the worktop. Every machine has a crane with a vacuum lift.
Now the second Robo Sawjet has been installed, it will enable some of the other machines to be moved into the new factory for processing porcelain and sintered stone.
In the offices, too, modern methods and computerisation play their part, with the recent adoption of Moraware, another American product designed specifically for worktop fabricators. It is for drawing and estimating and for keeping track of projects. It costs £2,000 a month – and has just gone up with the introduction of another element to the software – but with 120 or more worktops a week to keep track of, it is a price Natural Stone Surfaces considers worth paying.
Another bit of automation comes from DataBridge Integrations (also American) that works in conjunction with Moraware to automate communications with customers, sending emails to let them know when a job will be delivered and what they need to have ready for the installation.
First steps
Formed in 2001 with just three people, Natural Stone Surfaces grew, but lost momentum in the economic slowdown following the credit crunch of 2008/09. By 2012, Mathew Milner, who headed Natural Stone Surfaces, wanted to merge with another worktop company and approached Dave Roy, who had formed a company called Stylestone. "He wanted my knowledge of the industry," says Dave.
The approach came at the right time. Stylestone had been growing strongly but 2011 was the first year it had not seen turnover grow, so an approach of a merger in 2012 looked attractive.
Before setting up his own company, Dave had worked in the manufacturing section of a freight line. When the manufacturing was moved to Eastern Europe, Dave took redundancy and spent some time deciding what he wanted to do.
He came across a company in Germany called Magnum that was making radiators in marble and approached them to represent them in the UK.
It turned out that marble radiators were not popular in the UK, but the people he approached to sell them to kept asking about marble vanity units. He thought there might be more opportunity in that area. He approached Andy Bell of Stone Equipment International, the machinery supplier, and bought a Fergosti bench saw from him.
He was not entirely sure how to use it, but three days later a stone fireplace company in Derby closed down and Dave was able to recruit two of its former employees. Vanity units soon expanded into kitchen worktops and Dave's path to success started to become clear.
Natural Stone Surfaces now supplies  some of the industry's most prestigious kitchen manufacturers and in-terior designers across the UK and into mainland Europe. The company puts its success down to a commit-ment to quality and attention to detail, and a competitive price.