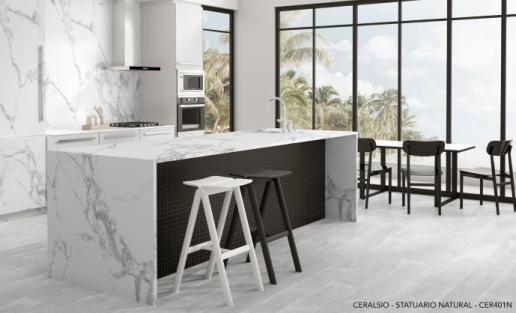 Statuario is one of the new Ceralsio designs from CRL Stone.
CRL Stone has introduced 11 new CRL Quartz and Ceralsio designs for 2018.
There are seven new designs in the Ceralsio Ceramics collection and four in the CRL Quartz collection. The new designs bring to more than 70 the number to choose from in the two ranges.
All new colours are influenced by striking, natural materials and are available in a polished or a natural finish.
The new Ceralsio additions are Statuario, Carrara Vagli, Pietra Grey and Ossido. They feature distinctive tones and patterns that offer all the beauty of natural materials with the versatile, simple to care for and longevity of ceramics.
The new designs in the CRL Quartz collection include Statuario Bianco, Vicenza, Atlantic Gris, Monte Bianco and Montana Gris, all in striking marble-effect white and greys with a polished finish. Also new is Grey Reflection, with its mirror chip, and Arctic Shimmer, with a dusty sparkle.
You can see CRL Stone on Stand F85 at KBB in the NEC, Birmingham 4-7 March.