New look Aura is ready for the future
"We can support conservation architects by offering the practical experience of having done it. They can't do it without us and we can't do it without them. We have to work together."
It has been a year like no other for all of us, but Craig Liddle's conservation company, Aura, in Cheadle, Cheshire, just south of Manchester, is emerging from it with renewed enthusiasm.
The company has moved to bright new premises on the thriving Stanley Green Business Park and Craig has appointed Peter Walthall, previously MD of Warrington construction company Fairclough, as Managing Director.
Craig, who remains Chief Executive, says the company has been helped by a Bounce Back Loan, although he says how the final quarter of this year will have turned out is "in the lap of the gods", especially with Manchester coming out of lockdown with tier three coronavirus restrictions .
However, he says he is "very optimistic" about next year, while Peter Walthall says: "The country has to look at Brexit as an opportunity and we want to be part of that." He hopes leaving Europe will make it easier for clients to have work carried out by people they know and trust. "I like to think if it becomes more of a focused market people will concentrate more on getting things done."
After a few years that Craig describes as the worst of his life, 2020 got off to a promising start. Then came the first lockdown. "This year is another dimension," he says, although he is now grateful that the lockdown gave him the time to think about the positioning of Aura, both physically and in terms of the market, during the two months that the company was shut down.
Projects Aura is involved with have been interrupted and disrupted by Covid-19, but Craig says since the middle of the year the number of enquiries coming in has been encouraging.
Aura Conservation (as it was) was focused on the conservation market, but Aura Heritage (as it now is) is spreading the net wider to include extensions and refurbishment, as well as new-builds in historically sensitive areas. It will continue to concentrate on the built heritage sector of the market but will offer a broader spectrum of services to the sector.
The appointment of Peter Walthall, with his extensive construction background and wealth of experience, is intended to help facilitate that expansion.
Craig Liddle's background is rooted in the stone industry – he was President of Stone Federation Great Britain in the 1990s and his companies have always been (and remain) in Federation membership. Peter Walthall adds a more general construction experience to the knowledge base.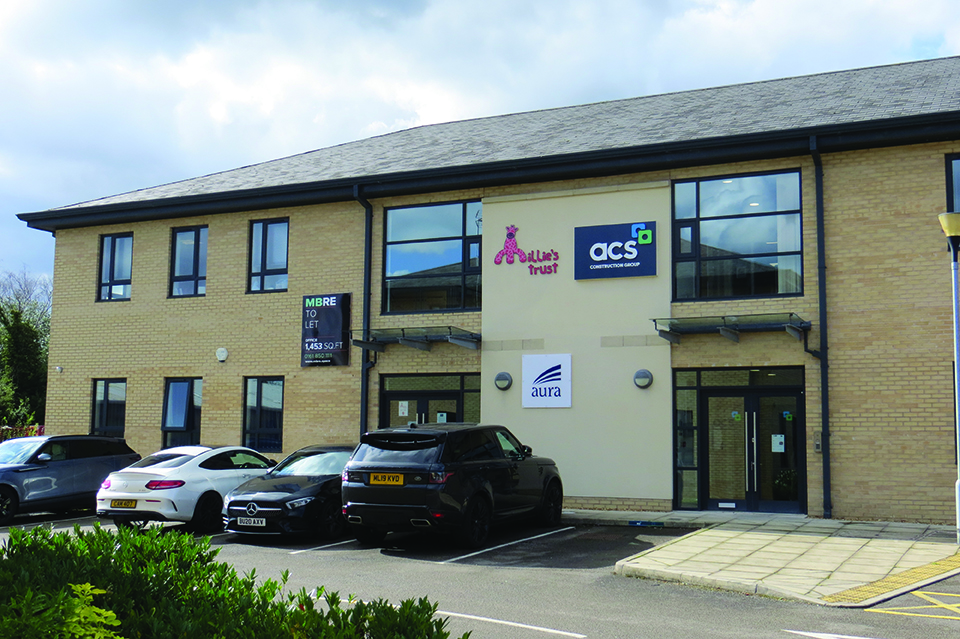 The new premises Aura moved into this year are owned by someone it turned out Aura had previously worked for.
The premises were an empty shell that needed £10,000-worth of walls to be put up to create separate spaces, such as the store room and private offices, even though the main office is open-plan. The property owner agreed to take the £10,000 the walls would cost off the first year's rent... glad, no doubt, to get a tenant in such uncertain times.
There had been a lot of changes at Aura and a lot of upheaval in the two years before the Coronavirus pandemic appeared like the fourth Horseman of the Apocalypse.
Aura Conservation had been in a Company Voluntary Agreement (CVA) – where creditors agree to terms for recovering what they are owed – for 18 months before the position became unsustainable. Administrators were appointed in December last year, although the goodwill, website and some of the contracts were bought back the same day by Craig in a pre-pack.
One of the contracts involved re-roofing and masonry repairs on a £1.7million external envelope package to a former courthouse.
"I have always been very positive about the business," says Craig. "The big risk I thought was how clients would react to a CVA then administration." In fact, they have generally been very supportive.
Craig says the problems had started as a result of him deciding to take a back seat as part of his succession planning and hand more of the day-to-day running of the business over to others. Craig says he is now back in control with a new team and a new strategy. Craig and Peter Jamieson are the only management personnel from the former company involved in the new company.
The recovery has also involved Advantedge Commercial Finance, which helps companies obtain funding solutions to achieve their growth ambitions. Craig praises the help he has received from Northern Managing Director Darren Cottenden. "They have been very supportive and their facility gives us a lot of latitude," he says.
Peter Walthall says Advantedge like the quality of the underlying business. "They had confidence in Craig and the market sector, and the quality of Aura's work."
Peter says: "I have been overwhelmed with the goodwill we have received from clients." And Craig adds: "Leeds City Council took the attitude that we are good at what we do and they were more interested in that than other issues. Liverpool City Council, among others, couldn't do enough for us."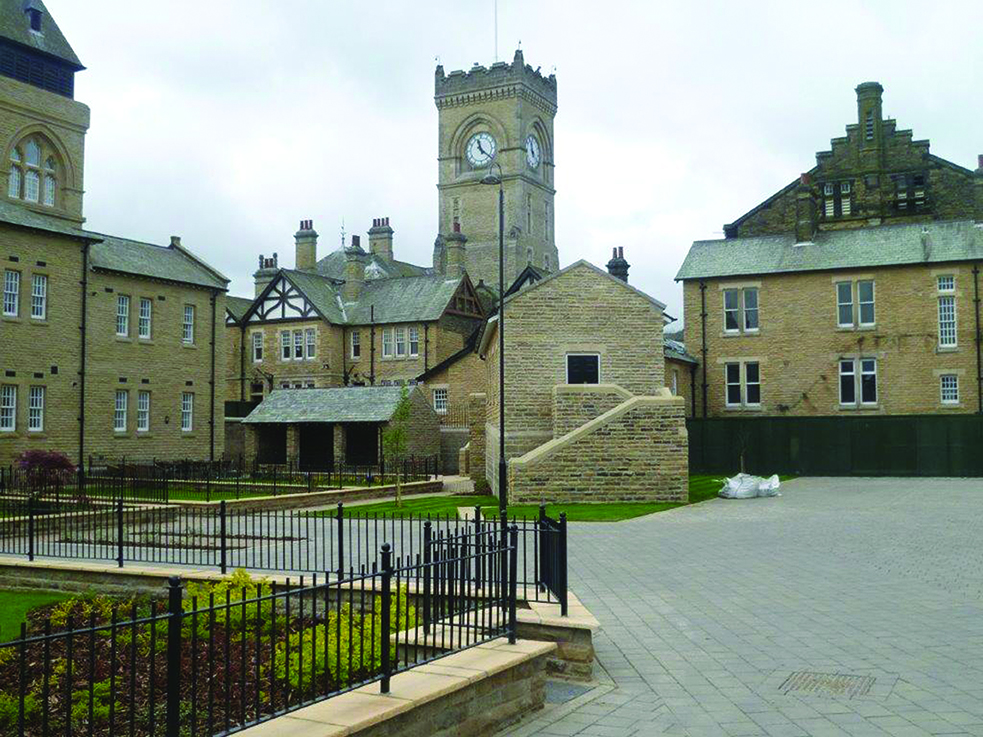 Chevin Park Menston, Leeds, was once High Royds Hospital. Aura has been onsite for more than a decade, carrying out masonry works to transform the building into prestigious luxury apartments. The transformation is now close to completion. The picture shows rebuilt stairs and gables after their demolition.
Craig admits he did briefly consider calling it a day at the end of last year when a main contractor showed an interest in buying Aura. He thought about retiring. "I'm still very keen on my golf. I won the Pensioners Pot at the weekend. Even entering the Pensioners Pot was a challenge – accepting I'm at that point. But I'm not looking to retire. In fact, I'm excited about the future development of the business."
Peter Walthall's involvement in Aura came about through a specialist recruitment agency for senior executives. Craig had approached the agency because although Aura had a proven reputation on the conservation side it was less well-known for general contracting and new-build work. Craig felt there was a gap in the market for such work left by the departure of other stone and conservation companies.
Craig knew of Peter by reputation before they met and Aura and Fairclough had both worked on a project previously. Craig and Peter found they had a lot in common and shared aspirations for Aura.
Peter, who started his life in construction as an 18-year-old trainee indentured to John Laing, says he owes a lot to the training he received there. He believes training should never end and showed his commitment to the philosophy at Fairclough by achieving a Masters Degree in Project Management in 2000. He sits on the Manchester Committee of Constructing Excellence and is also an active Fellow of the Chartered Institute of Building. "I do these things to keep abreast of the industry as a leader of other people; it creates a route of aspiration for them. We always want to develop people to drive the business forward."
He says of his appointment at Aura: "You get to a stage in your career where you're looking for something fresh and interesting. From my point of view, I got a good feeling about Aura. And the market sector it's involved in has sparked my imagination.
"I have been in general contracting all my life and I can add value to this business by what I can bring to it.
"I have 500 names in my contact book and this is a people business. Relationships matter when you want to deliver a job to the best of your ability.
"We have a unique selling point in heritage work in that we can deliver the whole package, from conservation to new-build, across the whole spectrum of materials in a sensitive way as a specialist contractor. We can work directly with a client to deliver precisely what they want."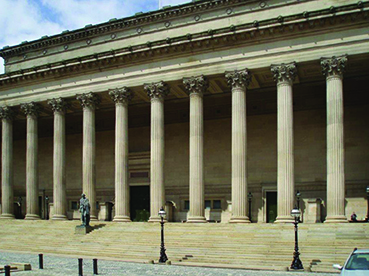 Aura has regularly worked on St Georges Hall in Liverpool. Previous works have included extensive refurbishment of the Concert Hall ceiling, repairs to the portico and multiple repairs to the exterior stonework. Aura has now been awarded a new contract on this flagship Grade I listed building.
Manchester is one of the UK's hot-spots of new-build construction, influenced, no doubt, by the promise of the HS2 high speed rail link. That is not the kind of project Aura wants to get involved in, but it reflects the demand for property in the city, which is increasing prices and leading to more renovation work on existing properties.
It is also leading to infill building to high standards in sensitive areas, which is a part of the market that Aura believes it can bring considerable benefits to, through in-house skills and collaboration with other specialist contractors in areas such as lifts and M&E.
Before Covid-19, the re-launched Aura's in-house team consisted of about 40 people. With lockdown some were furloughed and some of them have taken the self-employed route on CIS, although they are still happy to work for Aura as they are needed.
When Craig formed Aura Heritage he also retained Aura Concepts and Aura Heritage Homes, which he intend to be vehicles for delivering different aspects of work. But now he and his new MD believe it is better to have just one name and presence and benefit from the trust and confidence created in that.
"It's how you convey what Aura does;" says Peter, "emphasising conservation skills and sensitive heritage building work, even when it's new build, so when people see the name of Aura they understand what we do. People realise that doing conservation work properly is expensive."
They also realise its value when they see the impressive catalogue of projects that have been completed by Aura in the 14 years since Craig established the business. "We have worked on some stunning projects," he says. They include some of the country's top listed buildings, such as Wentworth Woodhouse in Yorkshire, The Majestic in Leeds and St George's Hall in Liverpool, which are pictured on these pages.
"Every time I went into Wentworth Woodhouse," says Craig, "I would stop and think: WOW! And that's in spite of a lifetime I've spent involved in stone. It's just so stunning. There's a satisfaction in working on a building like that."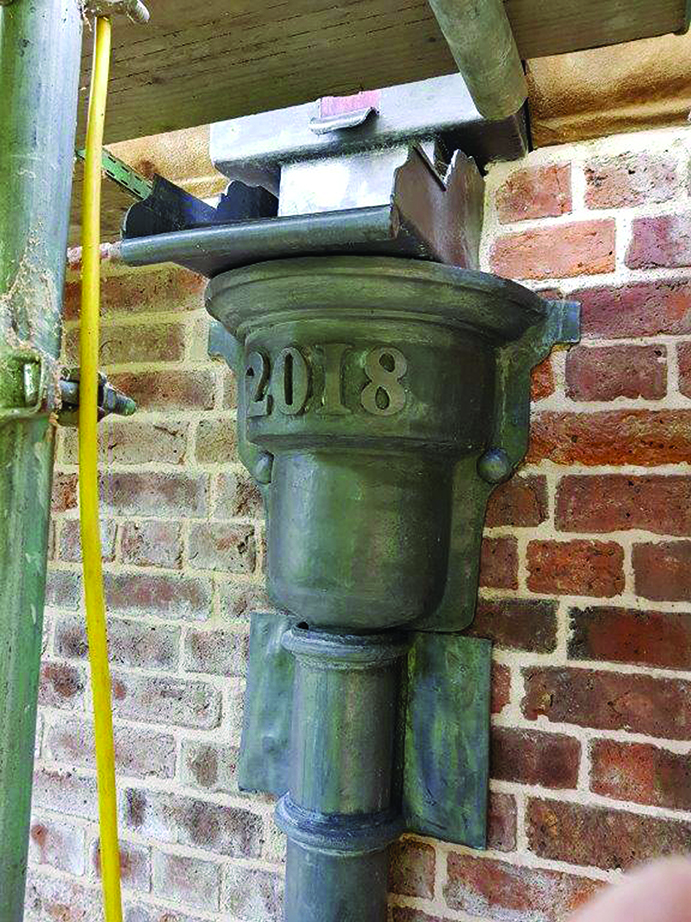 Aura carried out Phase 1 of the project to this 100-room Grade I Listed country house in South Yorkshire. It entailed £1million-worth of extensive roof repairs to the Bedlam Wing, Chapel and Riding School and replacement of rainwater goods, including leadwork hoppers that record the date of the restoration works (2018). 
The Majestic in Leeds was another spectacular project. The 100-year-old building was originally a cinema and has had various uses over the years, the latest (and current) as headquarters of Channel 4 TV. Craig was involved in researching the original designs of sculptures and urns that had been replaced by GRP replicas over the years and getting replacements made by sculptor Andrew Sinclair in Devon, albeit in art stone rather than the faience of the originals due to cost constraints.
Aura was also involved in the conversion of the Portland limestone former Midland Bank in Manchester, now a hotel, where a central light well was being removed and Aura were creating new door and window openings in keeping with the originals.
Some of the masons involved with that project refused to work in the basement because they insisted it was haunted. They said they had seen the figure of a man, who, from their descriptions, was believed to be Edward Lutyens, who originally designed the building and might well have been turning in his grave at the alterations being made to his northern masterpiece.
As well as all the Grade I listed buildings Aura has worked on, it has also been involved in the renovation and repair of so many churches and private houses that Craig has lost count.
Peter says: "We can support conservation architects by offering the practical experience of having done it. They can't do it without us and we can't do it without them. We have to work together."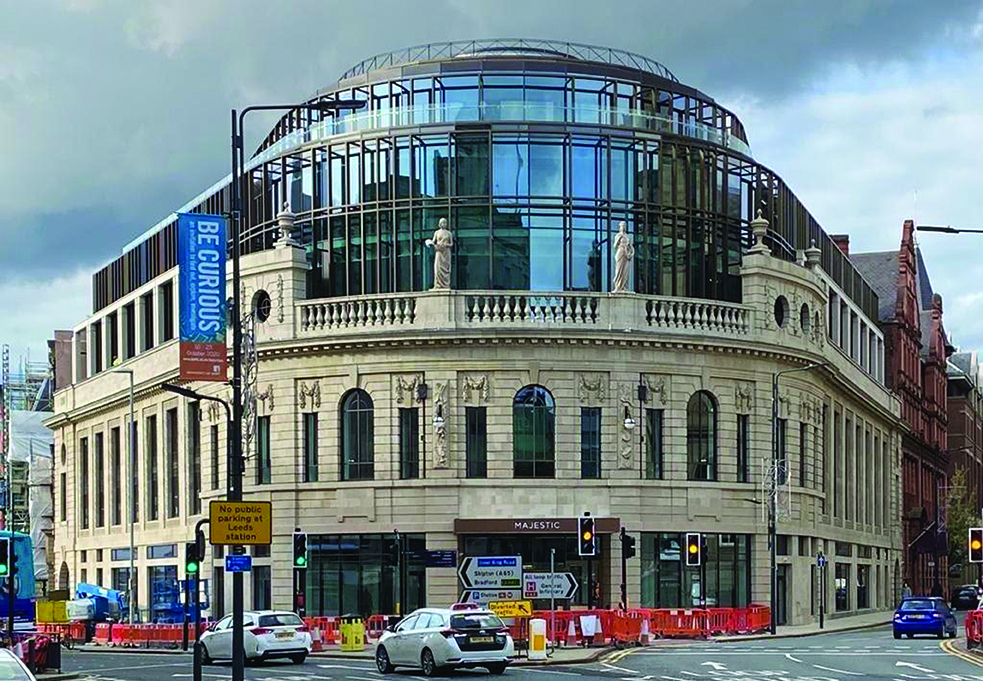 Above. Aura has just completed £750,000 works on Majestic City Square, Leeds. Repairs to the 1910 faience façade has been seamless, creating new reveals on City Square. Aura was involved in a previous phase on this building. It incorporated new music and poetry statues and urns, which Aura carefully researched and had sculpted by sculptor Andrew Sinclair.