Park Lane Bath Stone: Investment means the days of long lead times are over
In February last year Blockstone added Park Lane Bath Stone to the range of British stones it produces. Investment at the quarry means the Bath Stone now joins the company's other stones in being available with a 24-hour turn round from order to delivery.
Blockstone does not like to keep customers waiting, which is why it has created its BlockStore at its Cadeby Quarry in South Yorkshire. It means customers can view 12,000 tonnes of more than 20 different stones the company offers and take blocks away with them if they want to, or have them delivered next day.
That cannot be achieved without organisation and investment, so when Block Stone took over Park Lane Bath Stone underground quarry in Corsham, Wiltshire, in February last year it set about determining what it needed to do to guarantee the same service for the Bath Stone.
Any new operator needs to assess a quarry's capabilities and, having done so at Park Lane, the decision was made that to meet and develop demand for the stone, the mine would need to be worked in two areas concurrently with an investment in new equipment.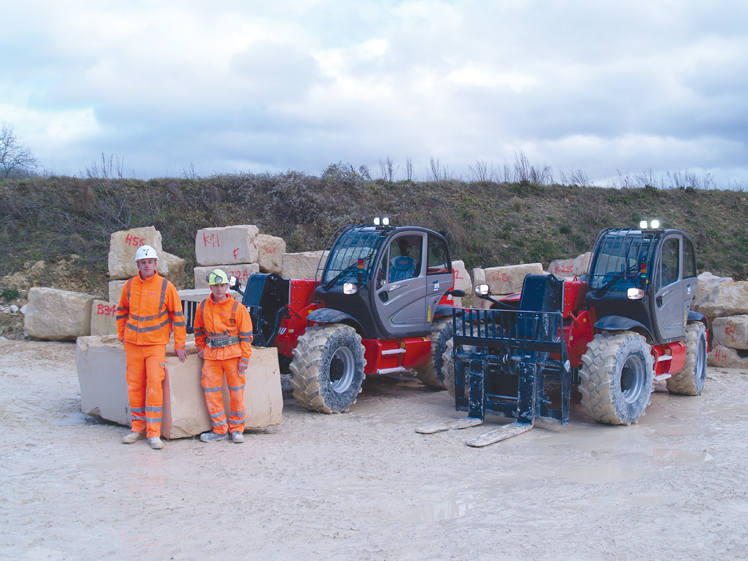 Mine Manager Alex Reid (left) and his assistant, Seb Stainer, with the two new Manitous delivered at the end of November.
That equipment started to be delivered to late last year. Underground, a new Fantini block saw has been installed to square up the blocks before they come to the surface. That minimises the amount of waste being moved around, which saves diesel and wear and tear on the trucks that bring the blocks to the surface and, of course, creates a much more regular block.
In order to get the blocks to the surface, two new Manitou trucks, each capable of lifting nine tonnes, have been bought. They were delivered at the end of November and went straight to work.
Other new machinery in the mine has included a small Kubota excavator and a Commander drilling rig for fixing the roof bolts. A Fantini GU50 with a 2.2m blade (the existing Fantini has a 1.8m blade) for the second working area is due to be delivered in March and now Blockstone considers it is ready to start making block available from stock with a 24-hour turn around, like the rest of its stones.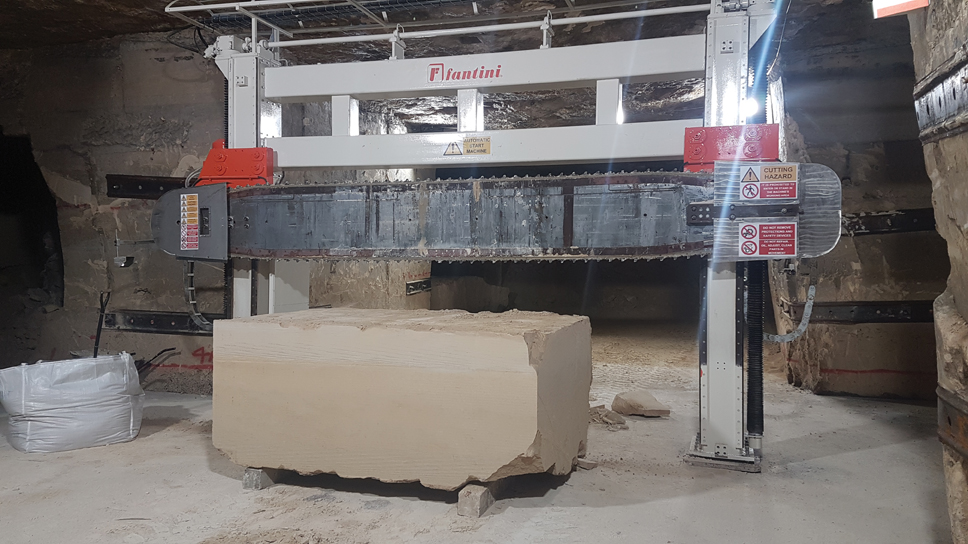 The new Fantini block saw for squaring blocks underground, minimising the amount of waste moved and economising on diesel.
It is already building up stock with some 300m3 of top bed and base bed available and a commitment to having at least 400m3 available at all times at a particularly competitive average price of £550/m3. Blockstone is also in discussion with the planning authority about increasing the storage area above ground.
The investment made has not been cheap, but Blockstone says it wanted reliability and efficiency. Alex Reid, the Mine Manager, says simply of the Fantinis: "They are the best." And of the Manitous: "They are compact and small for what they can lift; well-built and with a proven track record."
A 24-hour turn around even for major projects is an ambitious target that most suppliers do not attempt, although the modern construction industry generally wants materials at short notice. As one of the largest dimensional stone suppliers in the UK, Blockstone wanted to set a standard to which it believed British stone suppliers should aspire.
Heading Blockstone's sales is Iain Kennedy, who says the Park Lane mine has taken him back to his college days as a mining engineer, although it is run on a day-to-day basis by Mine Manager Alex Reid supported by his Assistant, Seb Stainer, and the four other people who work there, with three more currently being recruited to cope with the increase in production.
The Fantini saw cutting blocks from the face. It is being joined in March by another, so that two faces can be worked in order to make sufficient block available to be able to supply from stock.
A few blocks of the Bath limestone are kept at the BlockStore at Cadeby Quarry, joining limestone from Cadeby itself and Blockstone's Ancaster quarry, as well as the sandstones from Blockstone's six quarries in the North.
Bath stone is used throughout the country, especially for features such as fireplaces, but it is most commonly used for masonry in the South, so most of the stock will remain at Park Lane to be distributed from there, where visitors to the mine are increasing as the secret of Park Lane gets out.
"There's been a big sea change in the market for Bath Stone," says Iain Kennedy. He is referring to the purchase of more of the underground quarries (or mines – it is the same thing but traditionally Bath Stone mines are called quarries) by fellow major operators. It is expected to lead to a higher profile for the stone and, because it is readily available, an increase in sales.
Iain: "There has been a reluctance to use the stone because of availability in the past. From now on, customers will be able to have it tomorrow, which is a game changer. They don't want to wait 10 weeks for the stone."
The Bath Stone from Park Lane is top quality and regularly available in bed heights of 900-1000mm – greater on occasions.
As Iain says: "This just happened to be a good opportunity to buy an excellent source of stone and we grabbed that opportunity.
"We haven't been here for a year yet and we are now at the stage where we can say that continual supply is guaranteed. We are confident we can supply major projects, whereas in the past that hasn't necessarily been the case. That enables us to talk to architects and developers about major projects, although the stone for such projects will still be supplied by the stone processors who are our customers."
As the stone is not being processed at the quarry, Park Lane Bathstone Ltd (PLB), incorporated to extract the Bath Stone, is able to focus 100% of its energy on supplying the best possible service to its processing clients.
Iain: "The mantra here is simple: if the processors are healthy and profitable then by default PLB will benefit from that success. Therefore the mindset at Park Lane, as with the rest of Blockstone, is to support and assist in the growth and success of our stone processing clients in as many ways as possible – this includes credit levels, fixed prices and extended payment terms.
"Suppliers and customers are a team and as such should work together. We get enquiries that we pass on to our customers just about every other day."
And then, of course, there's Brexit. Iain says: "Whatever happens after Brexit, people are still going to want to build and they will still want the best stone. Life isn't going to stop."
Blockstone already exports stone to Luxembourg, Germany and the USA, and from time to time receives orders from elsewhere in the world, largely through the internet and current contacts. The weakness of Sterling at present only helps, giving British stone an advantage overseas. "Just this week we've had an enquiry from a company in America interested in distributing Bath Stone in the USA," says Iain.
There is no sign that demand in the UK is weakening, either. "Cadeby is supplying stone for three mansions in different parts of the UK right now. There's commercial work in Scotland with Scotch Buff and Peak Moor. Then there's always the heritage work; extensions; fireplaces. There's no reason why that should end. It's a reasonably buoyant time in the market, even with the uncertainty that Brexit brings.
"And I do think people are more aware of the environmental implications of importing stone. Using an indigenous stone is good for BREEAM assessments and good for sustainability. We have an awful lot of excellent stone in the UK, although as an industry supplying it we are way behind some other industries in promoting that.
"The construction industry in general has been dominated by price, but more and more now it's looking for value for money. I think the collapse of Carillion has brought that home to people a little bit. Consumers want quality products and are prepared to pay a little extra for them. In the housing market the drive to build more can only benefit stone because there's no doubt stone helps to sell houses for not a lot of extra cost."
Natural stone has certainly enjoyed a renaissance this century, with sales on an upward trend in spite of the crash of 2008, which might even have helped indigenous stone by reducing the price gap with imports due to the exchange rate.
At Park Lane, stone has been extracted since the 1880s. It ceased production in the 1960s when concrete became popular for Modernist architecture. When the mine closed, the miners left behind tools and equipment they had used, even personal items such as lunch and tobacco boxes and boots. Blockstone is collecting them up and intends to display them in a museum created from what were once underground stables for the pit ponies.
The mine was re-opened in 2012, when an adit was cut to provide access for modern machinery like the new Manitous. Colonies of bats had made their home in the tunnels and a section of the mine has been closed off for them, with ducting to provide a safe bat highway in and out of the mine.
Below. Part of the mine is blocked off to protect bats. The ducting is a bat highway to keep the creatures safe as they enter and leave their underground home. The bags contain dust from sawing the stone that is sold for use in mortars.