The Commonwealth War Graves Commission is 100 years old this year. It is responsible for looking after 1.7million memorials on 23,000 sites across more than 150 countries and territories. Alphacam software makes that job a bit easier.
The Commonwealth War Graves Commission uses two styles of lettering on its memorials, one for those who died in World War I and the other for those who died in World War II. These days, those fonts, including precise spacing of the letters depending on the letters next to them, are produced in minutes by an Alphacam Macro.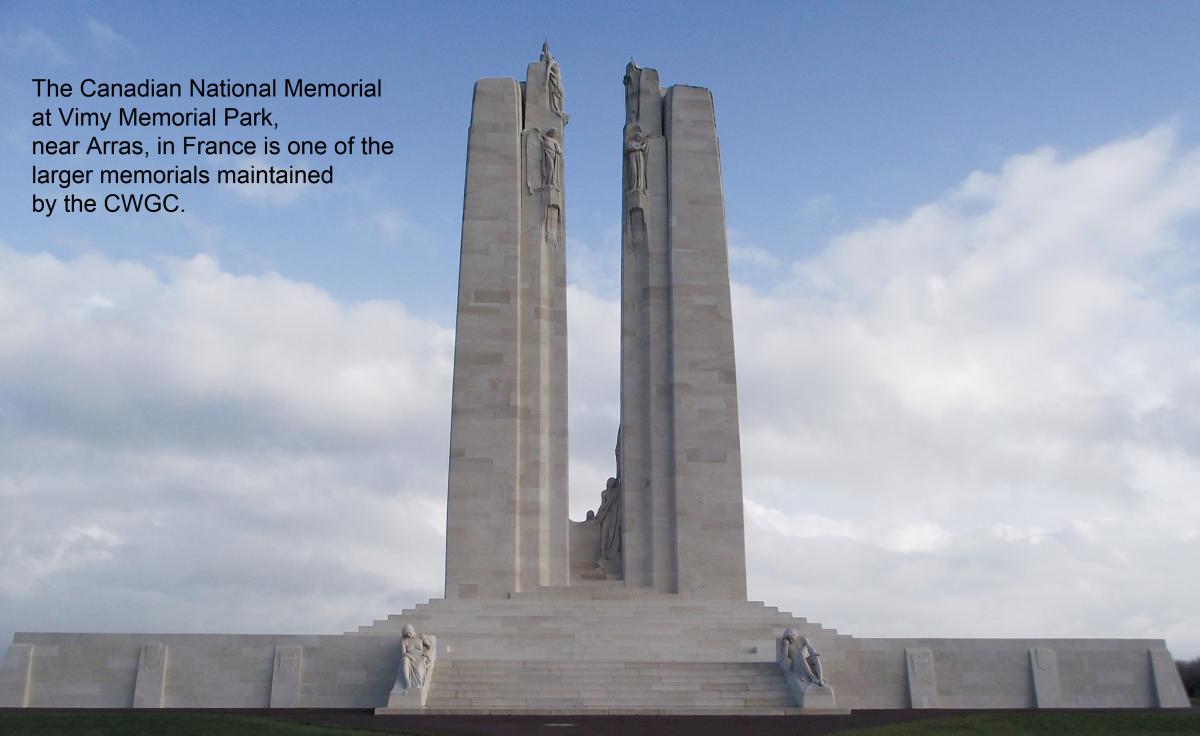 The Commonwealth War Graves Commission (CWGC) manages an Historic Estate that started to be established 100 years ago this year as World War I ground towards the Armistice on 11 November.
The values and aims of CWGC that were established in the Kenyon Report in 1918, the founding charter of the Imperial War Graves Commission, as it then was, remain the same today – to care for, honour and perpetuate the memory of the men and women who fell during the war. Later, those who fell in World War II were also included.
In this centenary year, the value of these war cemeteries and memorials is no longer purely commemorative. CWGC's Historic Estate is increasingly valued as an important historical, social and cultural record of the two world wars.
Many of the cemeteries and memorials were designed by world-renowned architects – Sir Edwin Lutyens, Sir Reginald Blomfield, Sir Herbert Baker, Sir Robert Lorimer, Sir Edward Maufe, Louis de Soissons – with contributions from sculptors such as Henry Poole, Charles Wheeler, Joseph Armitage, F V Blundstone, and artists including John Hutton.
Many of the sites are listed – and more have been (and continue to be) as the commemoration of battles in World War I over the past four years has taken place. Some are even being considered for World Heritage Site status. It raises the stakes in how CWGC looks after them.
The stones do not have to look permanently new – some soiling, marking, lichen growth and weathering is to be expected. But if a headstone falls below the acceptable levels of legibility intervention is required.
In many cases, where the stone is basically sound, it is economically and environmentally good practice to re-engrave it without removing the stone. But about 5,000 stones are replaced each year – fewer these days than was once the case due to the CWGC conservation-led approach.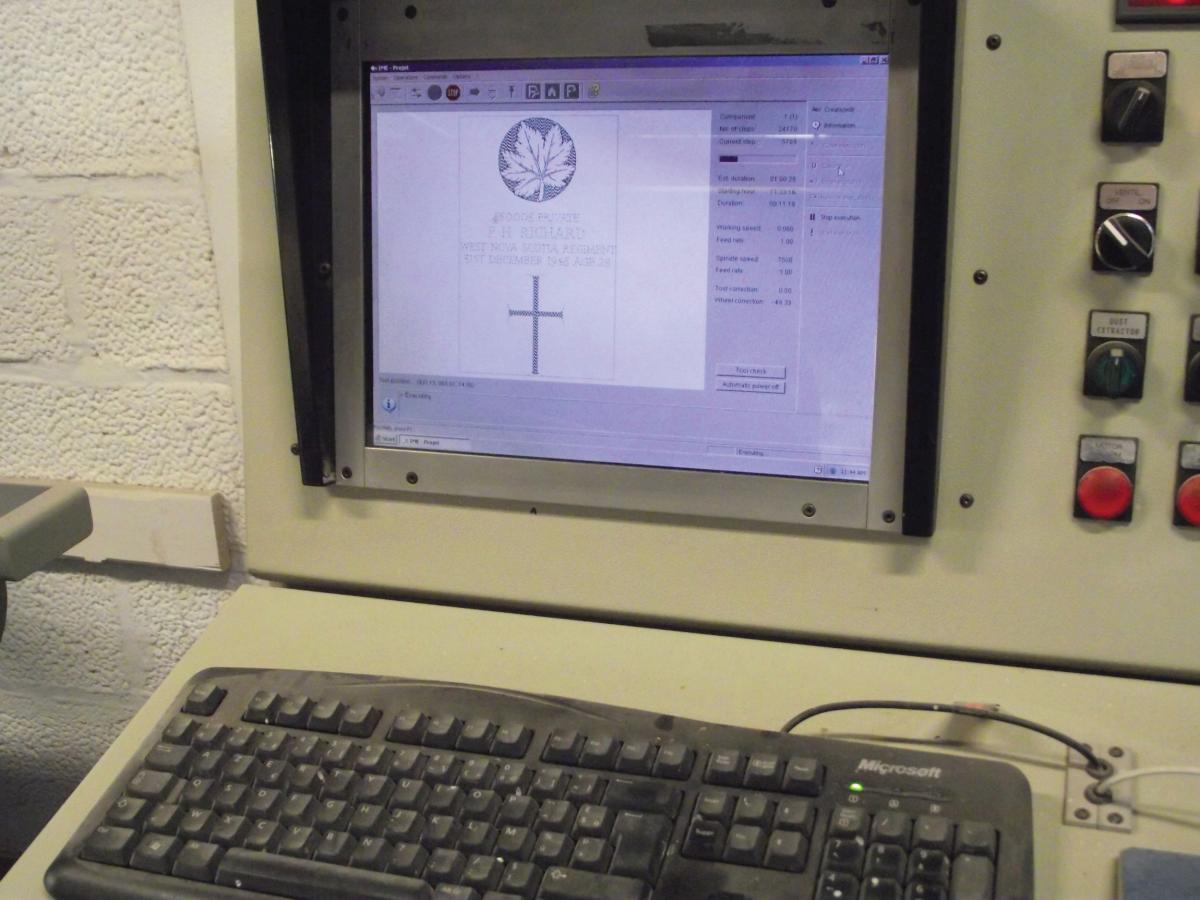 CWGC goes to great lengths to match the original stone in order to maintain the uniformity of the cemetery. It is easier these days to reproduce the fonts to maintain a uniformity of the lettering and regimental or country badges, thanks to Alphacam from Vero Software.
The Commonwealth War Graves Commission uses a special macro from Alphacam when it does need to replace any of the memorials to the 1.7million men and women of the Commonwealth armed forces commemorated by them in 23,000 locations across more than 150 countries and territories. The headstones are uniform and no distinction is made on account of race, creed or military rank.
The national emblem or regimental badge, rank, name, unit, date of death and age of each casualty is inscribed above an appropriate religious symbol and a more personal dedication chosen by relatives... all now being machined using CNC code generated by Alphacam. To maintain the required uniformity, a bespoke Alphacam macro reproduces the two unique fonts used for the two world wars.
Those specialist fonts of well-balanced serif letters were designed by Macdonald Gill. Taking into account how each character is spaced relative to its neighbours, there are 4,000 possible combinations, but using the dedicated macro created by Alphacam it takes only around five minutes to produce CNC programs for inscribing 10 headstones.
CWGC surveyor Chris McLean says that approximately 2,500 of its sites are dedicated war cemeteries with a Cross of Sacrifice, a Stone of Remembrance and individual headstones. The others are where there may be small groupings of headstones in identifiable plots or isolated headstones scattered throughout a cemetery. In the UK alone there are war graves at more than 13,000 locations.
Of the people commemorated, 1.1million are remembered with graves and a headstone, either by name, or as an unidentified soldier. The CWGC is also responsible for maintaining large commemorative memorials around the world, containing approximately 600,000 names, where there are no remains or known graves.
Chris McLean: "Our largest cemeteries and memorials are Tyne Cot Cemetery in Belgium where more than 11,000 casualties are buried; Étaples Military Cemetery, south of Calais on the French coast; Menin Gate, in Ieper [previously known by its French name of Ypres], Belgium, with more than 54,000 names on it; and the Thiepval Memorial near Arras, France which has over 72,000 names."
The Commission purchases its headstones already cut to size and shape directly from quarries and uses Alphacam on CNC machines to engrave them, including emblems and badges.
Chris: "While most of them are Portland limestone, we also have headstones for different countries based on local stone availability. For instance, in Ireland we use Irish limestone; in Scotland, Canada and South Africa it is granite. And headstones in Mediterranean, African and Indian countries are produced from Italian Botticino limestone."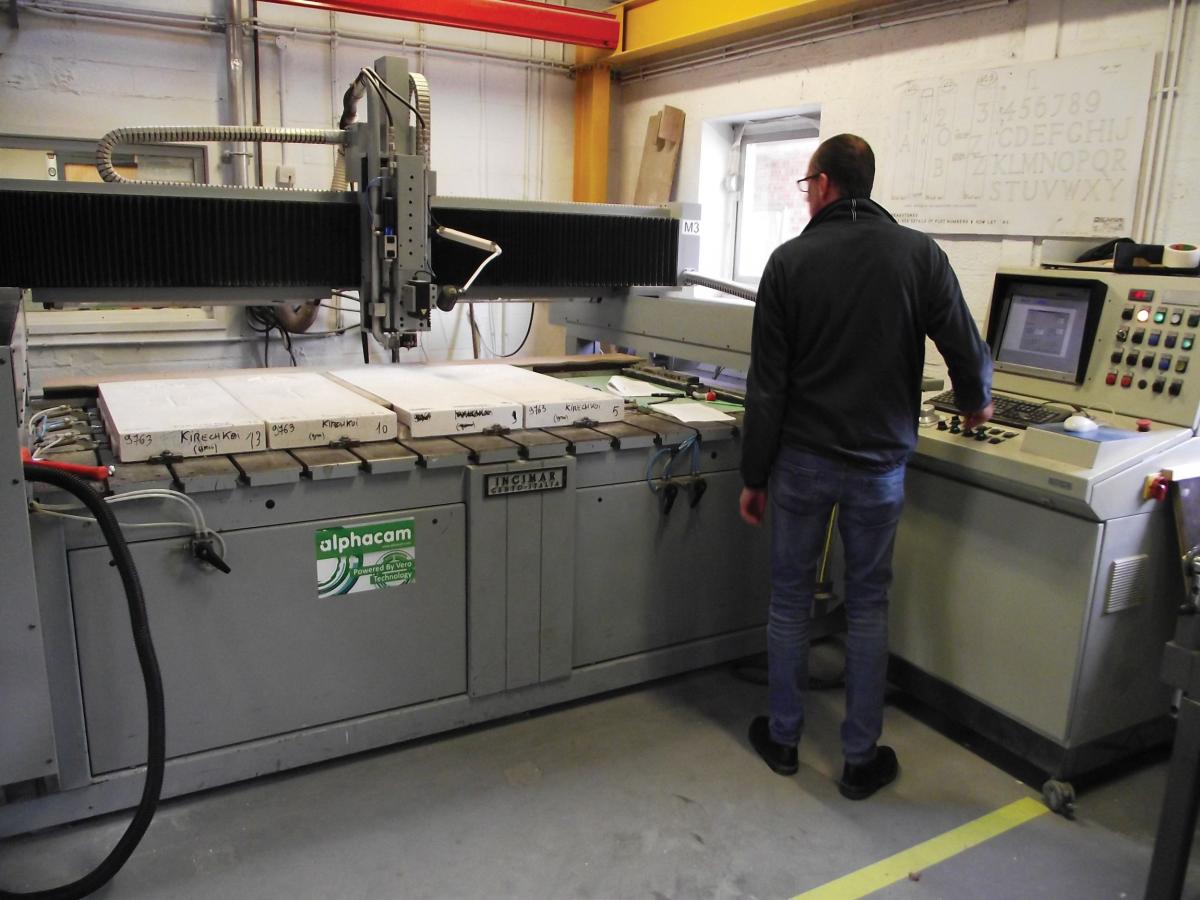 Whatever the stone used, every headstone and memorial panel is these days engraved on one of five CNC machines programed with Alphacam at the Commission's Headstone Production Unit in Beaurains, just outside Arras in Northern France. Three Incimar 'V' cutters are used for Portland and Botticino, while two ScandInvent CNCs route the granite.
Matt Wolsey heads the drawing office at CWGC's global headquarters in Maidenhead, Berkshire. He says much of the engraving work with Alphacam comes about where existing headstones fall into disrepair and become illegible.
"Once a cemetery inspection identifies the need for new headstones the Records Department generates a text file for the new order. Alphacam then communicates with our CRM software, working with that text file. The macro opens all the data, including the fonts, library of badges, emblems and layouts, linking everything together and creating the CNC file that is loaded on to the relevant machine extremely quickly and efficiently."
In order for the process to work, each letter exists as a block, and the system contains a setting file that goes with it, also including the relationship of one letter to any other.
Matt Wolsey: "Alphacam carries out calculations for the 4,000 different combinations of letters and spacings in the background. Basically, the macro means that when Alphacam takes in the CAD file and creates the toolpaths, the lettering in the engraving is machined in our unique font with the appropriate spacing.
"There's a code line in the text file's order of headstones which is the key to creating the layout. It contains the badge number, the full layout and the religious emblem, such as the cross or Star of David. There's also information within the text file that the macro uses to determine which font to use – either World War l or World War ll – on a particular headstone."
Before investing in Alphacam, Matt says creating each headstone layout required considerable manual input, which meant there was more room for error. "Alphacam not only saves us time but also guarantees that everything is 100% accurate."
In the past, the Commission replaced around 24,000 headstones a year, with its five CNC machines running round the clock. It now has a more conservation-minded approach and treats the memorials as historic fabric.
The legibility of the inscription is carefully considered against detailed guidance and no stone is replaced if it is not necessary.
The headstones have two different classifications – 'runners' and 'strangers'. Runners have a standard layout and the text file is sent straight to France where the CAM program is quickly created in one of CWGC's four suites of Standard Alphacam Stone.
Matt Wolsey personally produces the strangers, which are more complex layouts requiring manual input. For these, he uses Advanced Alphacam Stone, so he can manipulate the macro.
"The macro means the text aspect is created automatically, so, again, it saves considerable time. I drag a layout in, along with the badge and text, and the macro ensures the wording will be engraved in the correct font with the correct spacing."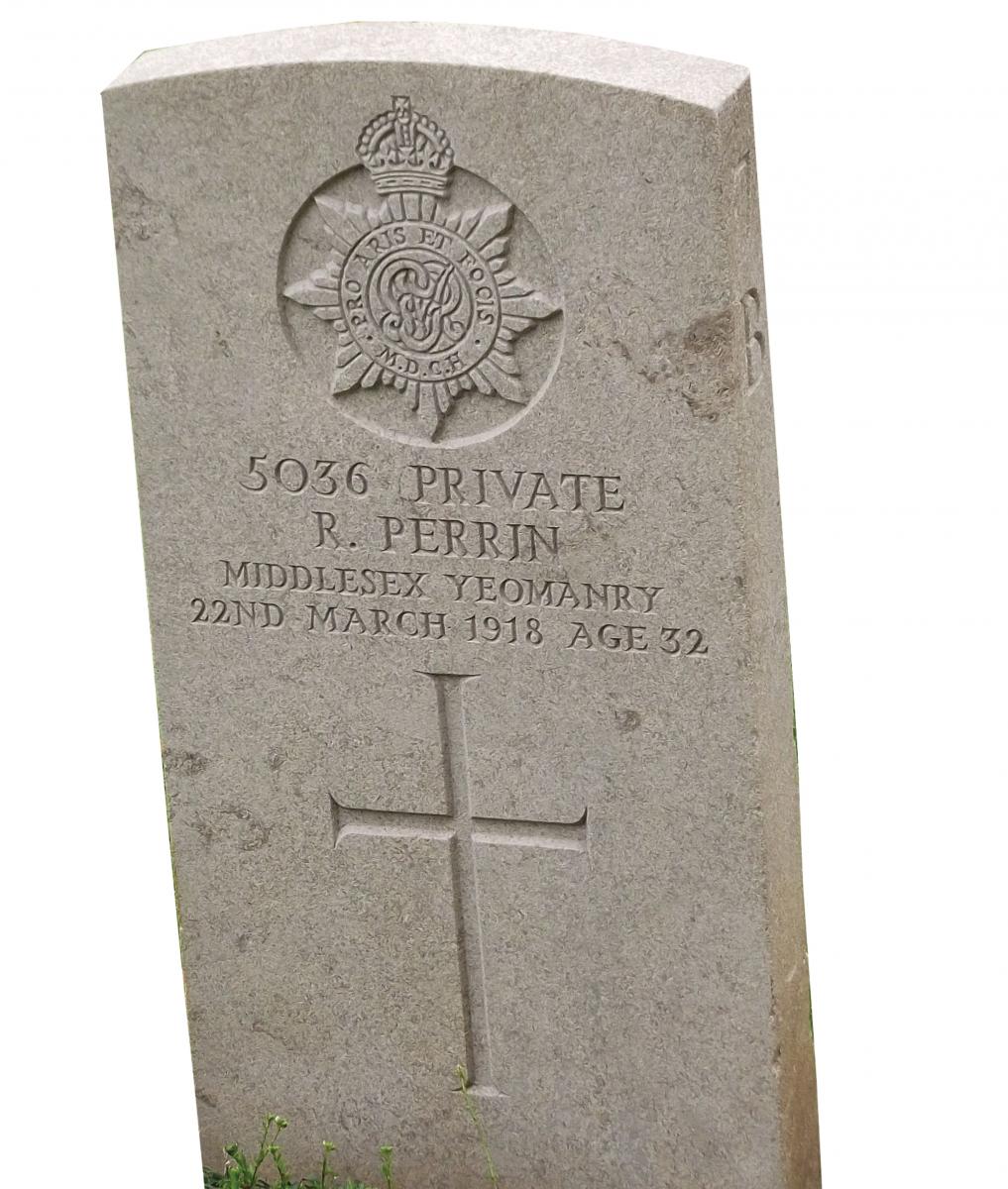 The final word goes to Chris McLean. "Overall, Alphacam is a key element in setting out the headstones and automating much of the process, making it less prone to human error. And the bespoke macro, produced exclusively for us by Alphacam's engineers, saves a lot of time, while guaranteeing that we achieve our values and aims, which were laid out in 1918 and are as relevant now as they were 100 years ago."