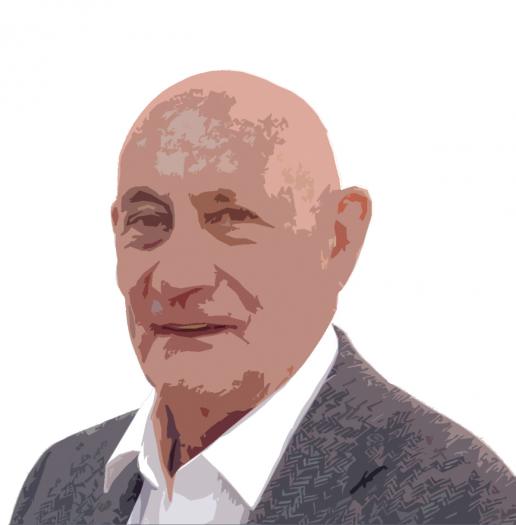 David Francis writes a regular column in Natural Stone Specialist magazine on topics relating to the memorial masonry side of the stone industry.
David Francis was a hands-on mason who specialised for many years on the memorial side of the stone industry. If you have an issue regarding any aspect of memorial masonry, David is happy to help. Send your questions or comments to David at [email protected]
Lifting large memorials is a delicate business. The heavier it is the more chance of accidents.
The monumental mason's task has been helped by the increasing use of fork lift trucks. Provided the ground is reasonably firm and level they can be a God-send. They are limited by the need for clear access, and providing it can take some reorganisation, but it is worth the effort.
Fork lift drivers should have a competency certificate and understand the limits of what the truck can do. The usual way of lifting, if not on a pallet, is with a spreader bar between the forks with a central hook.
When it comes to working in cemeteries, a gantry or shear legs are useful, but the restrictions must be understood. You cannot lift outside the footprint of the equipment. Shear legs are more difficult to erect than a bolt together gantry. Both need a block and chain. We kept ours in a large bucket and when it was being used the chain was fed into the bucket to stop it getting muddy.
In burial grounds a mobile crane might be the answer. These usually come with an experienced driver who will help and advise on the best way of working. The mason must also know the correct signals to use to guide the driver and be aware of the dangers around loads being moved. Cranes have weight sensors to warn of overloading. The longer the reach, the bigger the crane.
It is important to have the right equipment and know how to use your lifting gear.
Generally, slings are used, which must be clean and cared for and have an annual inspection certificate. Webbing slings must always be protected from sharp corners. Cargo straps can help to keep things together.
Wire slings are all right in a stone wholesaler's yard but are not for memorial masons. They can damage the stone and injure hands. I always found continuous slings the safest, especially if they have rotating pins on the shackles. Although I have used round split Lewes pins, I never placed much trust in them and prefer the old fashion type. I was brought up as a traditional mason.
For personal safety, gloves should always be worn. And if lifting above shoulder height a helmet should be on your head, not hanging from the hook of the crane. All lifting gear, including jacks, must be regularly tested.
David Francis is a hands-on mason who ran a craft-based business in South London for many years. He moved out of London in the 1990s and since then has been concentrating on memorial masonry, being Technical Advisor and Trainer for the National Association of Memorial Masons (NAMM) for several years, writing training manuals and City & Guild Qualifications. He has now left NAMM but would like to continue to advise and assist masons to help and improve skills in the sector.