Elephant Park: Giving nature a helping hand in the heart of London
Creating a natural-looking stone and water landscape in the centre of London involved the selection and layout of the stone in Italy and recording it by GPS so it could be reproduced once it arrived in the UK. Hardscape provided the expertise that made it possible.
The natural stone and water park within Elephant Park in the Elephant & Castle area of London won the Placemaking category of the New London Architecture awards for 2021. The accolade is awarded to a project that contributes to a sense of place, improving the social, cultural and economic character of an area. Elephant Springs, as the park within a park is known, certainly does that.
New London Architecture judge and long-time architecture critic Andreas Ruby said of the project: "It is original, unique and daring."
The park was envisioned as the heart of the revitalisation of Elephant & Castle by real estate and investment group Lendlease and Southwark Council.
The two-acre Elephant Park was to be an inclusive and sustainable community space featuring lawns, colourful gardens, and the landmark water playscape of Elephant Springs nestled among pedestrian walkways and naturalistic planting.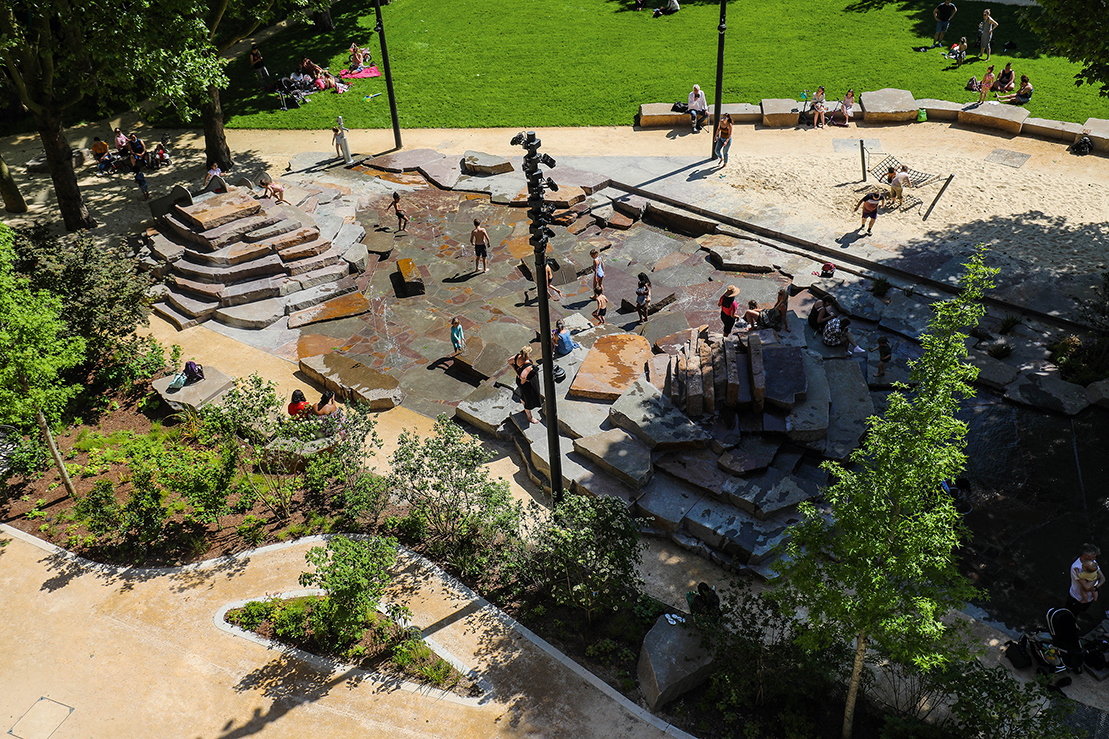 The park offers residents and visitors somewhere they can slow down, relax and connect with nature.
With personal outdoor space in high demand and short supply in the capital, this impressive new water landscape playground of natural stone set in a green oasis prides itself on its carefully arranged stone formations, cascading water channels, sandy lagoons and atmospheric lighting.
Artist Mel Chantrey of The Fountain Workshop, who designed the waterscape for the Diana, Princess of Wales, memorial playground in Kensington Gardens, collaborated with stone supplier Hardscape, the client teams, stakeholders who included local residents, and landscape architect Gillespies to create an inspirational space to provide mental and physical health benefits of spending time outdoors with nature.
While children love playing in the watery landscape on summers days while their parents paddle, Elephant Springs is in essence a work of sculptural art.
It is a landscape of rocky blocks and boulders reaching up to two metres high over an area of 420m2 in Elephant Park.
It is constructed from 600 colourful Prima Porphyry stones – an igneous rock formed 230million years ago and sourced by landscape material supply specialist Hardscape from a quarry in the Albiano region of northern Italy.
Albiano is important for porphyry because, geologically, it is 'massive', in that, it is non-fragile in use, and is available in thicknesses ranging from 20mm to 600mm. During the past 25 years that Hardscape has worked with porphyry it has become distinguished as Prima Porphyry because Hardscape says porphyry from other locations just doesn't have these attributes.
The project was conceived before the Covid pandemic, although the work of building it was carried out during the pandemic with all due consideration paid to keeping the team involved in its construction safe from any source of infection, including each other.
Mel Chantrey first accompanied the team from Hardscape to the Italian quarry in the summer of 2018. There he gained an appreciation of the beauty and the qualities of porphyry, as well as the dedication and commitment of Hardscape, which would play a major role in the selection process of the stones and boulders for this project.
By the time the individual pieces of stone for the project were to be selected, Italy and the UK were locked down by Covid restrictions and the decisions were made via video link.
It was a significant undertaking for Hardscape's in-house design team. They created detailed drawings and dimensionally accurate 3D visualisations from Gillespies original designs and Mel Chantrey's plasticine models using computer-generated imagery (CGI) and video footage from the quarry. Once approved, stone delivery schedules were arranged.
Hardscape managed the prebuild phase, identifying and reserving the main stone elements in Italy, getting comments from the design team before signing off by the client team using digital viewing platforms that were made available 24-hours a day.
Hardscape constructed the feature in Italy and recorded the exact position of every piece of stone so that it could be reproduced by PJ Carey, the contractor, when it arrived in London.
Behind the scenes, Hardscape's sister company, IP Surfaces, which specialises in added artistic touches and surface embellishments to materials for hard landscaping, was involved in drilling, shaping and processing Prima Porphyry boulders, which weighed between two and four tonnes each, to house the water fountain infrastructure.
The building of the feature is a real testament to the professionalism and capabilities of all concerned under the particular circumstances of the coronavirus.
Hardscape particularly faced the logistical challenge evident throughout the global pandemic of delivering the materials to site.
As the stones took their places and the feature emerged, its spectacular presence began to be unveiled and became a motivating driver to take the design to completion. When the water was turned on it was a delightful 'crown jewel' moment.
Water rises from Elephant Springs' rock formations to form babbling brooks reminiscent of a prehistoric world where children can let their imaginations run.
Hand operated water pumps, children's slides, cascading water channels and motion-activated water jets, all add to the fun for children and even introduce an extra educational element for both children and adults, which possibly the stone initiates through its introduction to geology.
The space is intended to provide a multifunctional and accessible experience, with seating perches and wheelchair ramps for disability access.
At night, Elephant Springs is lit by variegated lighting, enhancing reflections on the water and the sculptural effects of the space.
Mel Chantrey says: "In creating this installation I have drawn on memories and experiences distilled from encounters in the natural landscape. Our aspiration was to create a place that was both evocative and engaging to a wide audience and age groups.
"That has been the driving force behind the design of Elephant Springs. We wanted to make something which could delight, challenge and excite children, but also somewhere adults would just as much want to come and spend time; where all the senses – smell, touch and sounds – would be simultaneously stimulated.
"Our hope is that it will inspire others to think differently about how public spaces can be designed."
Why and how was all this made possible? Firstly, the vision of Lendlease and Southwark Council. Then came the understanding of Mel Chantrey and his capability to fuse art into an educational playground of sculpture. Gillespies provided for the overall detail plan, the engineering complexity was managed by Buro Happold and the materials knowledge with generations of experience came from the Filippi family from Trento in Italy. It was meticulously knitted together by PJ Carey using the range of materials sourced and supplied by Hardscape.
Natural stone is, of course, intrinsically low carbon and from the start the Elephant Park project has been committed to a low carbon ethos, with the intention of achieving Net Zero operation by the time it completes in 2025.
Kristy Lansdown, the Project Director from Lendlease, says: "The space has been inspired by feedback from the community and our commitment to sustainable outcomes to create a unique, natural environment that will delight people of all ages."
Hardscape MD Mathew Haslam says: "It was a brilliant project to be involved in. It shows just what a contribution close collaboration between all the parties involved can have when using the unique properties of a stone like our Prima Porphyry to create a true sense of place. Not only that, it celebrates the panacea of all stone, a natural surface with, therefore, low carbon credentials, top class technical properties and unbounded aesthetic."
In this post-Covid world, being outdoors has become more important than ever before, and we are proud to have created a green oasis for everyone to enjoy and hope the community will be proud of it too. We invite you to visit and enjoy the park, take off your shoes and put your feet in the water!"
Cllr Catherine Rose, Southwark Borough Council's Cabinet Member for Transport, Parks and Sport, said: "Green spaces are fundamental to our residents' health and well-being, from helping to clean Southwark's air to providing a calming oasis or favourite spot to exercise. This is why we're delighted that Elephant Park and its unique waterscape now belongs to the borough's extensive network of over 215 parks and green spaces. By unlocking and increasing open space in Southwark, we can create restful places for all ages as well as new safe routes to walk, cycle or play. We hope this will become a new local favourite place throughout the whole year for everyone living, visiting, or working in the area."
Elephant Springs opened to the public in June 2021. It can be found at Elephant Park, Elephant Road, London, SE17 1UB. It is accessed off Castle Square, a new public space that forms the gateway to Elephant Park.
Credits
The three pictures below show (top to bottom) the hand pump and slides, detail of Mel Chantry's plasticine model, and stone worked by IP Surfaces to accommodate the fountains.