Stone Sources : Tradstocks
A 20% grant from the Government has helped Tradstocks make a £650,000 investment in its factory. Now the stone company would like planners and developers to use its stone rather than imports.
Last year was the 700th anniversary of the Battle of Bannockburn, where the Scots, led by Robert the Bruce, won a famous victory over a larger English army. It is a battle even the English remember and the National Trust marked its anniversary by opening a new visitor centre at the battle site. The granite they used came from China.
It is particularly galling for Peter Stewart, the Managing Director of Scottish stone company Tradstocks, because his red Whinstone (a quartz dolorite) comes from a quarry near Bannockburn.
Scottish Whinstone can match or better Chinese granite for strength, durability and longevity (Tradstocks made the kerbs in Princes Street, Edinburgh, from it although the setts are Chinese granite).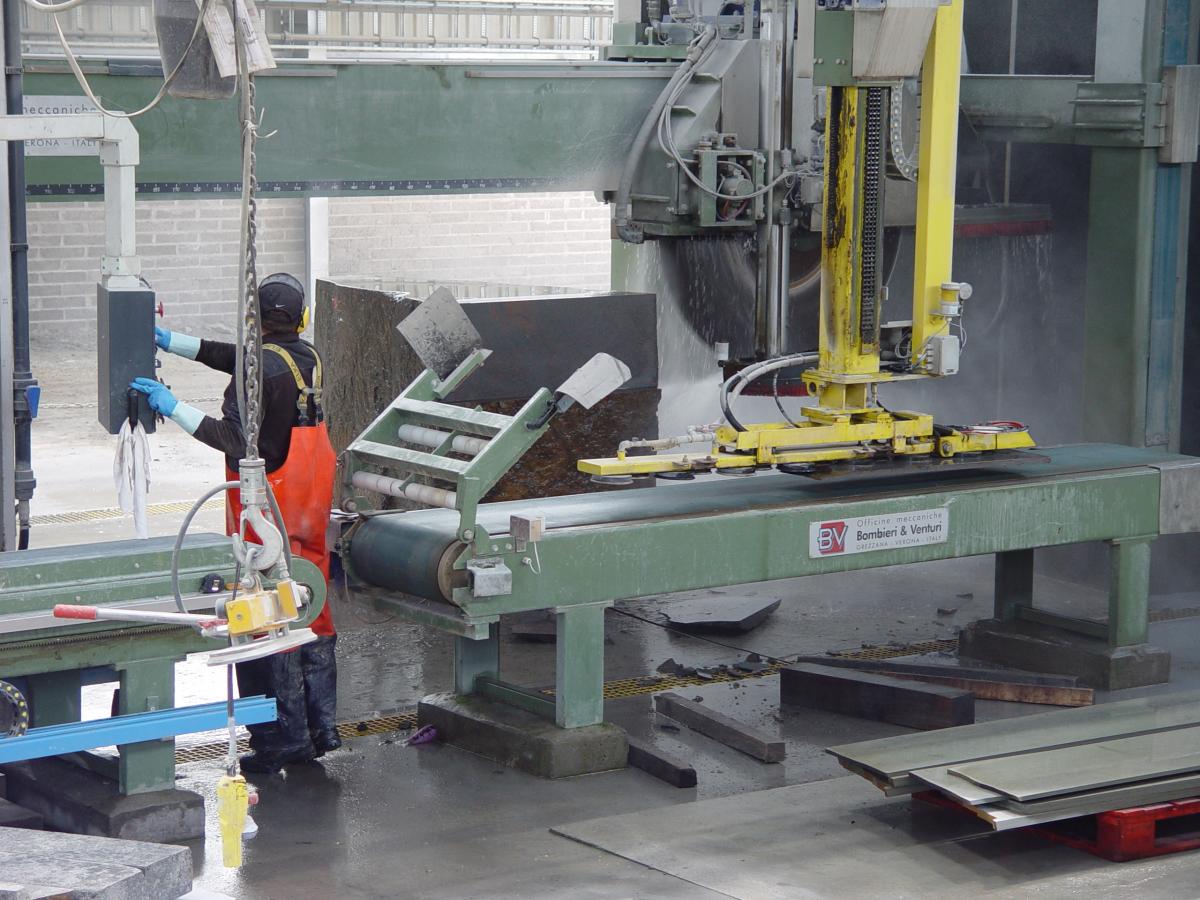 Peter Stewart's battle now is to get Scottish planners, designers and developers to use the stones on their doorstep rather than stones that have been transported half way round the world.
It is a message he was trying to get into high places in August when the Deputy First Minister of Scotland, John Swinney, the Convenor of the Economy, Energy & Tourism Committee Murdo Fraser, and Stirling MSP Bruce Crawford visited Tradstocks' premises in Dunaverig, Stirling. John Swinney officially opened a new building that houses an Italian Bombieri & Venturi paving, flooring and ashlar line, supplied by UK agents New Stone Age.
The £650,000 investment had been facilitated by a 20% Regional Selective Assistance grant from Scottish Enterprise, hence the presence of John Swinney and his fellow MSPs at the opening. But, says Peter Stewart: "The Government encourages us to grow and then uses imported stone for their projects."
Around 70 customers, architects, developers and others were also invited to Stirling for the opening and the open day that followed it. But Peter says: "My main focus was the time we had with the MSPs, getting the message over to them that stone processing in Scotland is the smallest it's ever been and they should be using Scottish stone. We're getting the message as high up the ladder of planning as we can that we have sustainable sources of stone which will continue to be available into the future when eventually repairs or extensions are wanted for what's built now."
He says there is perhaps £50million a year spent on stone in Scotland and less than 20% of that goes to the indigenous industry. Scotland has a lot of good quality stone that the country could use at minimal environmental impact while at the same time creating jobs and keeping the money in the local economy.
Not that Tradstocks wants to restrict its market to Scotland. It is a big stone winning and processing operation and is supplying stone to the rest of the UK. It even has ambitions to export and would like to join the small British stone contingent exhibiting at Marmomacc in Verona. But Peter finds it incongruous that Tradstocks is supplying more stone to London and Northern Ireland than it is to its own back yard. "It doesn't seem to add up," he says. "If it really boils down to it, I think it's a matter of national pride."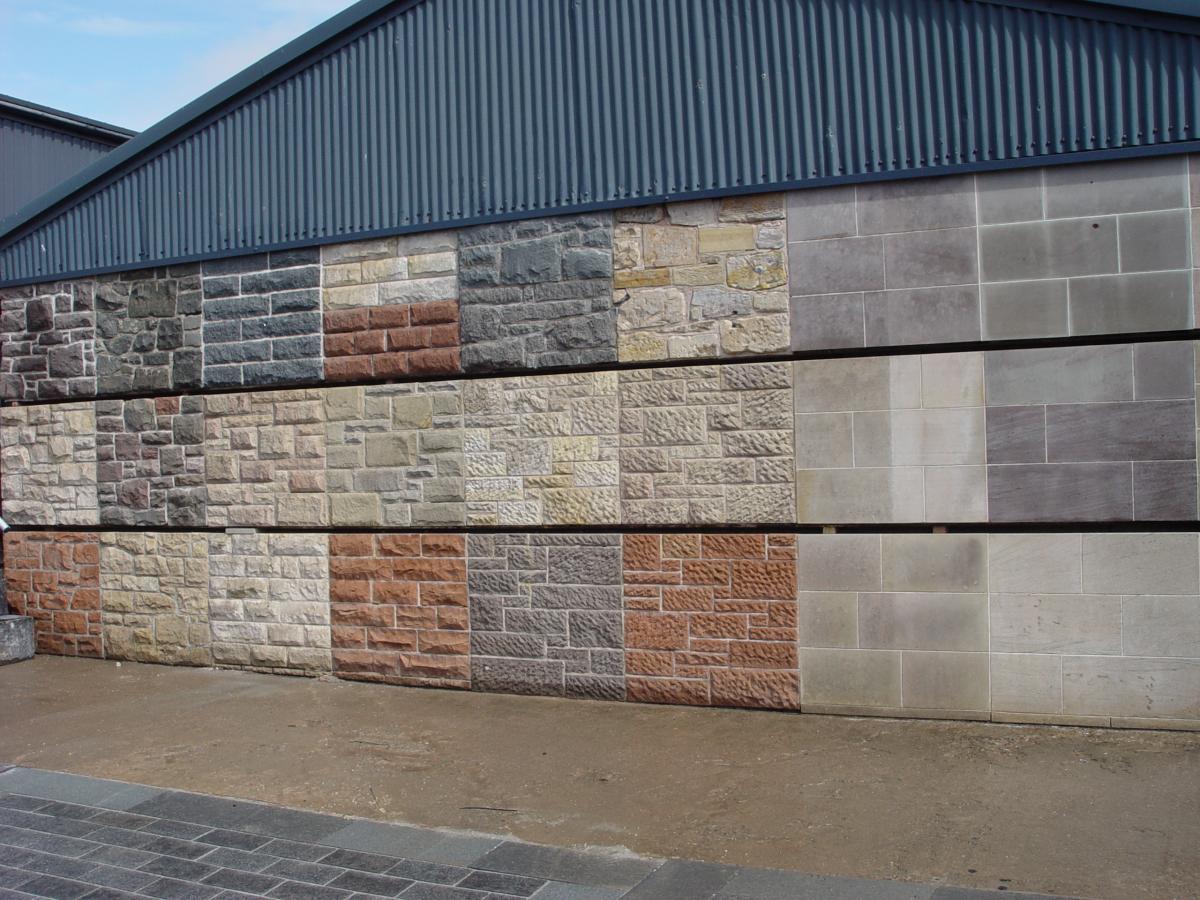 The Tradstocks business was started by Peter in 1992 on his family farm at Dunaverig, where his father, an enthusiastic dry stone waller, had opened a small quarry for his own needs.
Peter started by supplying stone from the quarry supplemented by sales of reclaimed stone that he bought. Eventually he could see there was a market for stone sawn to size and he bought his first saw, a Wells Wellcut.
In 2005 Tradstocks re-opened the historic Cullalo sandstone quarry in Fife. In 2008 it added the Westwood factory of Watson Stonecraft when that company folded. That gave Tradstocks six Terzago saws, a BM, a Wells Wellcut and an ASM profiler, as well as a range of other equipment and machinery, including an old Anderson Grice stone planer.
Profits have been returned to the business as capital investment every year since 2002. Last year, a major new Omec water processing plant supplied by New Stone Age was installed along with a rainwater collecting system. Tradstocks is self-sufficient in water – as Peter says, nature is generous with its supply of rainwater in Scotland.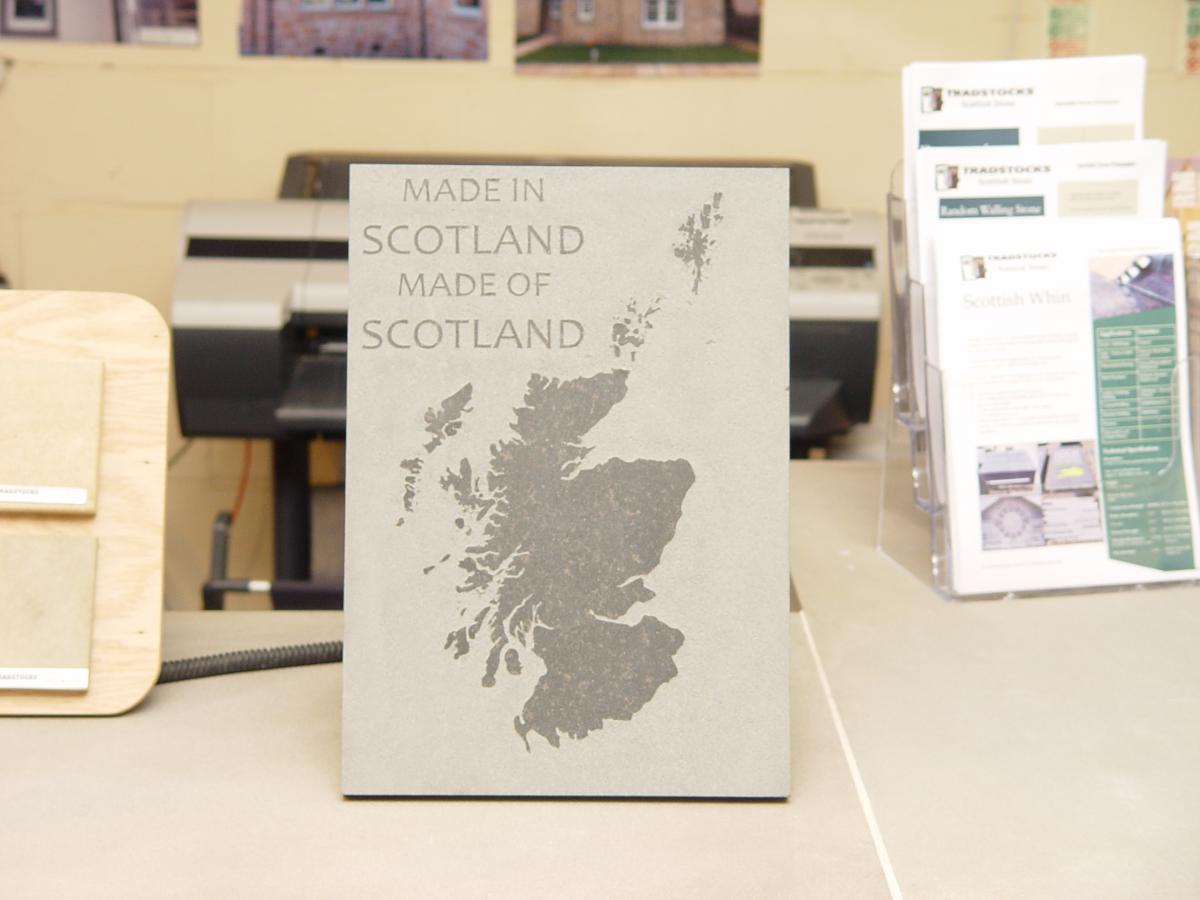 This year, as well as the new BV ashlar and paving line, the company has bought its largest ever excavator, a 46tonne Volvo capable of lifting 15 tonne blocks. Tradstocks extracts its stone on a campaign basis and as well as taking sandstone from its own quarries it also extracts Whinstone from various aggregate quarries, although it is hoping to open its own Whinstone quarry on a new site. Peter does not anticipate planning permission will be a major problem, although it has not yet been given.
And while Peter complains that too much imported stone is being used in Scotland, Tradstocks has supplied stone for many major projects north of the border. As well as supplying finished stone for prestigious commercial, domestic and public sector developments, it notably made the Whinstone benches for the National War Memorial in Edinburgh Castle that The Queen unveiled last year and it has reproduced from a scan of the original in the National Museum a 3m long by 1m high Roman mile marker from the Antonine Wall.