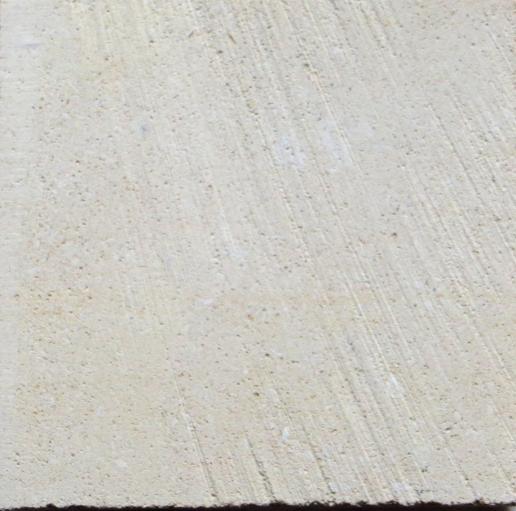 New from Clipsham Quarry Company is Rutland White oolitic limestone.
The picture here shows a new block stone called Rutland White that Clipsham Quarry Company is introducing.
It is an oolitic limestone from 20m below the Clipsham block stone that has been quarried from the Clipsham Quarry at Fernleigh in Lincolnshire for the past 100 years or so.
Visually, Rutland White has fewer fossils and inclusions than Clipsham limestone and is paler with a more uniform finish. The sample pictured here is sawn and shows the saw marks on the surface.
The stone is in full production and blocks are being extracted of more than 1m thick on bed.
Testing shows porosity at 17.1-19.1% (mean 18.1), apparent density at 2190kg/m3-2250kg/m3 (mean 2220), three point flexural strength varying from 1Mpa to 7.3Mpa, and frost resistance over 56 cycles of 0.4-4.4.
It is being priced the same as Clipsham – £250/tonne over 800mm on the bed and £220/tonne below that.
A photograph can only give an idea of what the stone looks like (and it will look different on every computer screen), so if you think it might be what you need it is certainly worth seeing a sample and visiting the quarry. For more information or to arrange a visit call Sue Thomas or Rachael Barratt on 01780 410085 or email [email protected].