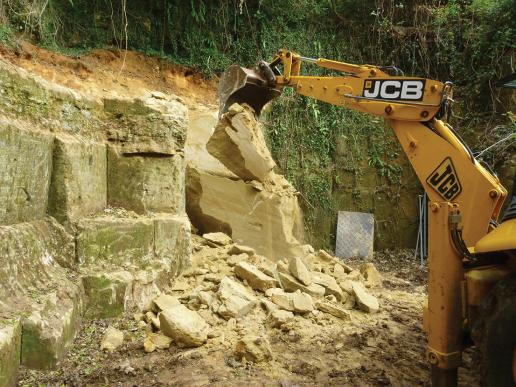 Re-opened to provide stone for Exeter Cathedral.
A quarry in Devon that is believed to be one of original sources of the stone used to build Exeter Cathedral 800 years ago has been re-opened to supply stone for repairs.
Stone was last extracted from the Dunscombe Manor site in the 1980s. Enough was won to keep the cathedral supplied until now. But the recent acceleration of a major works programme at the Cathedral has depleted the stockpile of its Salcombe stone.
In 2013, Craig Morgan, who manages the land the quarry is on as a caravan park and holiday cottage business on behalf of the National Trust, was approached to begin the process of securing permissions to re-open the site.
He says: "I was very excited at the prospect of re-opening the quarry. I remember the last extractions ending in 1986 as if it were yesterday and always wondered if the next quarrying phase would be commenced in my lifetime.
"So to be consulted and asked to assist in the project was a fabulous opportunity, which I am more than happy to agree to."
Under the terms of the latest agreement (which also includes a formal permission from Devon County Council to extract the stone) up to 5m3 (about 12tonnes) of stone will be removed each year to provide material for the ongoing restoration project.
Extraction of the first blocks of the stone began in October under the supervision of Chris Sampson, the Cathedral's Clerk of Works.
"We're extremely grateful to Craig and to Devon County Council for working with us to re-open this historically significant site," said Chris.
"Gaining a sustainable supply of Salcombe stone of this quality is important in providing our masons with the best materials as we continue to progress our current programme of major works, which will ensure that the Cathedral is passed on to future generations in a cared-for condition."
Salcombe stone was used to build the majority of the Cathedral, including the Norman towers and parts of the West Front. It was extracted at several sites around the village of Salcombe Regis (near Sidmouth) from which it takes its name. Records show  it was transported by sea to Topsham and then into Exeter by barge.
You can follow the project on Twitter @ExeterCathedral and on facebook at fb.com/exetercathedral.