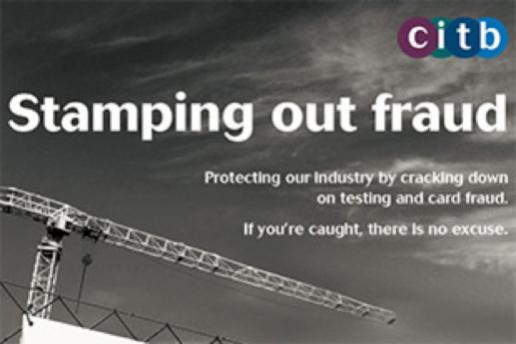 CITB evidence has helped put CSCS card fraudsters in prison.
It's been a busy winter for the CITB Fraud Team in the fight against illegal activities in the construction industry.
Fraud Investigator Ian Sidney has assisted in police cases that have led to prison terms for fraudsters.
In December, five men were jailed for running a forgery factory that made and distributed between 50,000 and 100,000 documents, including CSCS cards, passports and driving licences.
Satnman Hayer, Sandeep Singh, Harjinder Kingre, Pritpal Singh, and Gurjit Singh appeared before Snaresbrook Crown Court in December charged with various fraud offences after immigration officers carrying out a raid on a home in East Ham, London, stumbled on a bedroom converted into a fully-equipped factory manufacturing British, European and Indian documents.
CITB supported the investigation by supplying evidence on genuine CSCS cards and verifying the status of counterfeit cards and qualifications that had been produced.
Sandeep Singh and Harjinder Kingre, both of Leigh Road, East Ham, denied their role in running the operation but a jury convicted them both of conspiracy to make and supply articles for use in fraud. They were each jailed for eight and a half years.
Pritpal Singh admitted his role, along with another charge related to possessing one of the fake passports. He was jailed for six years.  
Satnman Hayer of Normanton, Derby, and Gurjit Singh of Southall, Ealing, both admitted buying forged documents to sell on for profit. Hayer was sentenced to three years and nine months in jail while Singh's sentence was deferred to a later date.
In two separate court cases, two men have also received custodial sentences following Home Office Immigration Enforcement investigations supported by CITB.
A Ukrainian national was sentenced to 14 months in jail for facilitating illegal working in the UK.
Gheorghe Calancea, living in Aylesbury, Buckinghamshire, denied working or living in the UK and provided an address overseas. However, CITB checks proved he had been issued with a CSCS Construction Related Occupation card in 2016 to work as a joint taper. 
And an Albanian national, Sulejman Gerbolli, was found guilty of illegally entering the UK and using fake identity documents in the name of Cesare Lombardi to work in the construction industry.
He was charged with 12 offences, three of which related to CITB, including using a false Italian ID card to do the CITB HS&E test, fraud by gaining a CSCS card and possession of a counterfeit CSCS card.
At Isleworth Crown Court in December he was sentenced to one year imprisonment. When he gets out of jail he will be deported and banned from returning to the UK.
CITB supported the investigation into the counterfeit CSCS card and provided a witness statement which was used in the court proceedings to prove the case.
Commenting on the cases, CITB Fraud Investigator Ian Sidney said: "People working illegally or without the necessary qualifications pose a huge risk to the construction industry.
"Illegal working undermines legitimate employers, harms the reputation of the industry, drives down wages and denies employment opportunities to many others.
"These three prosecutions clearly show CITB is fully committed to fighting fraud in the construction industry and we will continue to work with the Home Office and other law enforcement agencies in bringing offenders to justice."
What to do if you spot a fraudulent card
Employers are urged to conduct regular checks on CSCS cards either using CSCS smart card readers or the CITB online card checker on the CITB website.
If you think you know someone using a fraudulent card you should:
Retain the card if possible
Make photocopies of front and back
Record the cardholder's name and address
Ask the cardholder where the card was obtained
Call the local police and report the matter
Refuse the holder access to site (subject to company rules)
Forward copies of all evidence to CITB Quality Assurance Team, Building 16, Bircham Newton, King's Lynn, PE31 6RH, marked 'SUSPECTED FRAUDULENT CARD' with details of the crime number given by local police
You can also email 

[email protected]