The world of stone returns to Verona for Marmo+Mac
Schoolchildren protesting about climate change in front of the Arena di Verona during Italy's international stone exhibition are a sign of the turbulent times... but the show goes on.
There are not usually many empty seats on the flights from British airports into Verona at the time of Italy's major international stone show, Marmo+Mac. But there were this year.
The threatened strike by British Airways pilots could not have helped. The company cancelled some flights out of Verona and left them cancelled after the strike was called off. Ryan Air pilots were also taking strike action, although not many of its schedules were disrupted. Nevertheless, the threat probably put some people off making the trip.
The main reason for the empty seats, though, must have been the uncertainty of Brexit, which was, once again, a recurring subject of conversation at Marmo+Mac.
But just as Brexit has split the British into groups for and against the idea, so it has split the stone industry into those who think it is a good time to make changes and invest and those who think it is best to wait and see what the outcome is.
Some expect the pound to fall as a result of Brexit, so have wanted to invest ahead of that, although by the time of Marmo+Mac at the end of September the opportunity to get machinery in at pre-Brexit prices was just about over.
As it turned out, with a deal looking unexpectedly more likely in October, the pound strengthened. This was written at the start of October, so we still have not left the EU and it is not clear whether Prime Minister Boris Johnston will be able to get his deal through parliament at the end of the month in spite of saying he would rather be "dead in a ditch" than fail.
Some have anticipated new opportunities from Brexit and want to be prepared to increase production. Others expect times to be hard and want to be in the best position to be able to survive by increasing the  productivity of their factories by installing efficient machinery and systems. Some want to avoid incurring debt in the face of an uncertain level of demand ahead.
Whatever the motivation, most of the UK stone machinery suppliers at Marmo+Mac on the stands of the manufacturers whose products they sell said that while the number of visitors from the UK might have been down this year, those who had attended had done so with a serious intention of making an investment and so they were spending.
According to the organisers, there were nearly 70,000 trade visitors this time, 62% of them from outside Italy. They came from 154 countries to see 1,650 exhibitors from 61 countries, including a major presence from China and Turkey.
Maurizio Danese, President of Veronafiere, said as the fair closed: "This 54th Marmo+Mac has achieved all the goals we set for it."
The Italian Stone Theatre, with its 'Lithic Garden' and 'Brand & Stone 2.0', once again focused on innovation and experimentation with the use of stone design and processing.
Giovanni Mantovani, CEO of Veronafiere, said: "Workshops and exhibitions help designers, architects and trade operators to a deeper understanding of how versatile natural stone and the technologies for working it can be."
The pictures and words  on these pages present some of the news from the exhibition that involve British companies that represent those exhibiting – or, in the case of Portland limestone company Albion Stone and equipment company Leading Production Equipment Group (previously LPE Group where LPE stood for Laser Products Europe) headed by Carl Sharkey, which had their own stands at Marmo+Mac.
There were some new agencies announced (with possibly one or two more to follow when negotiations are completed). One company now looking for a new representative in the UK is Omag, previously represented by D Zambelis, which has swapped to Prussiani. Anyone interested in the Omag agency should contact Michela Innocent ([email protected]).
Below are some of the UK participants at this year's exhibition.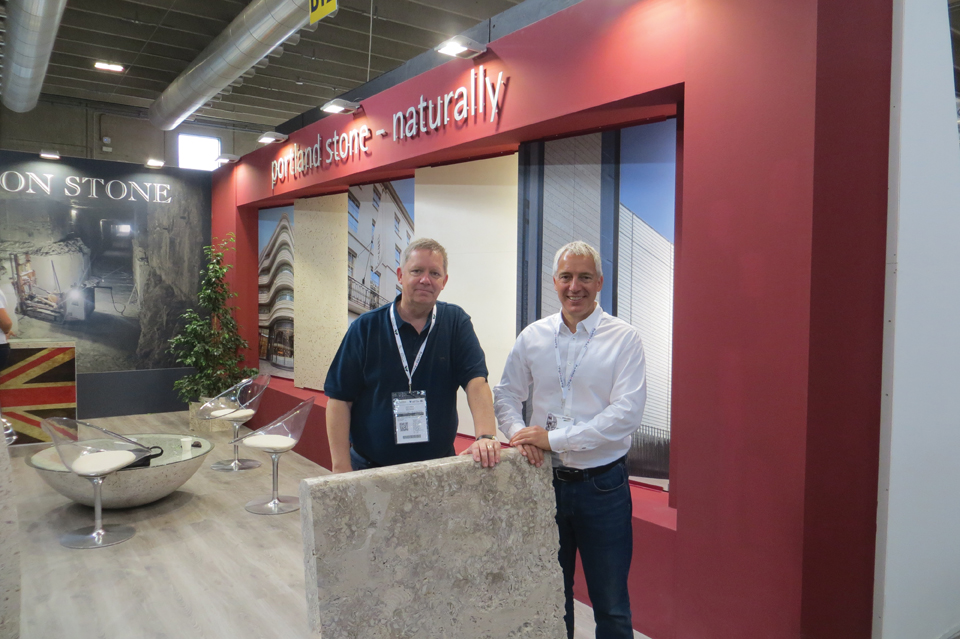 Portland limestone mining company Albion was once again in Verona hoping for a repeat of the success it had last year in picking up an order for 1,000 tonnes of its stone for the new headquarters in Korea of car tyre maker Hankook. Albion's Chinese agent, James Wang, arranged for blocks of the stone to be processed in China. Michael Poultney, MD of Albion, is pictured on the right with his Australian agent, James Ginter of Traditional Restoration Company.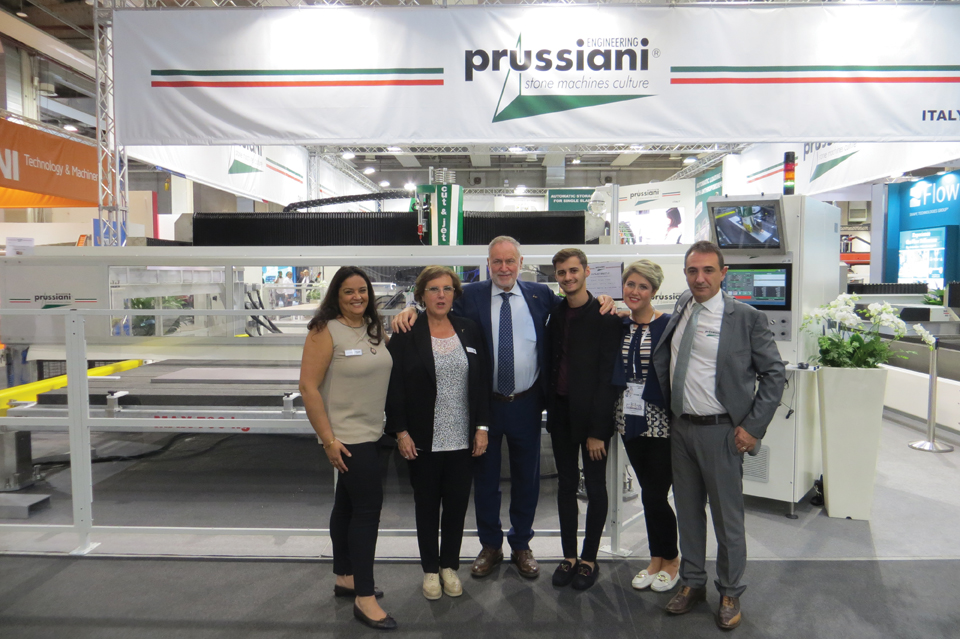 Stone machinery manufacturer Prussiani announced during Marmo+Mac that its new agent in England and Wales was D Zambelis (see the October issue of NSS). Members of the two families are pictured here on the Prussiani stand. They are (left to right) Stella Zambelis, Mariella Lucchini Prussiani and her husband Mario Giorgio Prussiani, Jasper Zambelis, Claire Cooper, who arranges finance for customers in the UK, and Corrado Carrara, Prussiani's Sales Manager. They are in front of the new Cut & Jet combined CNC bridge saw and waterjet.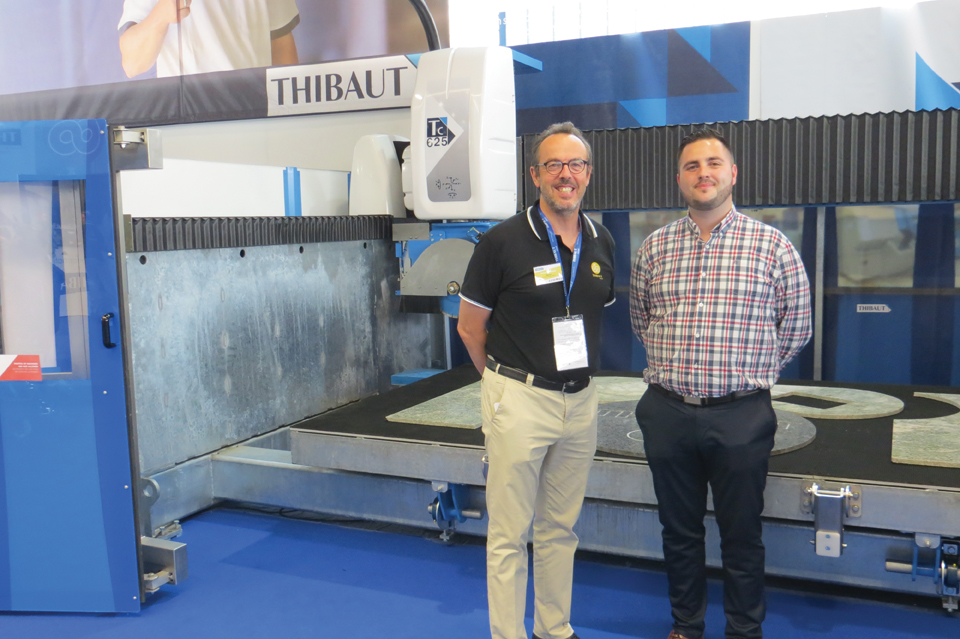 Bruno Machado (right) of On Point Engineering, which represents Thibaut in the UK, is pictured here with Jacques Thibaut, who heads the French machinery manufacturer, in front of the new TC625 that was introduced in Verona. The five axes sawing and milling centre is specifically design to be able to cut porcelains as well as natural stones. A new door design gives the operator a good view of the working area from the control panel. The machine incorporates the latest developments on Thibaut's user-friendly Pilot interface.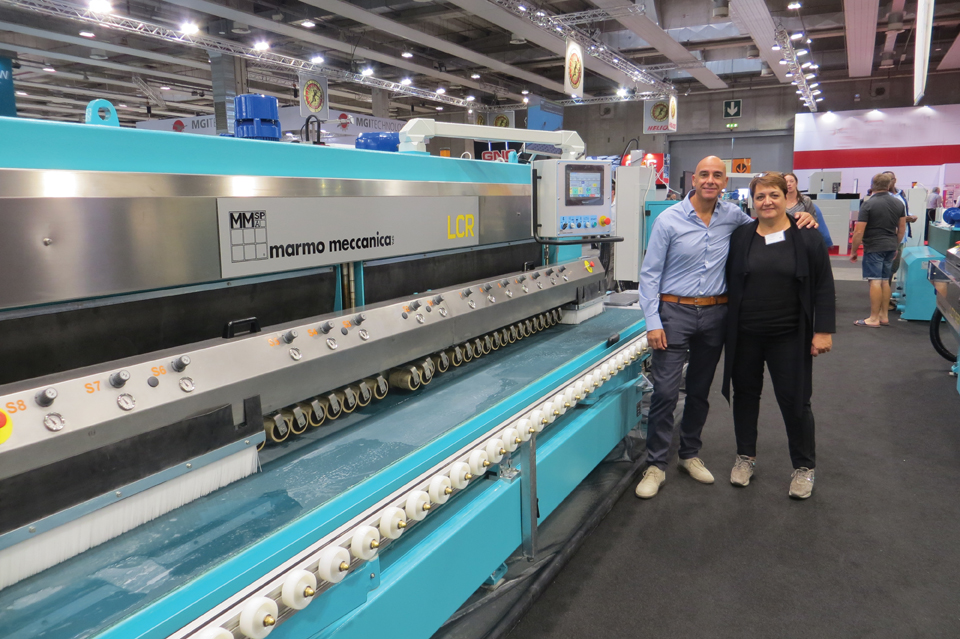 Andy Bell of Stone Equipment International (National Masonry) with Andria Ronconi of Marmo Meccanica, the leading edge polisher brand represented by Stone Equipment International in the UK. Andrea was previously Chief Engineer at MM but has moved over to the sales side. They are pictured with an LCR, which is popular in the UK, but a whole section of the stand was devoted to LCV vertical polishers as Marmo Meccanica wanted to emphasise that it has been making them since 1981 and has designed 80 different versions of them and sold more than 5,000 worldwide.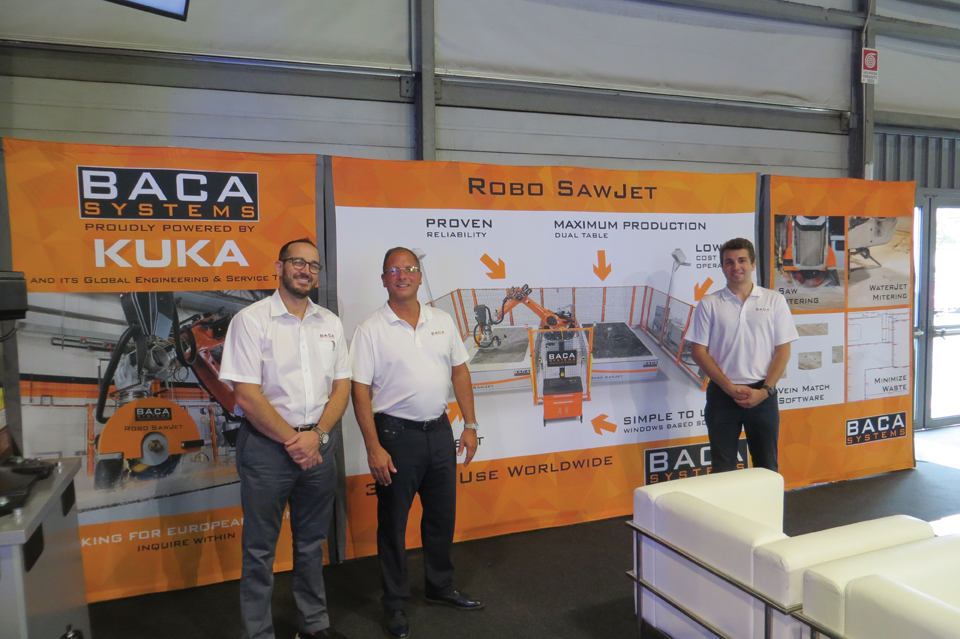 Baca Systems is the latest American company represented in the UK and Europe by LPE Group, which is now standing for 'Leading Production Equipment'. LPE Group had a stand at Marmo+Mac but Baca Systems had its own stand where it presented its solution for sawing, mitring and routing using a Kuka robot arm. The company was formed by Chuck Russo in 2014. He believes he has developed the fastest stone sawing system on the market. Chuck is pictured here with his son, Andrew (right), and Baca Systems' Sales Manager, Nick Wadenstorer (left).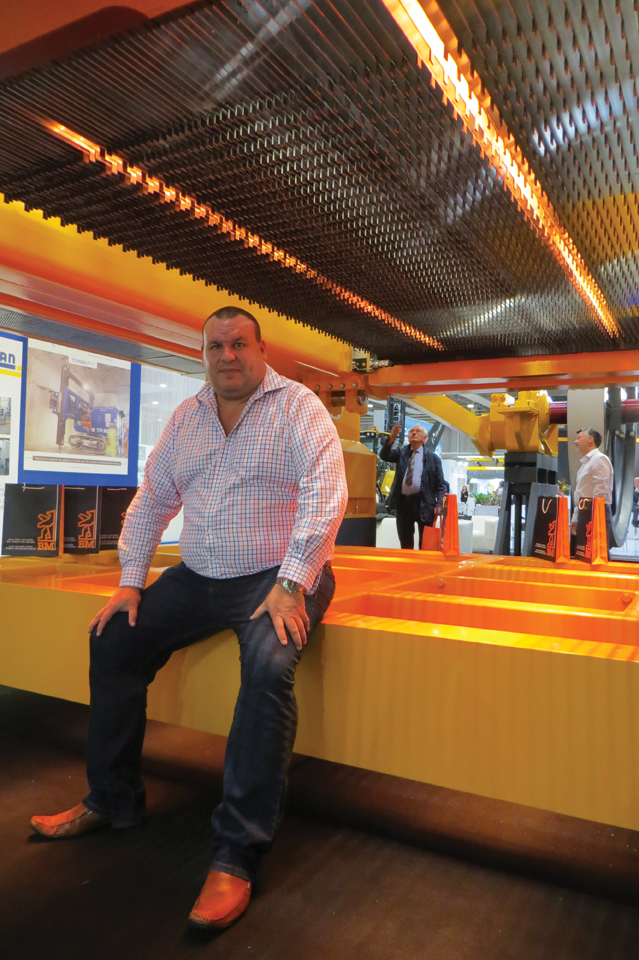 James Turton of New Stone Age, the UK agent for BM, BV-Tech and Omec, on a BM frame saw designed to carry a new generation of segments that bring sawing granite block down from three days to eight hours.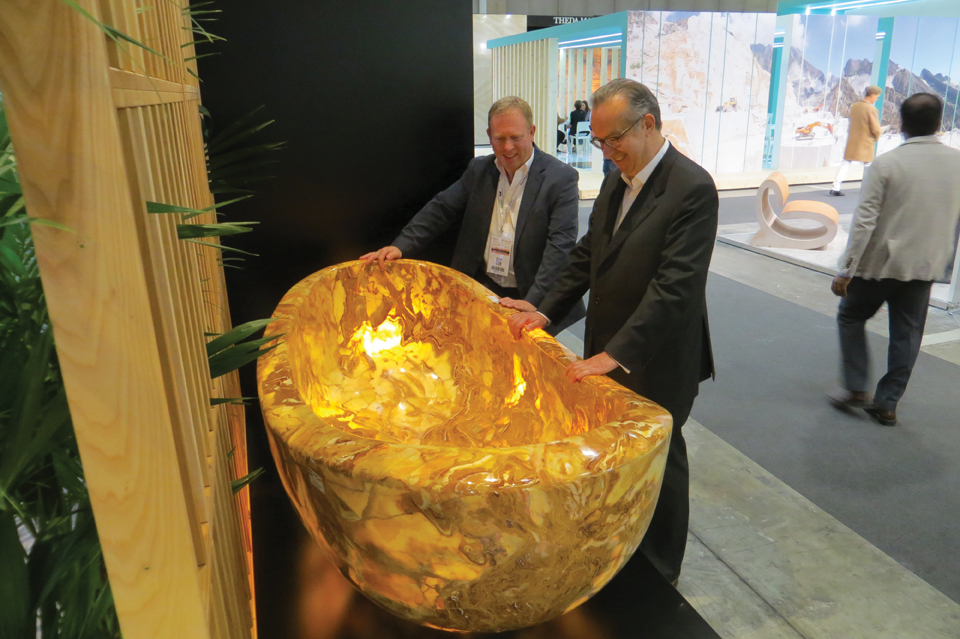 Stephen Pike (right), who heads stone wholesaler The Marble & Granite Centre and Mark Mills of fabricator Stone Systems of London admire the workmanship of a thin stone bath that has lighting between the skins of bent onyx. It was on the stand of Stocchero Attilio, one of the stone companies that supplies the Marble & Granite Centre.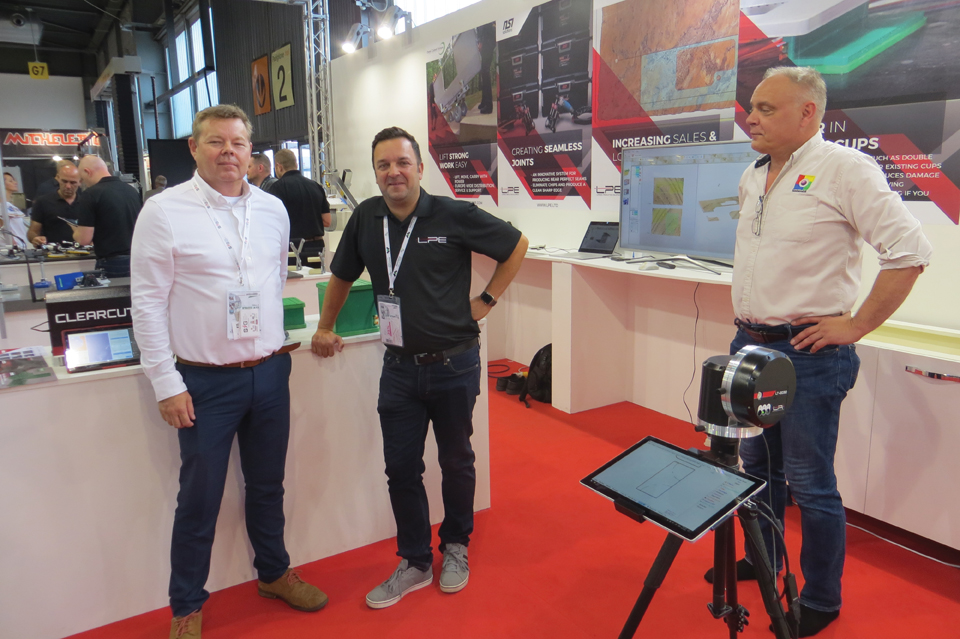 Simon Bradbury (left) and Carl Sharkey (centre), who have split the assets of LPE Group to concentrate on their own particular sections. Carl is concentrating on Europe with LPE and Simon has formed the Stone Industry Group with interests in the USA and the UK.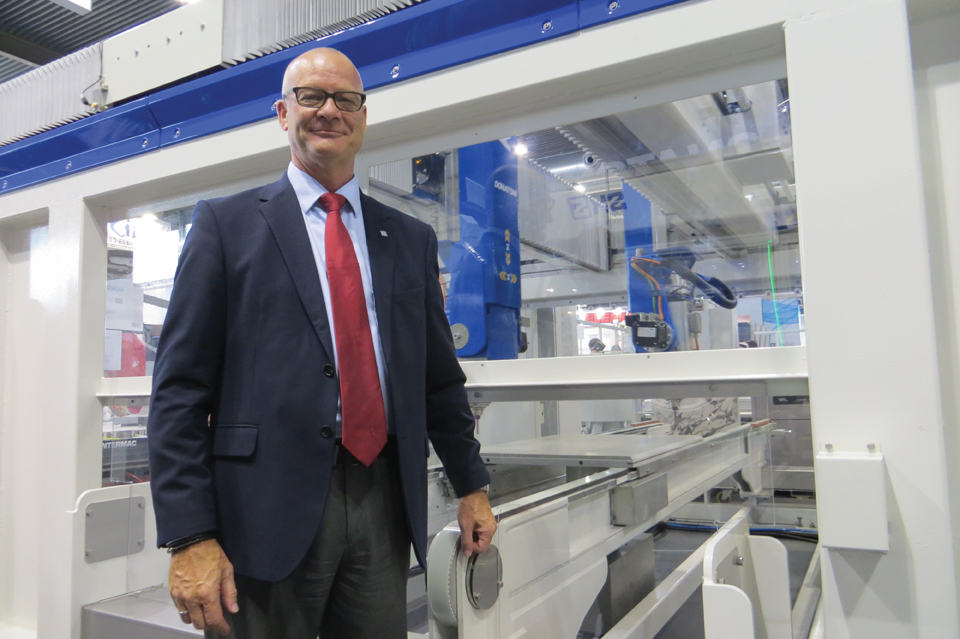 Chris Arund, Intermac's UK Commercial Manager, in front of the new Donatoni KSD 1 that has two heads for the rapid production of façade cladding, complete with all the fixing points. It can even work the face to some extent. The heads work independently and the machine optimises their use for the design programmed.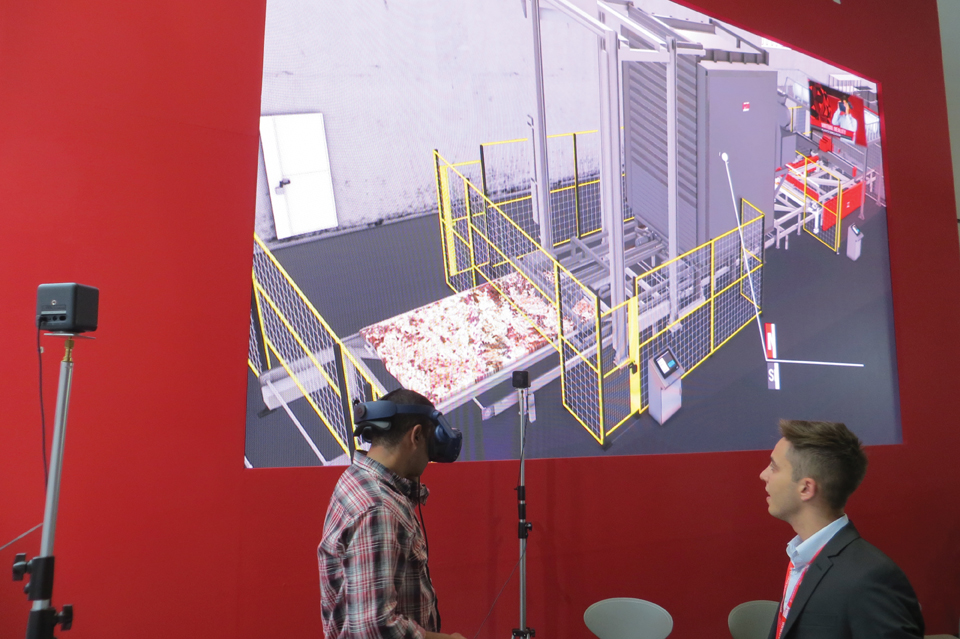 Breton demonstrated how technologically advanced it is with a walk-through computer-controlled son et lumiere 'live experience' (as it called it) of the latest developments in Bretonstone. And it had Hype Rock virtual reality that enables you to try different configurations of machines in your factory before you buy them. Once they are installed, it optimises work throughput to maximise productivity. It is not yet on general realease but the response to it was positive.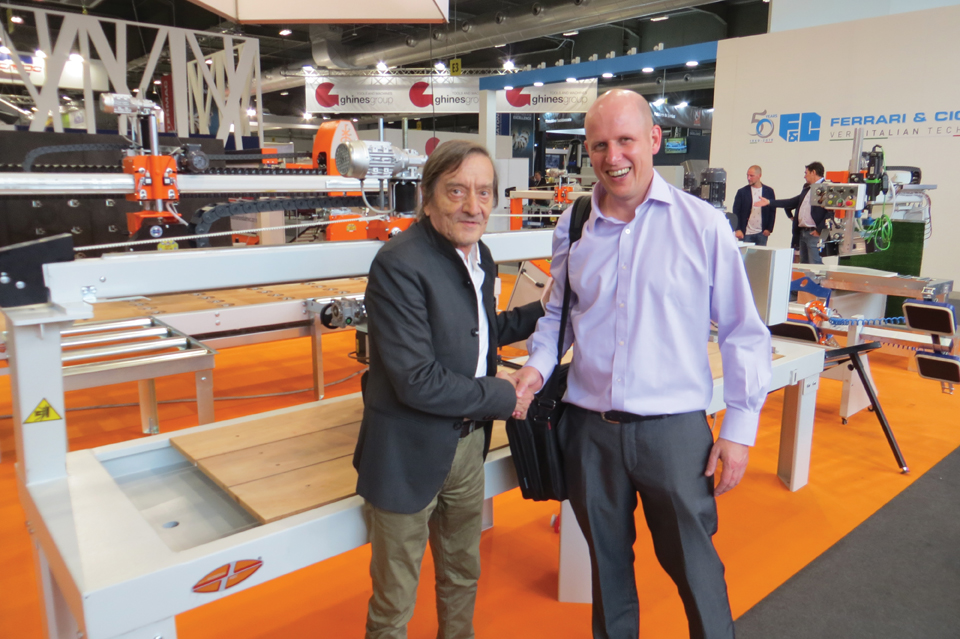 Among the manufacturers being supported by UK company Waters Group this time was Nuova Mondial Mec, the agency for which Waters Group has now taken on exclusively in the UK. Daniel Waters is pictured here (on the right of the picture) with Daniel Vasi, who owns Mondial Mec. Daniel Waters described Mondial Mec as offering "the Rolls Royce of bench saws with an unrivalled range."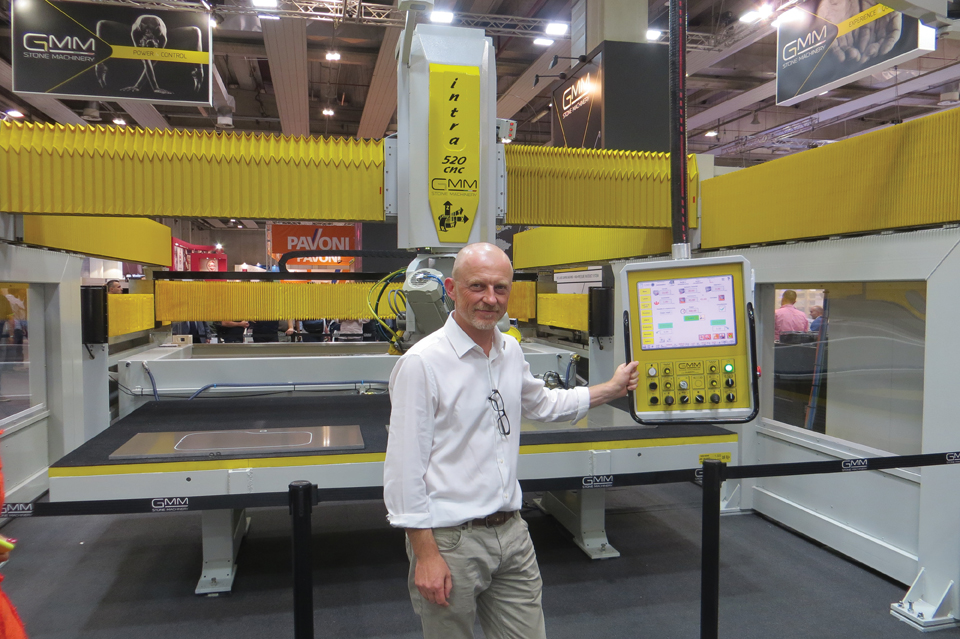 Arran Langford  of Roccia Machinery with the new five axes CNC Intra from GMM, one of the main brands represented by Roccia in the UK. GMM also introduced the Combo bridge saw and waterjet.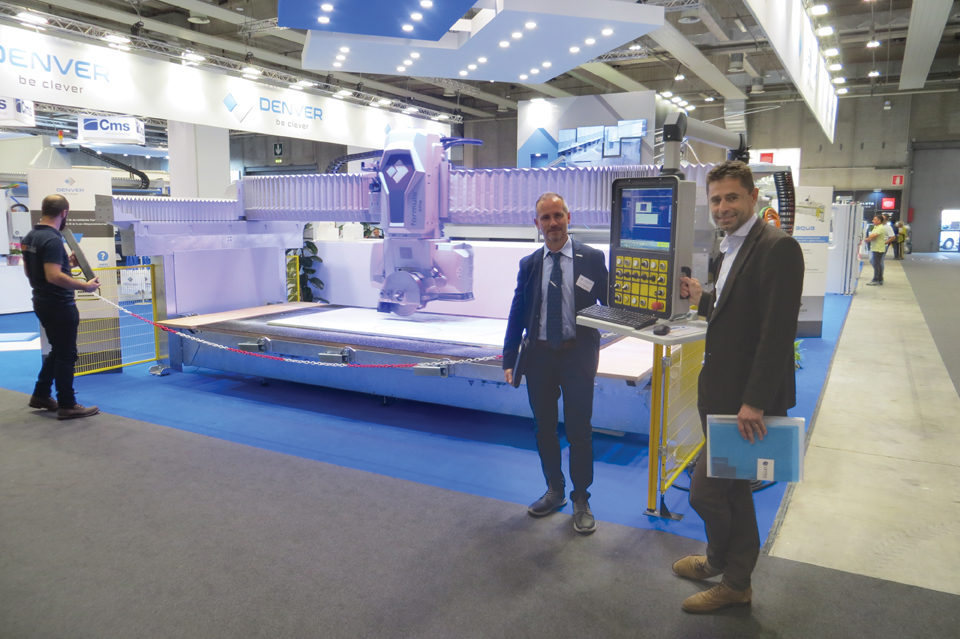 Mark Bownlee (on the right), who heads UK machinery supply company Accurite that represents Denver. He is with Denver Export Manager Franco Baracchini in front of the new five axes CNC Formula, specifically designed to cut thin porcelains as well as stone.
Below are some photographs of the Italian Stone Theatre, where designers, stone fabricators and machinery manufacturers co-operate in the production of artistic endeavours that push the boundaries of how stone is used.