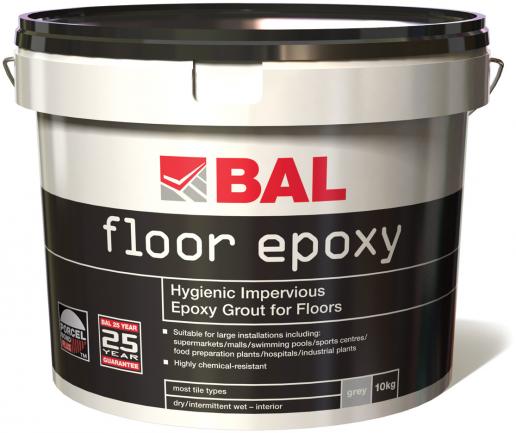 The new BAL Floor Epoxy grout.
BAL has launched a new epoxy grout for floor tiling.
It is a three-part resin grout available in new Smoke and Ebony colours.
With a formulation comprising liquid resin, liquid hardener and powder filler, BAL Floor Epoxy is particularly recommended for large-scale commercial projects. 
Because the filler is available as a separate component, other colours are available to order on a project-by-project basis (although minimum order quantities apply) to match tiles or a colour-scheme.
Alex Underwood, Head of Marketing at BAL, says: "Hard-wearing and offering high resistance to abrasion and impact, BAL Floor Epoxy provides protection against bacteria and chemical attack, making it perfect for installations including food preparation / processing plants, swimming pools / sports and leisure centres, shopping malls / supermarkets, hospitals and industrial / chemical plants. 
"The ability to provide bespoke colours for this product makes it particularly attractive for specifiers and contractors on large commercial projects where aesthetics are vital."
For joint widths up to 20mm, the grout cures in 24 hours and has an open pot life of 60 minutes, so fewer mixes are needed saving time and, therefore, money.
This grout is also suitable as a tile adhesive for chemical plants with metallic backgrounds and for areas requiring chemical resistance.