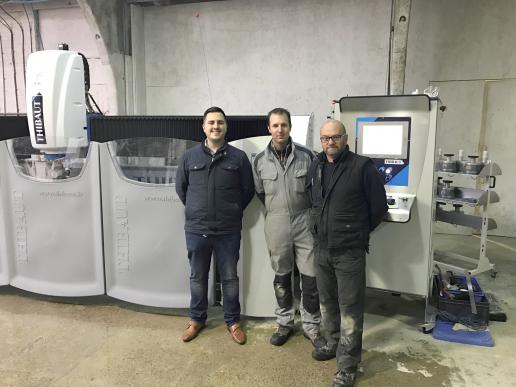 Bruno Machado of On Point Engineering has taken over the agency for Thibaut stone processing machinery in the UK. He is pictured here (left) with Jérôme Quémard, a Thibaut technician (centre) and Wayne Evans, one of On Point Engineering's technicians.
On Point Engineering, set up as a new stone processing machinery supplier in the UK by Bruno Machado last year, has taken on the UK agency for Thibaut stone processing machines.
Bruno Machado has been in the stone industry for many years (he says he has a passion for it) and will now be the contact point for Thibaut customers in the UK, dealing with sales, parts and service.
On Point Engineering says it is customer-service oriented. It employs two technicians, who have also been in the stone industry for many years.
On Point entered the market with the German-made ECS Eich water treatment plant, some of which is already installed in the UK – at Rossi Stone Surfaces in London, for example, and Robertson Granite's new factory in Aberdeen.
On Point's aim is to specialise in the repair, service and maintenance of machinery and equipment for the stone industry, although it always wanted more machinery agencies. Now it has the agency for Thibaut machinery.
The Thibaut range includes CNC sawing centres and waterjets, CNC machine centres, wiresaws, multifunctional manual machines (the T108), and edge and flat polishers.
See the range at open days in France
If you want to see where the Thibaut machines are made and hear the latest news from the manufacturer, you might like to spend a couple of days in Normandy visiting the Thibaut headquarters in Vire, where the company is holding open days on 22, 23 and 24 March. There will be more than 20 machines on display. Click on the PDF below for an invitation with details about how to book a place at the event.