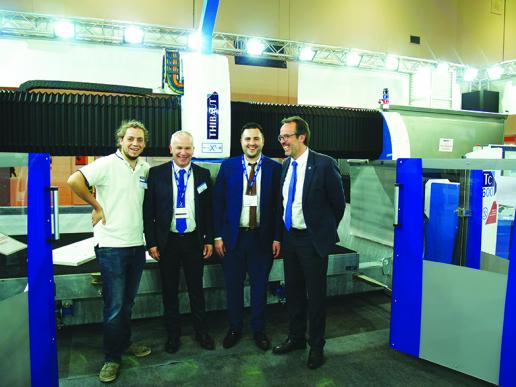 French machinery manufacturer Thibaut showed a range of its CNC machines on the On Point Engineering stand at the Natural Stone Show in London. Pictured here in front of a TC 600 are (left to right) Service Engineer Julian Millet, Thibaut Area Slaes Manager Laurent Champion, On Point MD Bruno Machado and Thibaut MD Jacques Thibaut.

 
The Natural Stone Show in London takes place every other year, so this year's exhibition at ExCeL from 30 April to 2 May was the first opportunity On Point Engineering had had to exhibit alongside major French machinery manufacturer Thibaut, which On Point started representing in the UK in 2018.
The UK is an important market for Thibaut, which was reflected on the stand. The French manufacturer was well represented by its own people, including Managing Director Jacques Thibaut, and had brought along some of its most popular CNC machines to exhibit in London, including the TC 600 that Jacque Thibaut and On Point Managing Director Bruno Machado are pictured in front of with On Point Service Engineer Julian Millet and Thibaut Area Sales Manager Laurent Champion.
On Point also showed the ECS Eich water treatment and dust suppression products that it sells and the Manzelli vacuum lifts.
Bruno Machado said On Point has invested in providing an exemplary service to its stone industry customers by employing three, full-time engineers and holding stocks of spares in the UK in order to respond immediately to customer requirements. On Point has also now started stocking a full range of tools for the machines it sells for the convenience of its customers.