A Robolution in stone fabrication from LPE
They are versatile and fast. That's the attraction of BACA's robots, sold in the UK by LPE.
Robot arms have been seen as the next step in stone processing for many years, but achieving the promise of their potential has proved troublesome, especially for worktop fabricators. Then came BACA's Robo Sawjet, followed by the Robolution, which offers saw and waterjet cutters that can also cut mitres. With them opinions have started to change.
BACA Systems, which makes the Robo Sawjets, is American and America leads the world in technological innovation (see main story). The Robo Sawjet is sold in the UK by Carl Sharkey's LPE Group, which has brought a number of other American high-tech products to Britain, such as Laser Products' laser digital templater, Slabsmith slab digitiser, and BVC Vacuum Cups for holding workpieces in place.
The Robolution Pro is fast and accurate and can handle everything from inside corner mitres to complex arcs efficiently, while nesting pieces to save material and reduce downstream labour costs.
It has powerful 26HP variable-frequency drive (VFD – otherwise known as an inverter for variable speed and torque) and a 60,000 psi (more than 4,000 bar) waterjet that can easily cut quartzite, ultra-compact slabs, and porcelains, as well as granite and marble and a great many other materials. If you want to go even faster, an optional 94,000 psi (more than 6,000 bar) pump means you can cut twice as fast.
The system can handle variations in material thickness or warpage with BACA's adaptive cutting technology for mitres.
Supplied with a large cutting table as standard, Robolution Pro can be upgraded to work with two cutting tables at any time.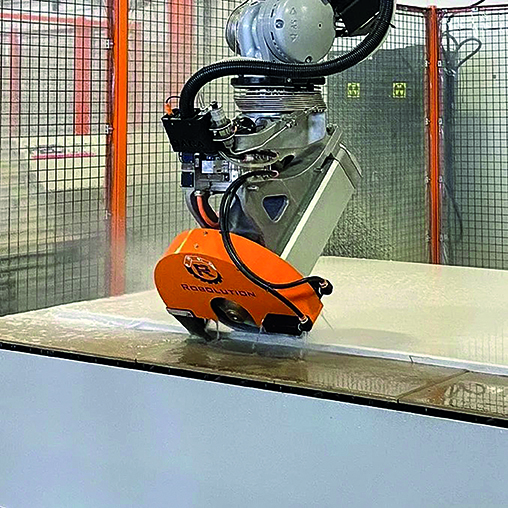 Robolution Pro uses the Kuka KR210 robot arm, which, with fully sealed gears and bearings that get no exposure to stone dust or garnet, requires no daily maintenance and so delivers maximum production uptime. The first scheduled maintenance for the robot is a simple oil change after five years or 10,000 hours of operation.
BACA Systems has more than 400 of its robotic cutting systems in service in the USA, giving it a proven track record in highly demanding 24 / 7 environments.
Companies in the UK that have bought a Robo Sawjet, such as Natural Stone Surfaces with its factories in Chapel-en-le-Frith in Derbyshire and MBP in York, are enthusiastic about these robots.
In fact, Natural Stone Surfaces has just taken delivery of a second one and is dismantling an Italian production line with three robots it had invested in before buying the Robo Sawjets. Dave Roy, Operations Director, says the productivity of the BACA robots is unmatched.
Founded in 2001 with a team of three, Natural Stone Surfaces has grown to become one of the UK's leading worktop manufacturers, employing some 100 people.
The company completes 100-or-so kitchens a week and works with some of the industry's most prestigious kitchen manufacturers and interior designers across the UK and into mainland Europe.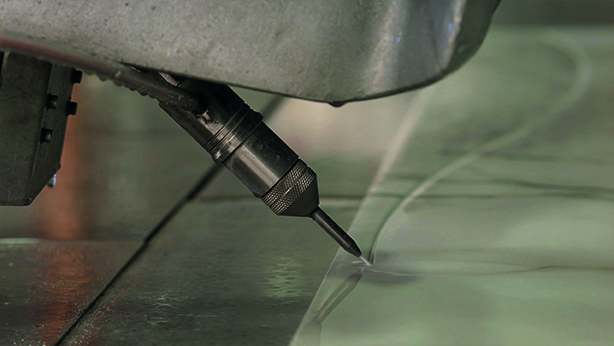 Most of Natural Stone Surfaces' work is straightforward 20mm or 30mm worktops.The half-a-dozen that need a mitre for a drop down or waterfall are cut oversize on the Robo Sawjet and the mitres are cut on a mitre saw, which the company has found is the most productive method.
Some of Natural Stone Surfaces' employees left during the first Coronavirus lockdown last year. The slowdown resulting from the pandemic gave the company time to reflect, and it called in a consultant to help it do so.
At its peak, Natural Stone Surfaces was producing 140-150 kitchens a week. Although it is now making fewer, the output per person per hour has increased.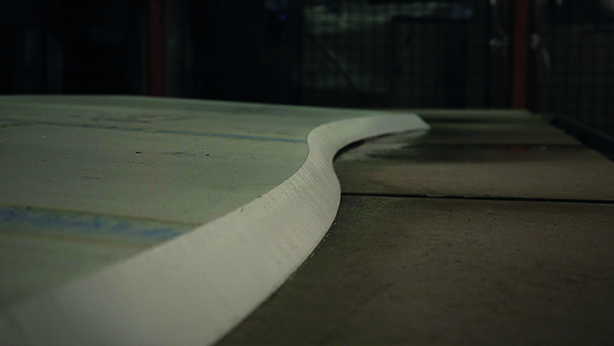 The aim is to increase productivity still further by moving ceramics out into a separate, 1,500m2 factory the company hopes to build this year, because ceramics slow down production.
The company monitors production hour by hour, with each of the people in the factory recording their output every hour. The target is 8m2 an hour per person, which is fine with quartz or granite but not with the Dekton and Porcelanosa products used by Natural Stone Surfaces.
To keep sales and production co-ordinated, Natural Stone Surfaces uses Moraware software, designed specifically for worktop fabricators. It is also American. It simplifies design and quoting and schedules and tracks jobs through the factory, even automatically generating emails to tell customers when the worktops will be delivered and what they need to do to be ready for their installation.
Below. Another of the products in the LPE range (LPE stands for Leading Production Equipment) is the Clearcut, which gives precision measuring of diamond tools used on CNC workcentres quickly, ending the bottleneck on the CNC, speeding up production and making your tools last longer. Clearcut uses photography to measure the tools on the actual spindle on your machine that they will be used on, so their is no margin for error. The pictures are laid on top of each other to line up – no more seeing where the crayon remains on the tool. It makes setting up a set of tools to cut and polish a profile a job that takes minutes rather than hours, no matter how complicated the profile is.