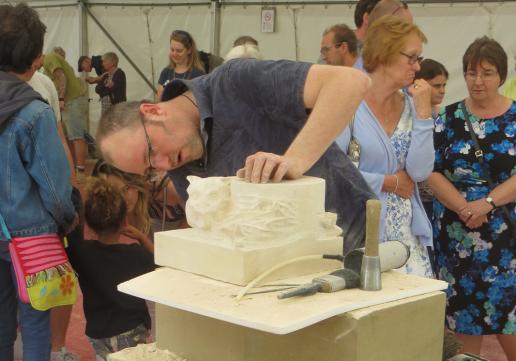 See 70 top stoneworkers in action at York Minster Stone Carving Festival 17-19 August.
There will be 70 or so stonemason carvers from across the UK and Europe showcasing their skills in Dean's Park at York Minster during a weekend-long celebration of stonecraft, 17-19 August. 
Getting the Stone Carving Festival underway will be an open day of the Minster's own stonemasonry workshops on the Friday (17 August) with behind the scenes guided tours of the South Quire Aisle scaffolding to see the conservation work taking place on this part of the cathedral. The tours will include a visit to the masons' plaster cast museum and their drawing office, where all the masonry is drawn and templates made before the masons start to work on the stone.
The Festival itself will see Dean's Park transformed into a tented village, with the Mason's Marquee forming the centrepiece and hub for the event, with the masons producing carvings on the theme of 'All Creatures Great and Small'. 
There is no charge to visit the event, where world-class stoneworkers will be seen practising their skills as they produce works of art that will be auctioned off at the conclusion of the carving at 3.30pm on Sunday, 19 August. To commission a sculpture such as this from a stoneworker you would normally expect to pay at least £1,500 (and a lot more from some of the artists), so the auction promises some real bargains to be had.
Visitors will also be able to try their hands at stone carving for themselves, as well as enjoying food and drink supplied by some of York's finest purveyors. A nice touch is that music will be provided by York's community of buskers. And there will be a range of other craft-based activities to might inspire children and families to take up activities that involve hand-eye-brain co-ordination without the aid of microchips.
Ahead of the event, a competition open to City of York, North Yorkshire and East Riding primary schools invited children to design a carving of their own. The winner is having their design carved by one of the Minster's stonemasons and will be invited along to a special presentation.