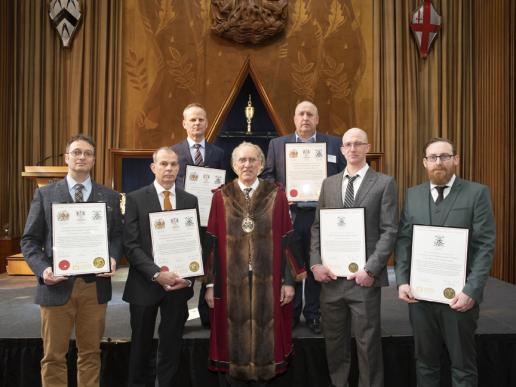 The 2019 Mason Master Craftsmen and Journeymen with their certificates presented at Carpenters Hall in the City of London on 11 March. In the picture (left to right) are Andrew Gomersall, Mark Hancock, Wieslaw Szot, Masons Livery Company Master Andrew Bowles, Stephen Andrew Byrne, Tom Francis (Journeyman), Lee Martin Andrews (Journeyman).

 

 
Congratulations to the four masons invested as Master Craftsmen in this year's Livery Companies Skills Council and The City and Guilds of London Institute Masters scheme, which recognises the skills of the trades. The Master Craftsman Certificates were presented on 11 March at Carpenters' Hall. Two Mason Journeyman Certificates were also awarded.
The Awards are presented by the various Livery Companies of the City of London. The Worshipful Company of Masons joins with Stone Federation Great Britain in nominating masons who are worthy of the honour.
This year Mason Master Craftsmen are: Andrew Gomersall, Mark Hancock, Stephen Andrew Byrne and Wieslaw Szot. The Journeymen are Tom Francis and Lee Martin Andrews. They were accompanied at the Awards ceremony by the Master of the Worshipful Company of Masons, Andrew Bowles.