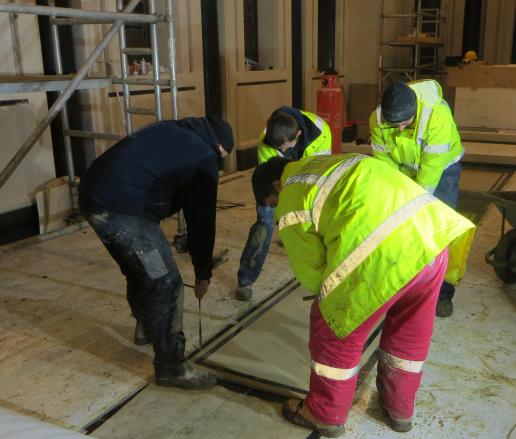 Digital working, improved manufacturing and life cycle performance has the potential to produce a 33% reduction in lifetime costs of a building, says the Construction Leadership Council in its 'Roadmap to Recovery'.
The Construction Leadership Council (CLC), of which Stone Federation is a supporter, has come up with what it calls a 'Roadmap to Recovery' from the coronavirus led by the construction industry.
And there will need to be some recovery if the Construction Products Association forecasts prove accurate. It estimates that construction output will fall by 25% in 2020, with the largest falls in private housing (-42%), commercial construction (-36%), and private repair, maintenance & improvement (-35%).
The CLC is the body that has produced the Site Operating Procedure for protecting your workforce during the cornavirus pandemic. You can download the latest version of that here.
The Roadmap to Recovery says that a combination of digital working, improved manufacturing and life cycle performance has the potential to produce a 33% reduction in lifetime costs and a 50% reduction in delivery times through improved productivity.
It says this will result in better outcomes over the lifecycle of built assets for clients and increase the profitability and sustainability of firms in the industry.
It also believes that improving design, product selection, manufacturing and construction processes can deliver built assets that achieve a 50% reduction in greenhouse gases as part of the pathway towards net zero.
CLC says construction is uniquely placed to drive the national economic recovery because it operates throughout the UK, employs 3.1million people directly (as well as providing work for millions more indirectly) and exports billions of pounds worth of products and services.
The CLC strategy ambitiously aims to increase the level of activity across the construction ecosystem, accelerate the process of industry adjustment to the 'new normal' and build capacity to deliver strategic priorities including:
increasing prosperity across the UK
decarbonisation
modernisation through digital technology
delivering better, safer buildings.
It proposes three phases to the plan, delivered over two years:
Restart: increase output, maximise employment and minimise disruption (0-3 months)
Reset: drive demand, increase productivity, strengthen capability in the supply chain (3-12 months)
Reinvent: transform the industry, deliver better value, create collaboration and partnership (12-24 months).
CLC says in Roadmap to Recovery: "The outcomes will be a more capable, professional, productive and profitable sector, which delivers better value to clients, better performing infrastructure and buildings, and competes successfully in global markets.
"Failure to act will miss an opportunity to deliver this and risks the industry lapsing into a longer term recession [that] erodes capability and skills, and leaves a smaller, weaker sector as a legacy."
To find out how all this is going to be achieved, download the report here.