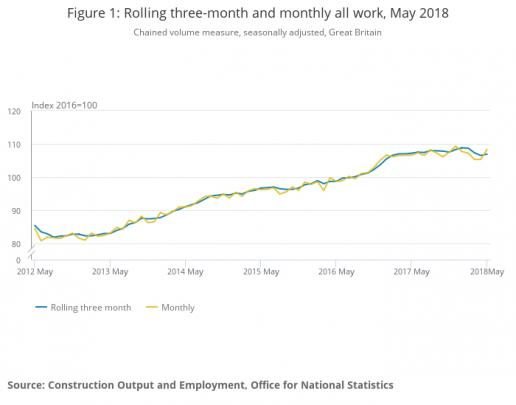 Construction output showed healthy growth in May.
Construction output grew 2.9% in May compared with April and 1.6% compared with May a year earlier. This follows a slow start to the year, with the late snow dampening construction output. 
The growth means construction output increased in value to £13.7billion in May, new work accounting for £8.95billion of that and repair & maintenance £4.75billion.
Anecdotally, demand picked up considerably as the weather improved. Now figures from the Office for National Statistics (ONS) released today (10 July) quantify that growth.
Growth in the output of new work stemmed from the continued increase in the value of private housing in particular, up 8.4% compared with May a year earlier.
Infrastructure work also continued its sustained growth, up 6.4%. 
The main downward pressure came from other public new work, which fell a further 17%.
Construction output is still at a historically high level, having reached a peak at the end of 2017 that was 31.5% above the lowest point of the past five years, May 2013.
After falls in the first quarter, construction output in May this year was 30.3% above the May 2013 trough.
The rise in construction output in May came across the board. New work increased by 2.3% while repair & maintenance was up 4%. New work accounts for approximately two-thirds of the value of the construction industry while repair & maintenance accounts for approximately one-third.