Digital : Carving in the 21st century
Susan Carron Clarke, researcher in sculptural carving and stone carving communities at the University of Huddersfield, discovers a digital carving course in the marble mountains of Tuscany in Italy.
A group of artists, designers and students are experimenting with cutting edge carving technology in the mountains of Tuscany.
This summer saw the sixth annual collaboration between the not for profit Digital Stone Project, based in America, and the Tuscan marble company Garfagnana Innovazione, which has state-of-the-art technology with robotic stone cutting equipment as well as access to some of the best sculptural marble in the world.
The Digital Stone Project introduces itself on its website by saying: "We aim to organize and support residencies for artists to travel to Garfagnana and create new works of art in stone. Our goal is to create a sustainable annual workshop, an annual exhibition schedule, and grow a network of artists working with stone both digitally and traditionally. Saluti!"
International artists Jon Isherwood (who is British) and Robert Michael Smith (American) have pioneered this digital sculpting project and led this year's 22 participants in the month-long carving residency in the summer.
Those taking part came from North America, Europe and China, as well as British artist Sumit Sarkar producing his first digital carving in marble thanks to a British Council grant.
Sumit Sarkar is a visual artist whose work takes the form of digital and analogue paintings and sculptures, animation and work inspired by graffiti. It ranges from the fantastical characters of his KrikSix world, to a modern interpretation of Hindu gods, Ananta (infinity) and sculptural graffiti. Sumit also works as an AV director, animator and illustrator, and is involved in various live art events around the UK, including aerosol art and drawing battles.
Through the internet, the carvers on the Digital Stone Project are globally connected and can edit and refine their designs before they arrive in Tuscany for the course.
Garfagnana Innovazione is based in the remote and beautiful lakeside township of Gramolazzo, which was once home to many Italian stone workers.
Like many villages in the area, it struggled to find ways to reinvigorate itself as the quarries became increasingly mechanised. Over time, quarries that had once relied on the muscles of hundreds of men came to rely on machinery and now employ only a handful of people.
But thanks to a European grant and the Digital Stone Project, this village has started to attract international visitors.
In fact, the Project has made such a contribution to the village that Jon Isherwood, the Digital Stone Project President, has been awarded the keys to the town by the Mayor in appreciation.
Heavily laden trucks travel from the mountain quarries and wind their way down the hairpin bends to Gramolazzo, which is the first relatively flat township as you descend the mountains.
The artists and designers working there are using virtual reality and software programs such as Blender to develop the concepts that will take a physical form in the region's marbles.
Various file formats are accepted – STL, rhino files (3dm) and IGES. The files are examined by experienced technicians at Garfagnana Innovazione for their suitability to be produced on the CNC machinery.
Some artists still like to work out their designs in the real world by producing maquettes. In order for these to be carved by the machines they are scanned using Skanect to create digital files that the machines can use.
Garfagnana Innovazione uses an Italian designed robotised 3D scanner that works in synergy with the company's anthropomorphic robots and can reconstruct clouds of points independently. The work is carved by the high precision 7-axes robotic carving arm and a CNC workstation.
With the support of digital technicians and local stone experts, the artists are able to develop their digital skills and apply them to the medium of stone.
As a result, artists and students who might otherwise have been daunted by the prospect of working natural stone with hand tools now feel empowered to explore this medium creatively.
Those on the course spend up to a month discovering, exploring and mastering their digital carving skills, although the work is then hand finished with traditional electric, pneumatic and hand tools.

All the artworks created on the month-long Digital Stone Project course in Italy are finished by hand.
The finished pieces were well received in an exhibition called 'CNC – CarboNatodiCalcio' (which is a play on Carbonato di calcio, Italian for Calcium Carbonate, which, of course, is what marble and limestone are).
Pictures from this year's Digital Stone Project course and exhibition had not made it on to the Project's website as this issue of Natural Stone Specialist went to press, although there were photographs from previous years – see www.digitalstoneproject.com/gallery.
Applications for the 2019 course open next month (November). You can see how to apply on the website.
Jon Isherwood was one of the international artists who produced a sculpture for the Italian Stone Theatre at the Marmo+Mac stone exhibition in Verona, Italy, at the end of September.
The Italian Stone Theatre has become a regular feature at the exhibition. It includes stonework to designs by celebrated artists. The works are produced on the latest digital stone processing machinery, emphasising the technical skill of stone processing in Italy and highlighting the sophisticated design ethos of the country.
Jon Isherwood's 'Homage to Monet at Giverny', created again in conjunction with Garfagnana Innovazione in Bardiglio marble, represents a development of his dialogue with the sensations associated with form and surface.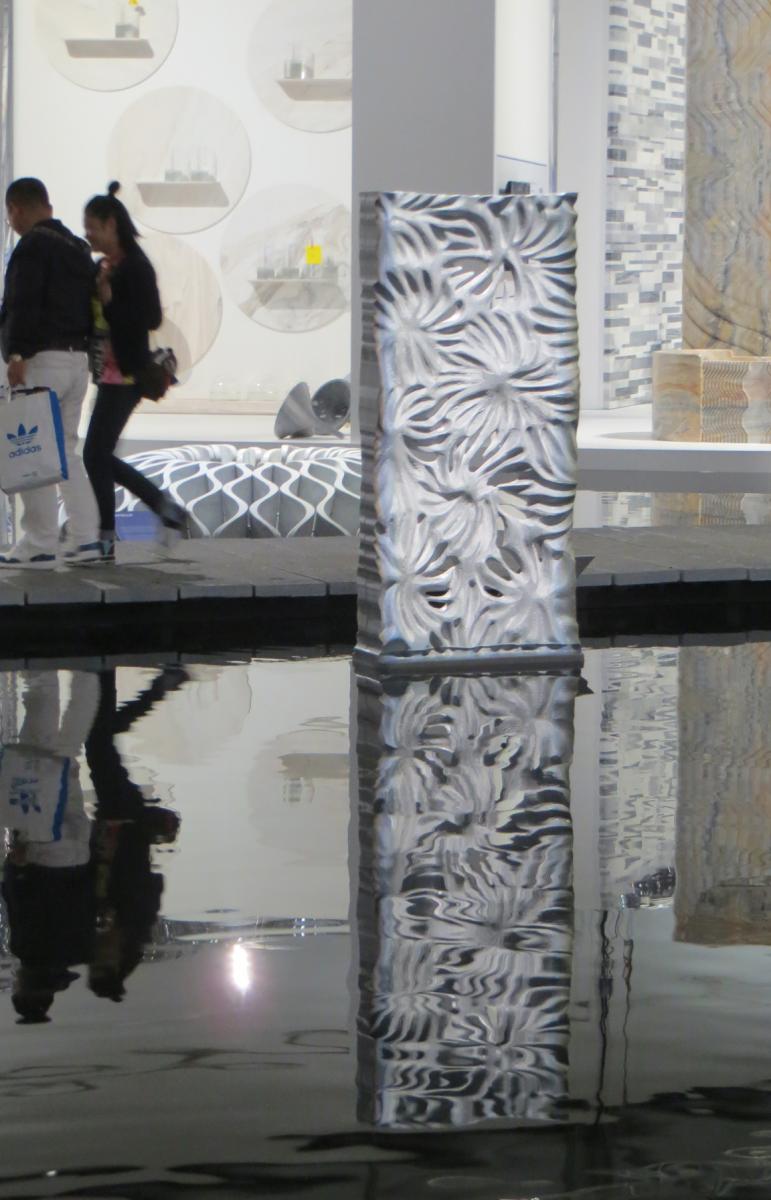 Jon Isherwood's 'Homage to Monet at Giverny' in the Italian Theatre at Marmo+Mac in Verona.
His work sees forms compressed, distorted, squeezed and made more intimate by subtle adjustments of scale. He does not aim to imitate nature but his forms are inspired by and refer to nature in their shape and pattern.
The tension between shape and surface that characterises Jon's work is heightened by the confrontation between ancient and modern in the materials and processes of achieving the piece. The oldest and most sensual sculptural material, marble, is shaped with the assistance of computers using 7-axes CNC technology.
This allows Jon to attain great precision in his treatment of the incised surfaces, which play with and against the swelling, fleshy yet substantial character of his organic forms.
A particular artistic challenge of this project was that Jon would not work the Bardiglio marble with his hands, but only through the digital instructions given to the machine, allowing the machine to reveal Jon's natural forms in the natural material.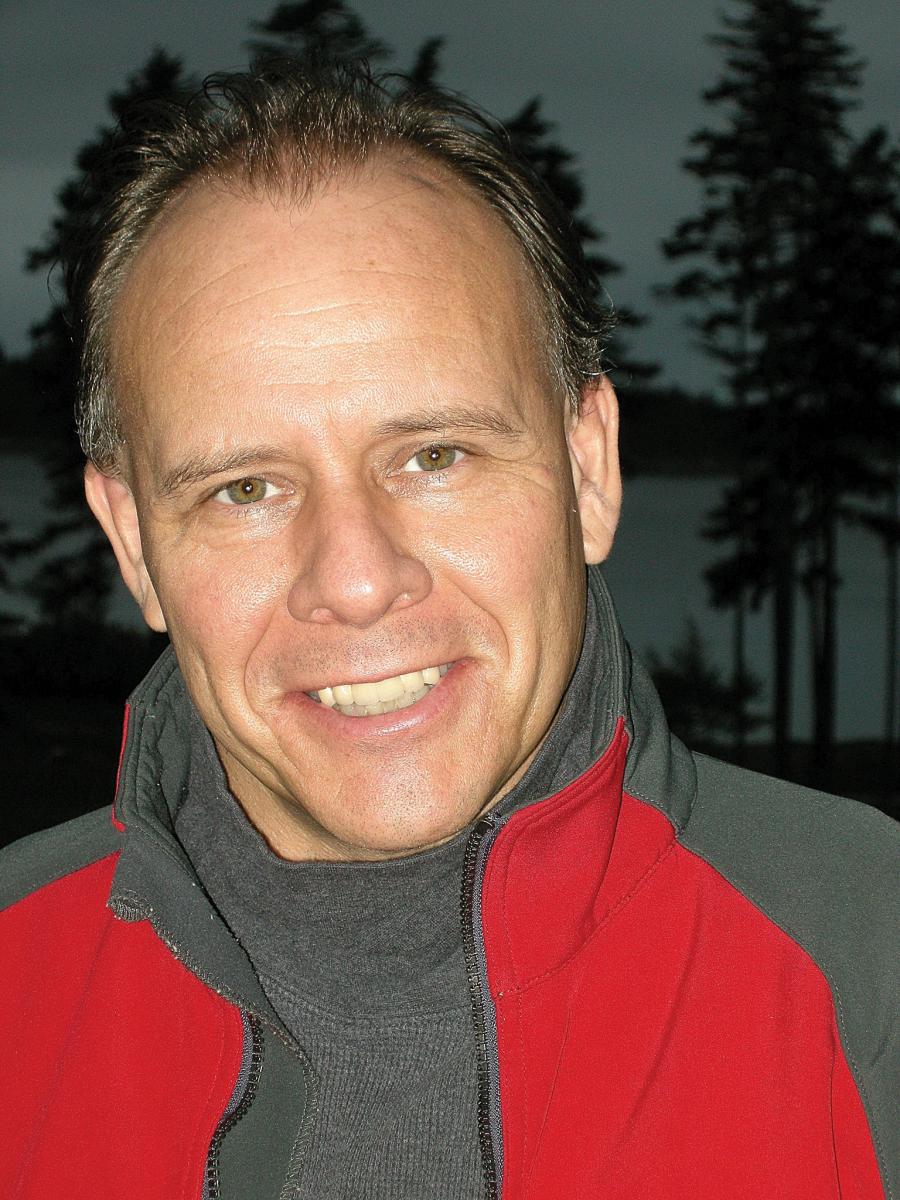 Jon Isherwood heads the digital Stone Project.
Jon Isherwood's was one of four works in a section of the Italian Stone Theatre curated by Raffaello Galiotto under the title of Percosi D'Arte (pathways to art).
Percorsi d'Arte investigated how machinery can be used in the artistic processing of stone. With even small businesses in the natural stone sector installing increasingly high-performance technology, artists who were initially reluctant to use CNC technology are now regarding it as an interesting opportunity.
Raffaello's own contribution was Atollo (Atoll) in Carrara marble, produced in conjunction with T&D Robotics by GDA Marmi e Graniti. The spherical shape was created by joining 40 identical parts produced by repeatedly cutting a stone cube with a robot-controlled wire saw.
The other two works in Percosi D'Arte are: Andante Ma Non Troppo, an allegory of a classical music movement, by Sylvestre Gauvrit, produced in Carrara marble in conjunction with machinery company Denver using Taglio software; and Houle (Swell – ie waves at sea) by Nicolas Bertoux, produced in Bardiglio marble in conjunction with machinery company Emmedue by GR Marmi using Ddx software.
Nicolas Bertoux said: "The new possibilities made available by numerical control machines every day in creating objects and other works in marble help us discover new forms of expression, invent new surfaces, and conceive form in positive and negative ways on the basis of 3D models.