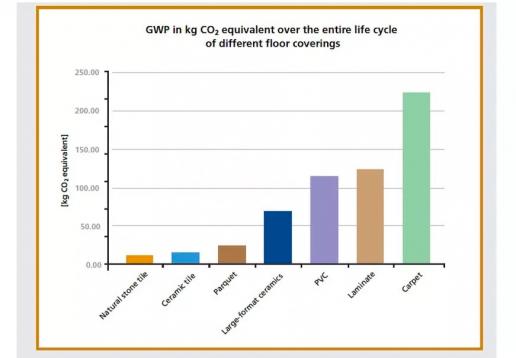 Stone flooring is more sustainable than alternative floor coverings, according to new German research.
The German stone association Deutscher Naturwerkstein Verband (DNV) has published a report showing how environmentally friendly natural stone flooring is compared with alternative floor coverings, including carpets, ceramics, artificial stone and even wood.
The German stone association commission scientists to look at the overall environmental lifetime impact of stone compared with other floor coverings. And they have concluded that stone is exceptionally sustainable.
The findings come as no surprise to the stone industry, which has long understood that digging stone out of the ground, sawing it and shaping it is a lot less energy intensive than crushing minerals and then sticking them back together in processes that might involve petrochemical resins or other glues, ovens, kilns and presses. Stone also lasts a long time.
To help promote natural stone, the Germans have made copies of their report available in English, as well as in their own language. It can be bought for €10 plus postage from the Stone-Ideas.com website, where a summary of it can also be downloaded free. The Germans say they are happy for other countries to translate the report into their local languages from either the English translation or the German original.
The report is called Nachhaltigkeitsstudie – Ökobilanz von Bodenbelägen (Sustainability study – Life-cycle Assessment of Floor Coverings). It assesses the ecological impact of using natural stone, large format (and other) ceramic tiles, parquet, PVC, laminate and carpets.
The study was carried out by the Institute for Building Materials of Stuttgart University. It considers not only the material in question but also the requirements for installation, including substructures, adhesives, and waterproofing or other impregnations or coatings usually applied.
The study draws on data spanning 50 years of use for public surfaces with high traffic, although the findings would also be applicable to domestic floors.
The data are intended to help convince landlords, developers and architects of the value of natural stone, particularly as the life-cycle balance becomes increasingly important.
In summary, the study concludes that stone is more environmentally friendly as flooring in production, installation and day-to-day use than ceramic tiles, wall-to-wall carpeting, PVC, engineered stone, laminate and hardwood.
Key points:
The encapsulated carbon of carpets is 20 times greater than natural stone. For carpets it is 223kg/m2 of CO2e (the 'e' stands for 'equivalent' and might include other greenhouse gases as well as carbon dioxide, but is adjusted to a CO2 equivalence). Stone's CO2e is 10.9kg/m2.
The ecological life-cycle impact of natural stone is approximately 84% lower than that of an equivalent size ceramic tile.
Transportation is an important aspect of product life-cycle impact and the study compares stone from local quarries (in Germany) with those from other EU-countries and from the far East. For Germany, a 100km transportation route via truck was the standard value applied. For other European stone a 2,000km transport route was set as the basis of calculation. And for Asia, shipping with a distance of 18,600km plus 150km in a truck or 200km rail transport were calculated.
- German stone uses 0.16kg CO2e/m² flooring,
- European stone uses 3.2kg CO2e/m² flooring
- Chinese stone uses 7.9kg CO2e/m² flooring.
Disposal of the material after use was not incorporated into the study but here, too, stone would have been impressive because it can be reclaimed and re-used a number of times and when it is finally disposed of, it is inert and can merely be returned to the ground it came from without causing any pollution.
Likewise, underfloor heating was excluded from the area of study, but stone floors often include underfloor heating, which is a particularly energy efficient form of heating that benefits from the thermal mass of a stone floor.
The study was financed by DNV with the assistance of the Swiss stone association Schweizer Verband (NVS), the company Franken Schotter and chemicals manufacturers Sopro and Akemie.
Click here to go to Stone-Ideas.com, where the report can be bought for €10 (plus p&p), or a summary of it can be downloaded free.