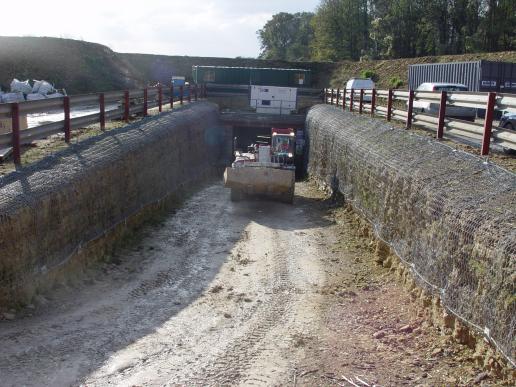 The new adit at Park Lane Bath Stone underground quarry opened by Ham & Doulting in 2012. The quarry has been taken over by Block Stone.
Major quarry group Blockstone, which already operates eight quarries, has taken over production of Bath Stone from Park Lane underground quarry from Ham & Doulting Stone, which last year introduced the name of The Bath Stone Firms.
The move follows the entry into the Bath stone market of two other major producers. Lovell Stone Group took over the lease for the entrance and some of the underground working at Hartham Park from Hanson Bath & Portland in 2016. Hanson Bath & Portland re-opened Monks Park underground quarry and planned to open a new adit to access its reserves in Hartham Park, but last year Johnston Quarry Group took over Bath & Portland's reserves and the Bath Stone Group, with its Stoke Ground Bath Stone underground quarry at Limpley Stoke.
Richard England and his son, Zak, of Ham & Doulting Stone took over Park Lane underground quarry in 2008, 50 years after it had been closed because it was prone to flooding. Ham & Doulting believed the cause of the flooding had been eliminated and spent five years and £800,000 bringing it back into production. That included the purchase of a Fantini underground saw and the opening of a new adit to access the stone.
That winter there was exceptional rainfall and Park Lane flooded again. Ham & Doulting took over the lease of Elm Park Bath Stone underground quarry to maintain production. They retain the lease on that, although Park Lane has not flooded again since.
Park Lane customers say the Base Bed from the quarry is even better than the premium Box Ground Bath Stone and that the top bed is also a fine stone.
Lately, Richard England has been unwell and Zak England has become a father again with another on the way. Zak says he found the three hour round trip to Park Lane from his home in Somerset tiring, so when Block Stone made him an offer, he was happy to sell.
He says he would also be happy to sell the remaining 26-year lease on Elm Park. Anyone interested can call him on 07887 524808. He will concentrate on the production of Ham Hill stone and Blue Lias from Tout Quarry in Charlton Adam, which is nearer his home.
He plans to use the money from the sale of Park Lane to buy new saws for his processing plant at Charlton Adam. He says 80% of his business has been in Bath Stone (hence the name change last year) and he anticipates that he will continue to be a major customer of Park Lane Bath Stone.
Lee O'Connor, the Chief Executive Officer of Grants Group, which owns Blockstone, last year invited stone companies that needed investment to contact him (read more...) after Grants had bought Blockstone. He says of the Bath stone acquisition now: "We plan significant investment [at Park Lane] and aim to develop the best Bath Stone supply available in the market.
"Aside from great quality Top Bed there is huge volumes of Base Bed very easily accessible and we will be looking to develop the mine into being the major provider of Bath Stone in the market."