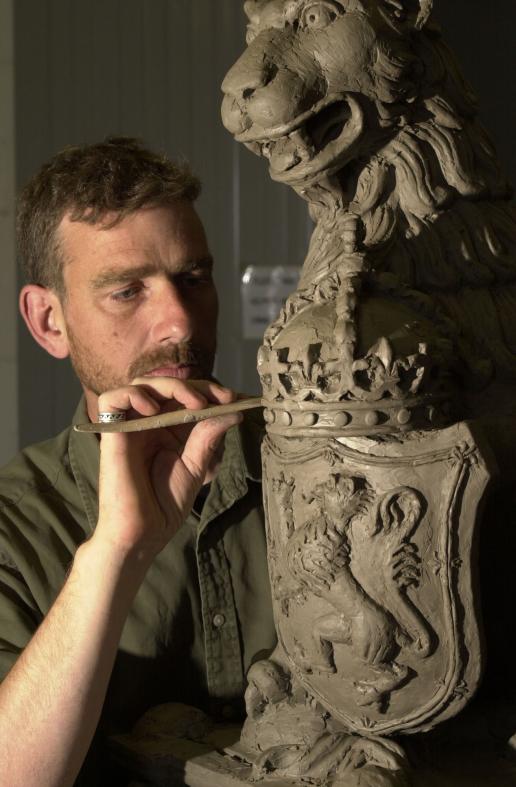 Billy Lillywhite, whose memory lives on in a fund to help others. If you would like to contribute to the fund, go to https://www.justgiving.com/crowdfunding/billycarver.
Following the untimely death of stonemason and carver Mark 'Billy' Lillywhite at the age of 52, and a moving service in North Dorset at which he was fondly remembered by relatives, friends and colleagues, a fund is being raised in his memory to help other stonemasons who, like Billy, came later in life to stonemasonry.
Billy spent his early working life as a nurse, going on to study stonemasonry and carving at Weymouth College as a mature student in 1999.
He started working with Cliveden Conservation in 2001, quickly establishing himself as a particularly popular figure. He was creative, thoughtful, thorough and gifted. He worked on many high profile projects, starting with Bath stone cartouches for Stowe School and then later magnificent Corinthian capitals. More recently he was back at Stowe repairing one of the temples in the grounds. He played a major part in a project to restore the ornamental and figurative sandstone carvings for the Linlithgow Fountain in Scotland and he and a colleague led a team restoring decorative elements to the eastern façade of Queens College in Oxford.
He took on and relished the challenge of working for Cliveden on an archaeological project at Aphrodisias in South West Turkey, where he was a leading hand in the work undertaken with local craftsmen as part of an international team.
After his time at Weymouth College, Billy remained in Dorset, basing himself in Abbotsbury, where he had a small workshop. It allowed him to be close to a fellow student, Bec Freiesleben, who was his business partner and mother to daughter Catherine. She will administer the fund and says on the Just Giving website where contributions can be made: "The fund aims to give a little support in times of hardship; to spread the message that help is available - you only need to ask."
Cliveden colleague Tom Flemons, Manager of the company's Bath workshop, says: "The tragedy of Billy's premature death has sobered us all."
The fund established in his memory is intended to help those making a career change into stonemasonry by providing small grants, bursaries to buy research material or pay for travel. If you are willing to donate, please follow the link to https://www.justgiving.com/crowdfunding/billycarver.
It is anticipated that funds will start to become available from October or November onwards.